Teaching The Alphabet
Activities, Worksheets And Games

We've got lots of tips on teaching the alphabet and you can make learning letters fun with our free homeschool activities, worksheets and games.
Helping your child learn alphabet letters is one of the the joys of homeschooling.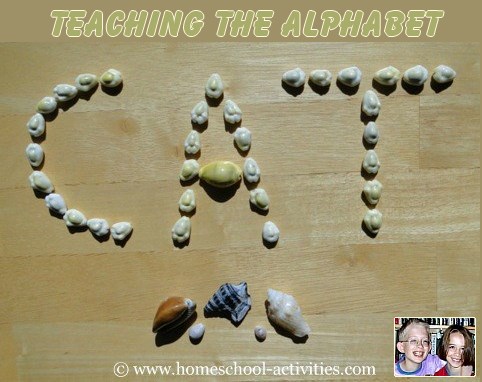 If you spend time together 'playing', you'll have every chance that your child will soon get to be confident with letters and learn the basics of reading.
Tips On How To Learn Letters
The first and most important rule to follow is to realize that teaching the alphabet is not a race.

Most children begin recognizing some letters between the ages of two and three, and can identify most letters between four and five.
But that's not always so - as I know only too well!
So long as you can stay relaxed, your child will get there - but in their own time and in their own way - just ask my daughter Catherine!

Your goal is teaching the alphabet without pressure, so you enjoy homeschool activities, worksheets and games together and make letters familiar.
That way your child will probably leap ahead with reading (like my son William).
If they don't, you can be sure the time you spend teaching now will still help, it's just that your child needs a bit more time (like Catherine).
Every child is different and learns different skills at different speeds. That's normal.

No evidence suggests that those children who are very young learning their letters are necessarily more advanced in their reading skills later on.
Alphabet Activities
The most successful way for your child to learn their ABCs is to tailor your teaching to how your child likes to learn.
Does Your Child:

Like visual prompts like pictures?
If so you'll have a lot of fun teaching by making BIG letters and encouraging your child to draw and paint.

You can stick letter posters and pictures up around the house and get your child practising big strokes with a homeschool paint brush and sand tray.

Make use of lots of homeschool art activities to get ideas and you can try our homeschool fun salt dough recipe for making letters. 
Like listening?
Please note that the product links on this page are affiliate links so if you buy I receive a small commission at no extra cost to you.
There are lots of lovely books you can buy, from Cat In The Hat to Chicka Chicka Boom.

Most children like to learn through listening to music. Even when they are tiny, you can start playing your child homeschool letter rhymes and songs.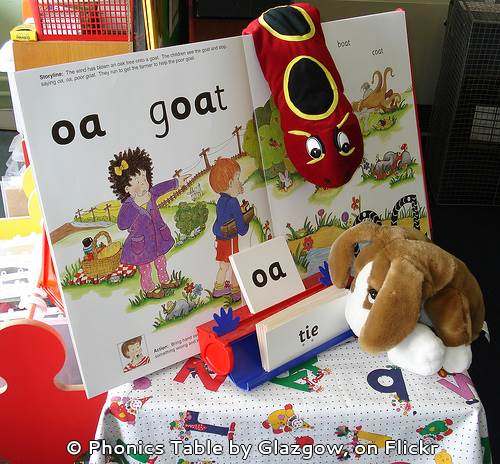 Like touching and feeling?
Encouraging multi-sensory learning is a great way to re-enforce letter skills and anything you can do to get your child hands-on with letters is great!

Alphabet blocks are great for building pyramids of letters.

Magnetic letters are fun too - and you can stick them all over the place!

Like to run about all over the place?
Some children have tons of energy to burn off! That's where alphabet games come in.
Alphabet Games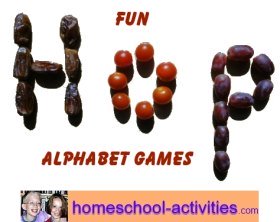 There are lots of ways to learn alphabet skills, but alphabet games must be one of the most fun!
I've made a special page for the games you can play.
Try running around on a letter treasure hunt, as we do in our page on homeschool alphabet activities.

But any ideas that get your child running around, acting out rhymes or stories or even dancing to the alphabet will work really well! 
Of course, there are quieter ways of enjoying alphabet games. You'll see we have invented our own card game and there are quite a few you can buy which you might find fun.

Cursive Writing
If you're at the stage of teaching joined up writing, this book gets rave reviews from members of my Courageous Homeschooling Facebook group:

"My daughter is doing so well with her cursive practice.  I love this book as you can wipe it off and keep starting again." ~ Alison
"We have the same book! It's really good." ~ Brigid
"Perfect! I have already added it to my cart.  And it's an even better deal, because everyone can use it again and again.  Love it!" ~ Jennifer

Alphabet Worksheets
Worksheets need to stay being fun, so we've done our best to help.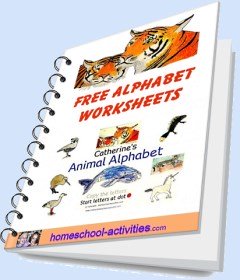 They should help re-enforce all the letter skills you've been teaching through your alphabet activities.
You'll find we've also made some some free printable alphabet templates so you can practice the letter shapes.

Our free letter order worksheets are for all ages and skill levels.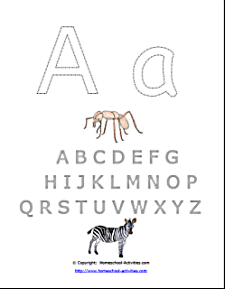 You can find some more free worksheets to help with teaching the alphabet at the popular British Council site to help children learn English.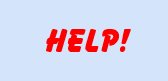 If your child is struggling, have look at some of the homeschooling ideas and suggestions my Facebook fans have come up with.
Teaching Your Children

The best way start teaching the alphabet is through lots of repetition and practice and by showing letters to your kids in a variety of fun and interesting ways.
Teaching the alphabet through fun activities and games is the best way to get your child confident with letters and give them a good grounding in the basics of reading and writing.

---
Homeschooling › Alphabet Worksheets › Teaching
---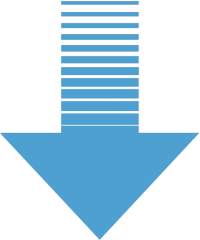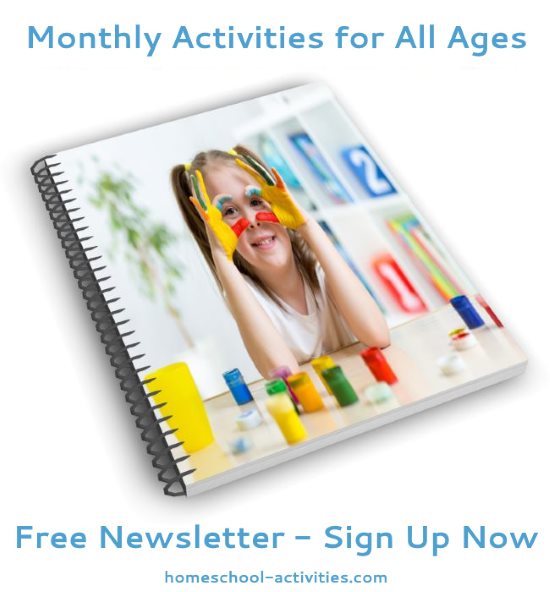 "Just had a look through your monthly newsletter focusing on math. Thanks so much for all the links and ideas. It's brilliant!" ~ Diana      

"Hi....I totally love all your posts and enjoy reading them....the kids love the activities and enjoy them through and through." ~ Bianka