Preschool Alphabet Activities
For Learning To Read
Preschool alphabet activities and games make teaching the alphabet fun.
We've got lots of great home school ideas to help you - all the way from eating the alphabet to using letters to build your own Zoo!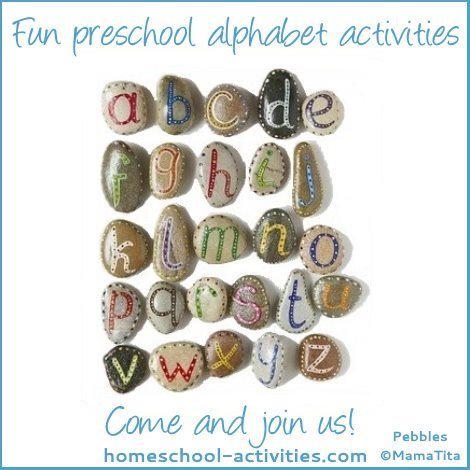 'Seeing' letters in all sorts of different ways is a great way to encourage your child with multi-sensory learning.
Home school preschool activities and alphabet games help you make use of touch, feel, music and songs, and that helps your child recognize the shape and the sounds of each letter.
Free Alphabet Worksheets
Preschool alphabet activities and games are always best when you can make use of your child's interest in animals.
I've set my daughter Catherine a homeschool challenge to use her love of animals to make these beautiful free worksheets, which your preschool child can use to actually begin writing letters.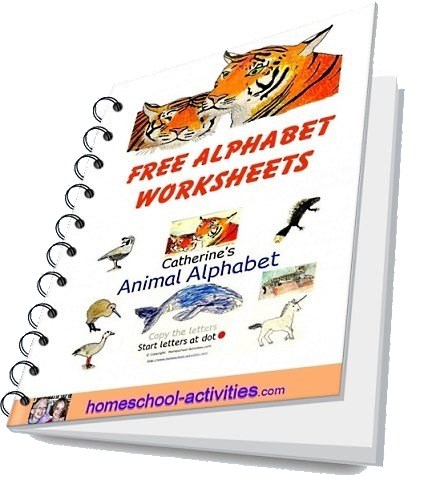 You'll find a baby dinosaur hatching out of an egg, sharks, tigers and cats so your child will be able to spot their animal favorites.
Each of our free homeschool printable letters starts at the dot and gives ideal home school practice teaching your child to copy the letter shape.
You could play home school preschool games, lining up your child's animal toys and finding which worksheet begins with the right letter.
You can add to these preschool alphabet activities by using our free homeschool printable templates to practise letter shapes.
Alphabet Activities
The more you can add letters into home school preschool, the more natural it will be when it comes to teaching the alphabet.
Preschool is a the perfect time to spend time together having fun and doing some homeschool teaching at the same time.
One of the best ways for teaching letters to children is through their favorite food.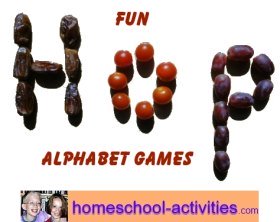 It's also a great way to get in some healthy eating habits!
You'll see we've got activities to encourage toddler cooks in our homeschool, but in the meantime food gives you a heaven-sent opportunity to combine play and teaching the alphabet.
What letter shapes can your preschool child make out of your fruit bowl?

And of course there's some great ready-made choices, starting with Alpha-Bites breakfast cereal and moving on through the day!

US
You can print every letter using pretzel circles and sticks, starting with your child's name.
Teaching the alphabet by naming your pets is usually popular in our house!

And it's also fun making alphabet cookies together!

Teaching The Alphabet
Holding letters in your hand has to be a great way to enjoy preschool activities and encourage multi-sensory learning.
There are lots of fun building blocks you can use, from lovely wooden ones to different colored shapes.

US
Just pulling letters around in a cart is nice!
UK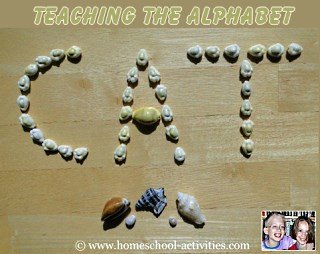 Home School Preschool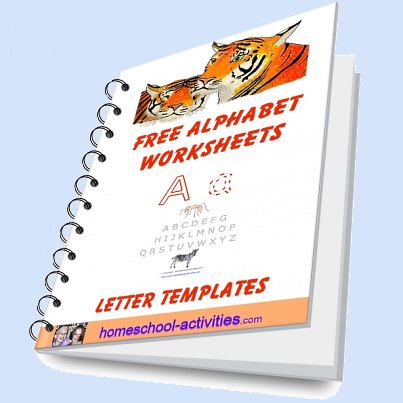 You can use letters to build animal enclosures to go with our homeschool animal Zoo activity in our free preschool activity ideas.
You can write each animal's name in building blocks, take some toy binoculars and see what animals you can feed!
We've also got lots more ways to have fun teaching the alphabet, from treasure hunts to making your own letter book.
Preschool alphabet activities and games are a great way to make teaching the alphabet natural and fun.
---
Homeschooling

›
Alphabet
› Activities
---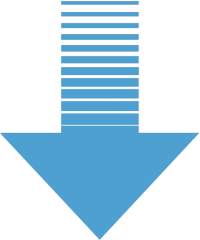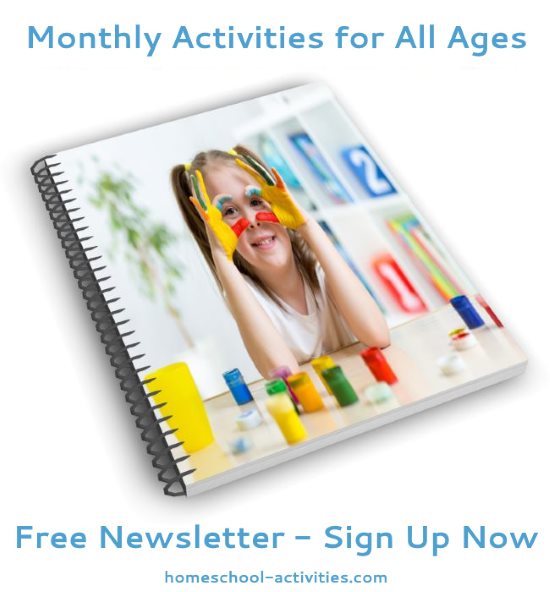 "Just had a look through your monthly newsletter focusing on math. Thanks so much for all the links and ideas. It's brilliant!" ~ Diana      

"Hi....I totally love all your posts and enjoy reading them....the kids love the activities and enjoy them through and through." ~ Bianka

Share This Page