Toddler Learning Activities
Free Games And Fun

Toddler learning activities are all about having fun! Our free homeschool toddlers activities and games are full of ways for your child to explore the world around them.
The wonderful thing about toddlers is that they are learning all the time in all sorts of ways.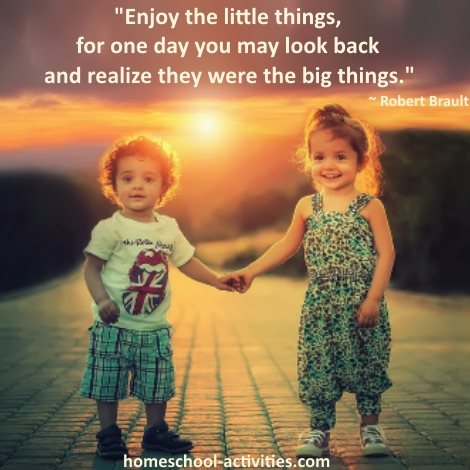 Toddlers activities

LEARN ABOUT:
COLOR, SHAPE, SPACE AND DIMENSION

Here are all sorts of fun homeschool ways to teach your toddler.
You'll find that games are the best teaching tool, and here's some great suggestions for ones you will enjoy: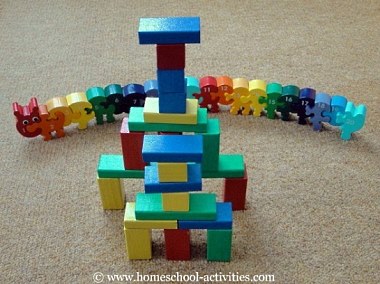 Building blocks.  It may seem obvious, but building blocks are one of those toys which will give your toddler pleasure and fun for years.
But you don't need to BUY building blocks.  You can have even more fun making them yourself!

Collect together empty homeschool food boxes, tubes and clean plastic pots. See what your toddler can create!


Play free homeschooling toddler games like 'Post.' Cut holes in the side of a large box big enough for small toys to fit through. Let your toddler 'post' her toys through and listen to the satisfying thump! Great for learning about size and dimension.

If you keep a collection of different-sized boxes, trays, and yogurt pots you could have lots of homeschooling fun with your toddler by helping tape them together.
While you're at it, you can make as much use as you can of boxes by encouraging your toddler to enjoy learning to read by making a homeschool book box in our page on homeschooling toddlers activities.  You'll also see we help make book learning fun by playing games as we read together.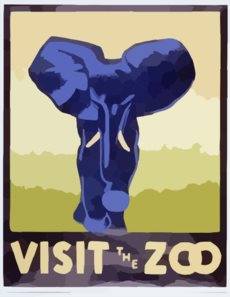 Boxes are also great for making a fantastic homeschool Zoo, as you'll see if you adapt our free Preschool ideas to toddler age. I'm sure your toddler would enjoy games like setting out on a homeschooling animal collecting expedition or helping make a dinosaur enclosure.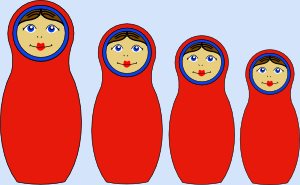 From 18-24 months, most toddlers have great fun putting things into size order and finding out what fits inside what. You can build on this with free homeschooling toddler learning activities which help them classify things. As you make your creations together, can they arrange all the boxes from biggest to smallest?

Play free toddler games by making homeschool shape pictures! Cut some simple shapes out of thin card, lay the shapes out, name each one and see what pictures you can both make.

Games with shapes show toddler learning activities in action. At first, toddlers will only really bang things together or put things in and out of a box, but you'll soon see them learning how to build towers and use a box as a pen for their toy homeschool giraffe.
Free Toddler Games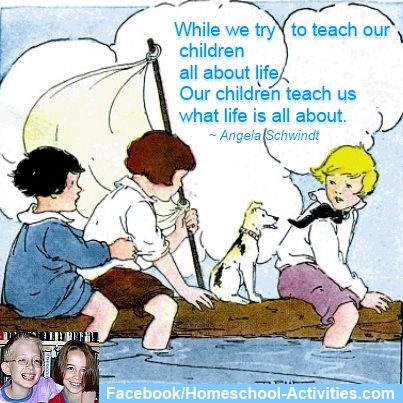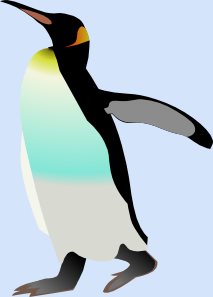 Animals have to be the key to lots of free homeschooling learning activities and games for toddlers. You can learn so much as you have fun!
Homeschool animal mis-fits. Cut animal pictures out of magazines into two or three pieces. Can your toddler fit them back together?

Animal noises. Encourage toddlers to make the right noise which goes with each animal. Of course, it's even more fun if Mom gets it wrong herself and barks when she sees a sheep!

Toddlers are too young for difficult role-play, but yours might have homeschooling fun pretending to be homeschool animals. Can they move and sound like a frog? Role-play is excellent for learning social skills.

A few free homeschooling props help. Toddlers are too young to make paper plate animal masks themselves, but I've been amazed how much learning takes place just by watching and our homeschooling masks are easy and fun to make. Have a look at my daughter Catherine's homeschool bird mask and you'll see!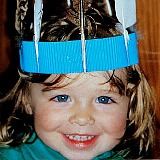 An even easier option is to play free toddler games dressing up in our Plains Indian headdress with our homeschooling activities for little ones.
Furry ears and fluffy tails which can be pinned onto toddlers clothes and hair bands add to the homeschooling fun!

It's easy to add in more free toddler learning activities on an animal theme by looking at toddlers books with animal stories or watching wildlife DVDs.

My kids William and Catherine spent hours playing animal games. One of their favorites was making homeschooling bird nests out of twigs they collected. We even left one in a tree in case a real bird wanted a nest for free!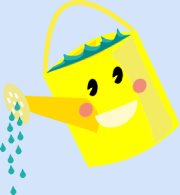 You can see more free homeschooling toddler games, including water painting, going on a color walk and setting off on a homeschool nature hunt.
And you can add math into your toddler learning activities if you come with us to make a homeschool butterfly and play matching games in our free math activity ideas.
And if you'd like some ideas about teaching toddlers reading and writing, try our free free curriculum activities.
Toddler learning activities and games are a perfect way to have fun with your children and encourage them to find out more about the amazing world around them.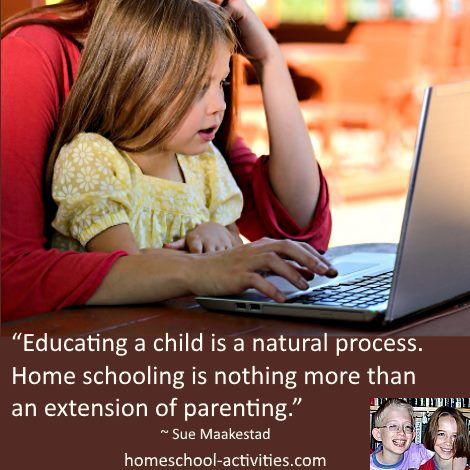 Love this page? Help me spread the word by sharing...
---
---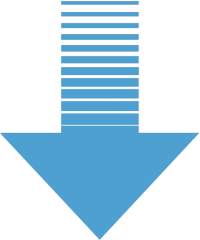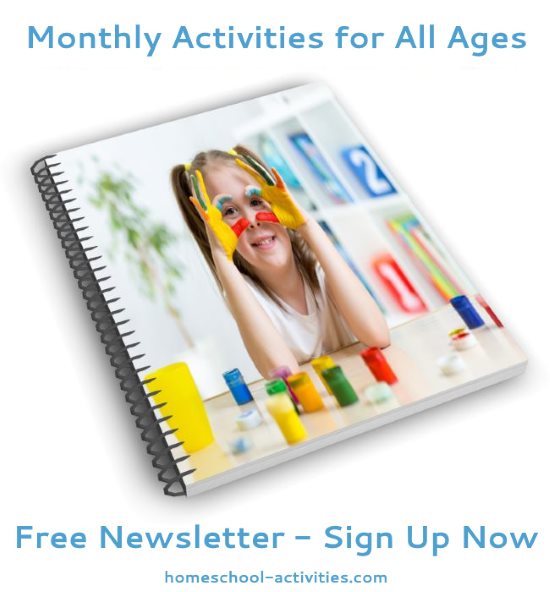 "Just had a look through your monthly newsletter focusing on math. Thanks so much for all the links and ideas. It's brilliant!" ~ Diana      

"Hi....I totally love all your posts and enjoy reading them....the kids love the activities and enjoy them through and through." ~ Bianka