Home School Geography:
World Unit Study

Home school geography is a fantastic subject to teach, with fun activities and Unit Studies for all ages.
"We've started back this morning, setting up a world map and a set of dice like we saw on your website for a virtual world tour!!
This afternoon we "jet off" to Malaysia!!" ~ Helen

One of the best ways to teach homeschool geography is to travel the world from your own home.
You can adapt this activity to suit to the interests and ages of your children.
As you will see, geography will also take you across all sorts of subject areas.
The joy of Unit Studies is that you can add in to your homeschool lesson whatever appeals to your children.
For us, that's included everything from art and animals to peacock feathers and tea bags!
Here are my homeschool children William and Catherine enjoying geography world Unit Studies: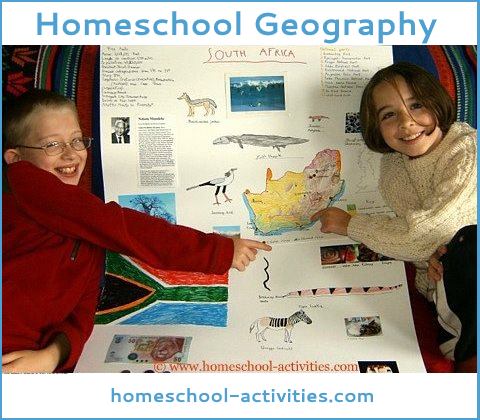 World Unit Studies

I want to help you get the most out of this project by sharing with you the resources you will find most helpful.
Get your kids to pick a country which they are most interested in. If you've got any connections with a particular country - friends living there for example- that's a good start.
Take a large sheet of cardstock and get going!
I'll give you an example Geography Unit Study which you can pick ideas from to help you with wherever you decide to visit.
Travel to Africa
My children William and Catherine picked South Africa because our friend Wendy was born in Port Elizabeth.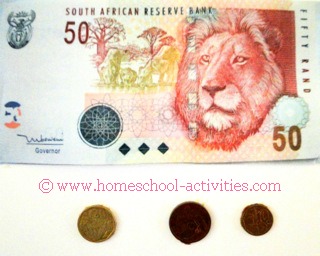 That meant we had some real stuff to stick down:
Coins
Post cards
A wine label!

Then we thought about what we wanted to find out about.
This is where you come in! What does your child find interesting? Animals?
Why not pick your favorites and:

Draw/paint some favorites
Look at some videos

Download some pictures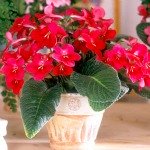 Plants
Why not see if you can buy or keep some that grow in your chosen country? My daughter Catherine started a new hobby growing Streptocarpus plants from the Drakensburg mountains on her windowsill.

What else would you like to find out about? Geography?
You could download or draw a map. It's nice to do fun things like stick some jewels on to represent diamond mines.
Peoples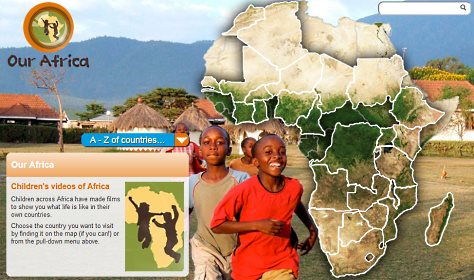 Our Africa has videos made by the children to show you what life is like in their own countries.
Choose the country you want to visit by finding it on the map (if you can!) or from the pull-down menu.
YouTube
is fantastic here. So long as you check first to make sure the film content is OK, you'll find all sorts - we've seen dancing, people singing the national anthem, home videos of river trips, watched at live waterholes...
Crafts
Can you try out at home any of the crafts that local people do? Basket-making? Because William and Catherine travel all over the world like this, Catherine's even had a go at aboriginal dot painting!

Government
For South Africa, we had Nelson Mandela to find out about, so that was a real treat!
World Unit Study: India

Welcome to my home! Here I show you some of the things we covered in our project about India.

World Art And Crafts
This is a Unit Study, so home school geography will also lead you into otehr subject areas, like trying out art and crafts from across the world.
It's fun to try world art and crafts!

We hope you enjoy traveling the world with home school Geography; it's a fantastic learning tool and makes a marvelous project.

Geography Activities

Our top favorite home school geography activities. 
Click on the picture to go to the page.

Geocaching is a wonderful opportunity to get your kids playing a free real life map game where they actually get to find hidden treasure. 
Love this page? Help me spread the word by sharing...
---
---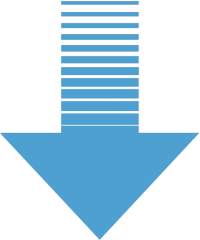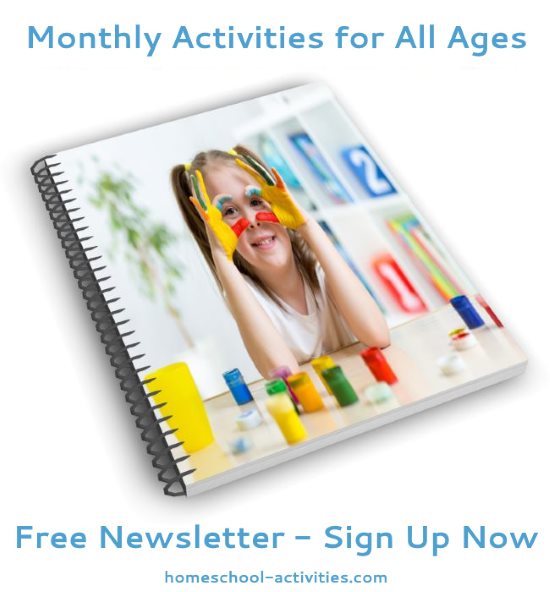 "Just had a look through your monthly newsletter focusing on math. Thanks so much for all the links and ideas. It's brilliant!" ~ Diana      

"Hi....I totally love all your posts and enjoy reading them....the kids love the activities and enjoy them through and through." ~ Bianka