Math Times Tables:
Learning Tips

Learning your math times tables can be hard! I want to help you find the method that suits your child best.

I will share:
Teaching tips
Math activities
An amazing free e-book which shows you 295 ways of learning your times tables
The wonderful Khan Academy free times tables videos
Japanese multiplication
A free app
Plus my own free printable

You'll find in here the resources you need to find the key which will unlock the mental block so you can make learning the times tables easy.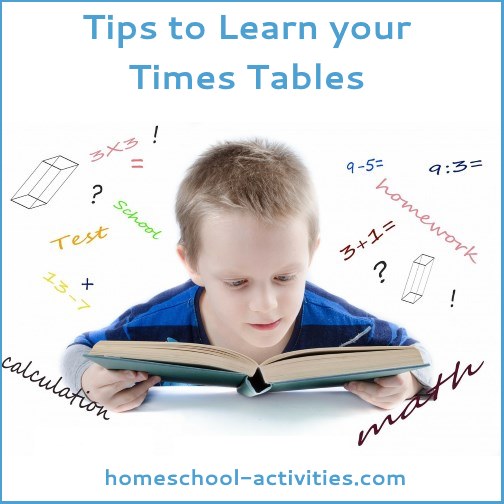 "Thank you! I was just looking for something like this yesterday!!!"         ~ Irma
"Nice tips, thanks!" ~ Arithmetic Village
"Wow! Why didn't I learn that in school? Thanks!" ~ Trish

Learning Math Times Tables

Multiplication Tip One
Let's start with a method that has worked really well with homeschooling math with my daughter:
Use your fingers.
It's also great because it works with one of the hardest tables, the nines.
What a feeling of accomplishment when your child can show you all the nine times table just by using their hands!

Step One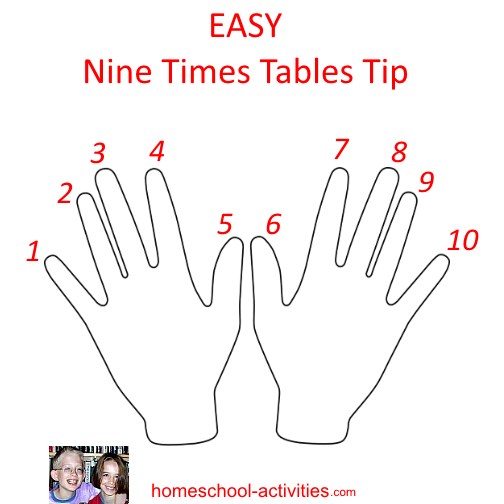 Give each finger a number value as above.

Step Two

Fold down the finger you want to multiply by nine.
So fold down finger 3 if you want to multiply 3 x 9.

The fingers still sticking out on your left are the tens.
The fingers still sticking out on your right are the units.

Step Three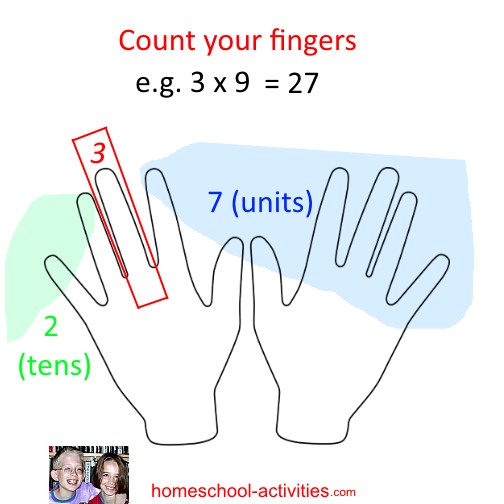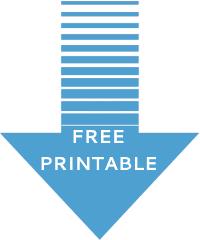 You can get my free nine times table tip printable here.
It shows you another example.
If you still don't get it, contact me! 
What's great is that you'll find there are lots of ways to learn your maths times tables!
You'll also find that doing something visual like making your own Top Trumps is a great way to learn homeschool math.

Tips To Help Teach Times Tables

What's great is that you can use your hands to help learn all the hard tables - which you will probably find is quite a relief to your child!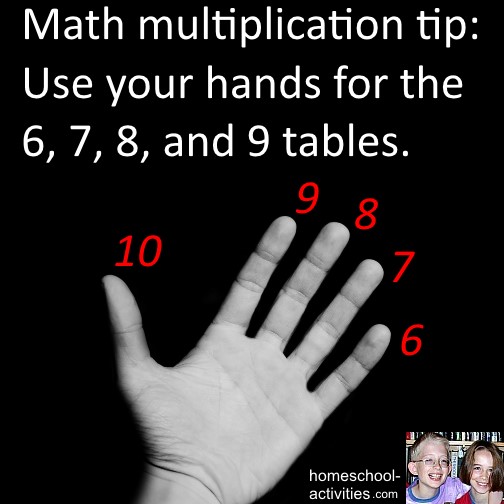 Here is a brilliant explanation, plus a free printable sheet, which shows you how to use your fingers to learn the 6, 7, 8, and 9 times tables.

Japanese Multiplication

Multiplication Tip Two:
By now you can see there are lots of ways to learn your maths times tables, you just have to find the right one.
If you're struggling with the conventional method, try a tip learned from the Japanese.
I promise you don't have to be Japanese to understand it!  But what it does show is that everyone's mind works in different ways.
Chris explains how it works really well in this video:

N.B. I think this math times table tip works best with visual learners.

Amazing Free Times Table Resource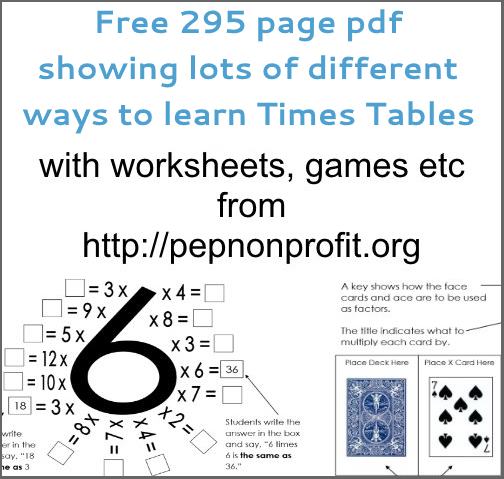 I'm not the only one to realize that there are multiple ways of learning your times table!
This free non-profit site has produced a resource for schools which shows them all the different activities you can do to learn your maths times tables.
It's got tons in it, e.g.:
activities to show that it doesn't matter which direction you write or read a multiplication

help for all learners - those who like skip counting, word problems, visual learning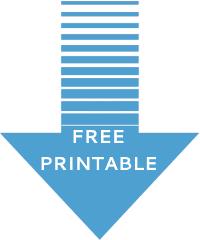 You can get it here

Activities To Learn Maths Times Tables

Multiplication Tip Three:
Try:

Games are always a good idea as you'll see when you look at all our pages on fun math activities!  They are also great for learning your math times tables.

Some kids find this math game fun:

I spotted this free app on Amazon.com with nearly 100 4-5 star reviews.  I haven't used it myself, but as it's free it might well be worth giving it a go:
And Times Tables: The Fun Way has nearly 125 5 star reviews.

You can pick up lots of maths tips from making your own board game and we've got a great activity making your own card game too.
Cards are definitely another fun way to learn multiplication. 

And of course there's songs too!

Free Math Videos

The Khan Academy is one of the most fantastic free resources for homeschooling families.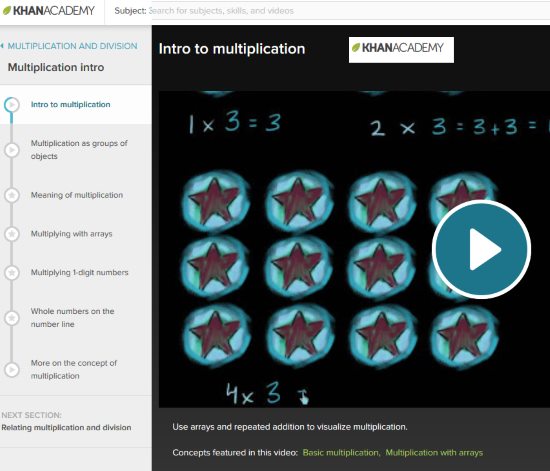 You will find free times tables videos together with interactive answer sheets.
We have fallen in love with Sal because of his humor and gentle manner.
He carefully and clearly explains the concept of multiplication (and division) and then goes on to give your child plenty of time to practice.
Highly recommended as one of the best free math resources.

Teaching Maths Times Tables

All kids are different, so you need to pick and choose to find what method works best with your child.
Also, you'll find sometimes your child just isn't ready to learn.  I would try out some of the ideas on here and decide what works, but please don't panic if nothing does - they will learn their math times tables eventually, I promise!

Pages You Might Like

Click on the picture to go to the page.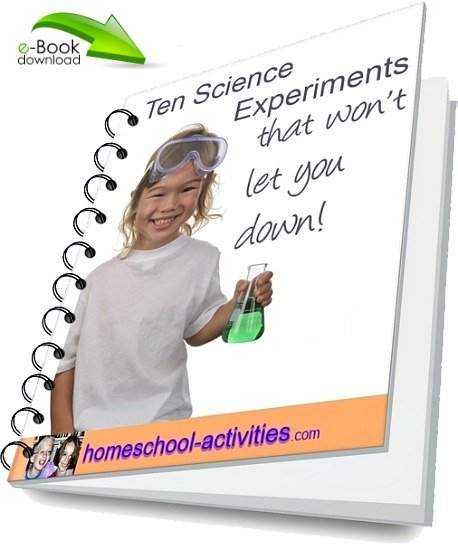 Love this page? Help me spread the word by sharing...
---
Homeschooling › Math › Times Tables
---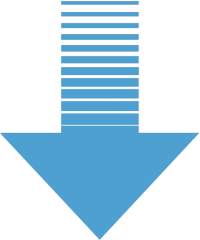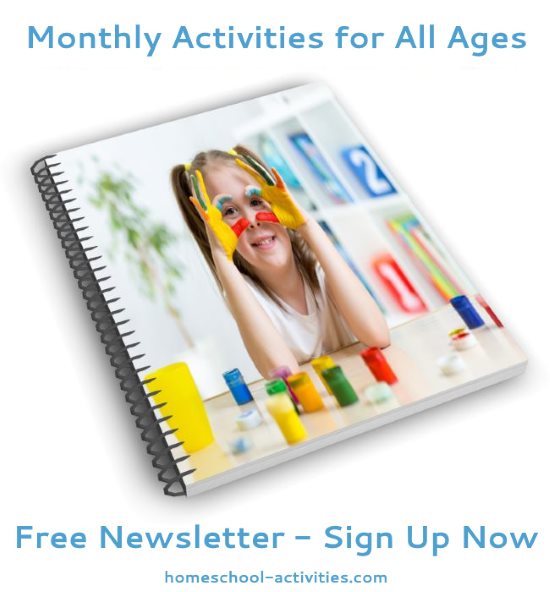 "Just had a look through your monthly newsletter focusing on math. Thanks so much for all the links and ideas. It's brilliant!" ~ Diana      

"Hi....I totally love all your posts and enjoy reading them....the kids love the activities and enjoy them through and through." ~ Bianka