Dinosaur Activities For Kids

Our dinosaur activities start with keeping a pet from the age of the dinosaurs to going on field trips - with games and crafts to enjoy too!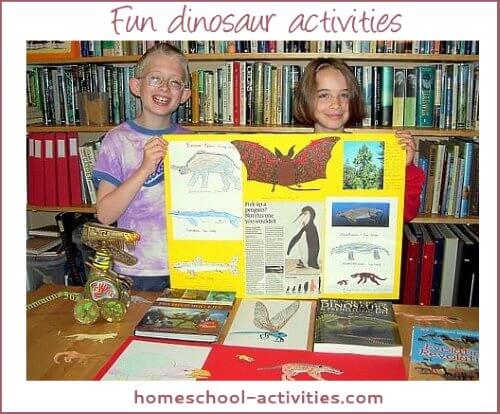 If you look here, you can see what fun activities my children William and Catherine got up to in our homeschool (can you spot our T-Wrecks robot?):

You can see how to make him and his friends in our page on robots.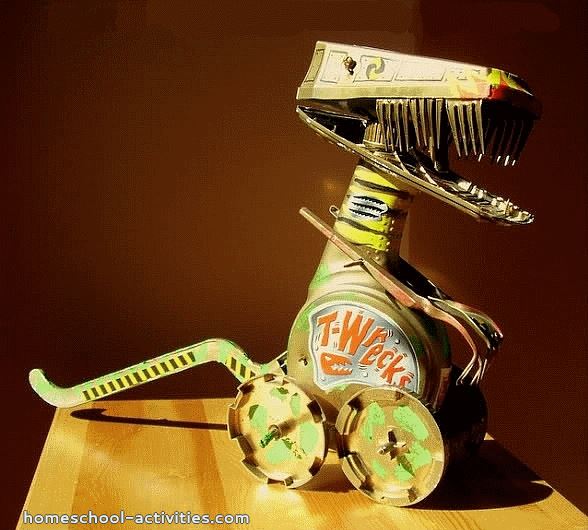 Dinosaur Lapbook

A great way to start is by having a go at drawing your favorite dinosaur! We turned William and Catherine's pictures into a giant dinosaur lapbook.
There's a brilliant prehistoric timeline and lots of other useful facts at the National Geographic.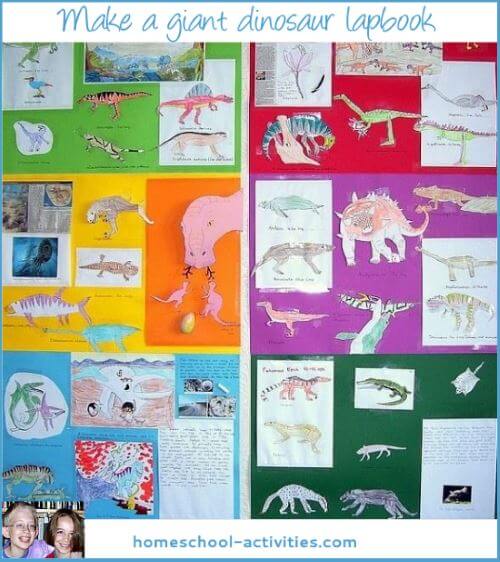 Dress Up As A Dinosaur

Here's a lovely idea from Sheryl:

"Going to have some fun today as the kids dinosaur onesies have turned up.
Once a week we are doing dino day where we read books about dinosaurs and watch movies with them.
This even includes any errands being done as dinosaurs!"
~ Sheryl, Courageous Homeschooling Facebook group

Keep A Dinosaur Pet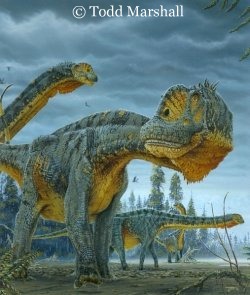 You'll see from our baby dinosaurs page how much fun you can have with kids crafts by making your own egg. Here's an idea where you can keep a live pet from the age of the dinosaurs.
Triop kits are inexpensive and fascinating. They're just a box containing Triops eggs laid among detritus. You sprinkle the magic dust on top of rainwater and leave the eggs to hatch.
My husband Rob and I, (never mind the children), were thrilled to see science come to life as, out of an invisible speck, a horseshoe crab-like figure appeared, whose ancestors had evolved back in the time of the dinosaurs.
So keeping a pet has to be part of your dinosaur activities!
Please note that the book and product links on this page are affiliate links so if you buy I receive a small commission at no extra cost to you.
"This is a fun home science project! My son got this for Christmas and he has one survivor who is now 3cm long (it ate others).
Tip - use Spring Water and keep at recommended temp with small lamp. We used well water and didn't keep as warm first time and all died."
~ Michelle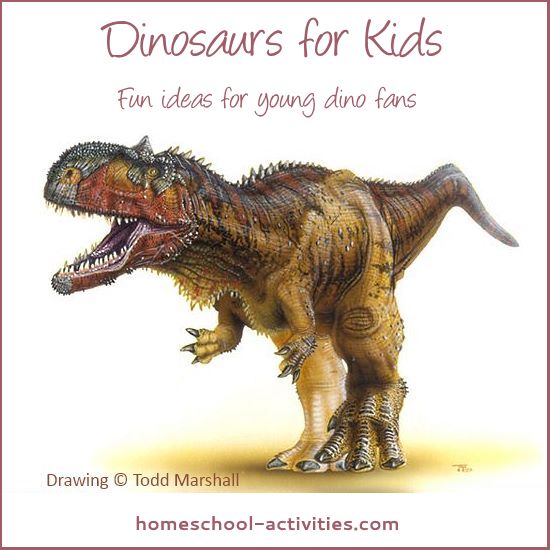 Dinosaur Games

Here are a few fun sites for kids games:
You can also add some sneaky math into your dinosaur activities by getting your kids to make their own version of Dinosaur Top Trumps.
Prehistoric creatures are perfect for all sorts of categories, starting with killer rating! 
Dinosaur Facts

Once you've had a go at drawing some of the creatures that once lived here, you could add some geography to your homeschool science curriculum.

Wikipedia has some beautiful maps you can download showing how the Earth's continents have moved over time.
My daughter Catherine chose this one in our homeschool because she thought you'd like to see what the world looked like in the time of the dinosaurs.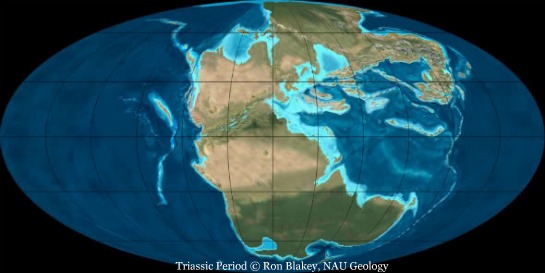 One of the exciting things about this kids activity is that you can actually keep abreast of the frontiers of science. After all, some of the greatest minds are at this very moment in the process of discovering even more fascinating facts.
Newspaper articles and the internet are a great way of adding to your homeschooling dinosaur kids activities.
You could start getting together news items about the latest fossil discovery. If you download some pictures they'll help liven up your display.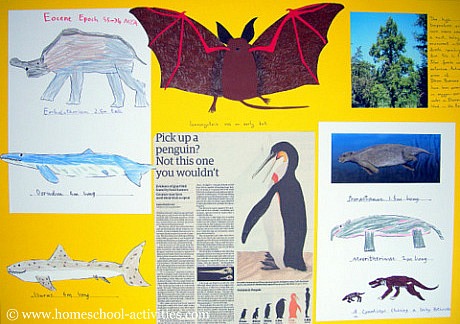 How exciting for your children to be at the cutting edge of scientific discovery themselves as they find out about Kosmoceratops, who put Triceratops in the shade by having 15 horns?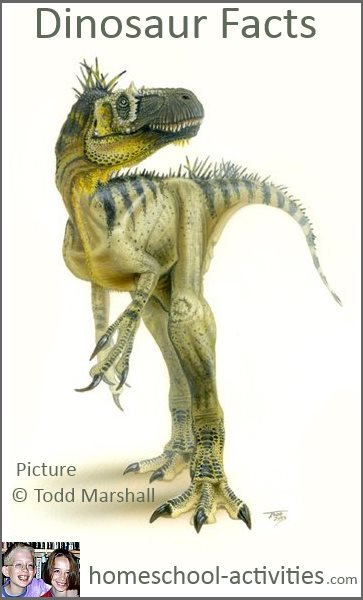 Unearth A Spinosaurus
Watching real people finding dinosaurs is so much fun!

Field Trips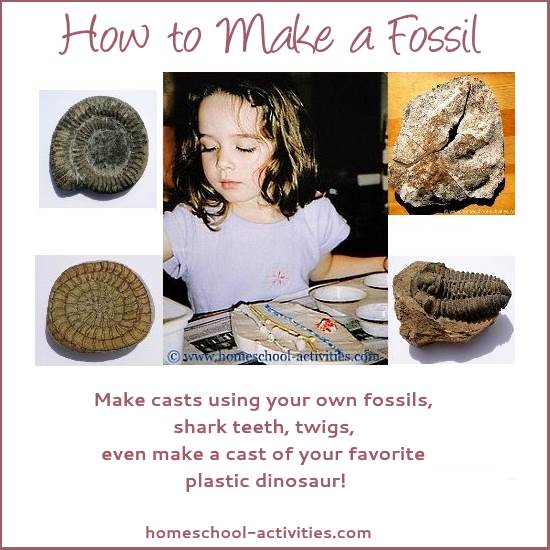 And another great way to add to your dinosaur activities is with some homeschooling field trips.
There are lots of great places to visit; I spotted the Los Angeles county Natural History Museum has a great dinosaur hall!
If you're close to anywhere which has real fossils, it's well worth setting off with a hammer and goggles to find them. You can see our real dinosaur footprint we found and learn how to make a fossil yourself.

---
---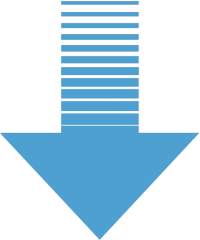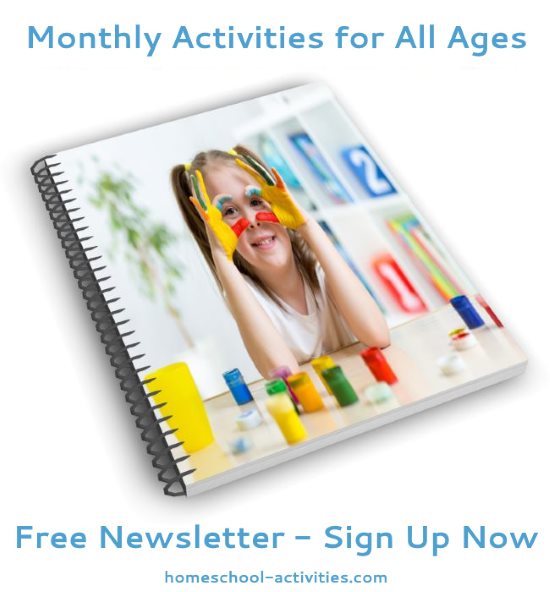 "Just had a look through your monthly newsletter focusing on math. Thanks so much for all the links and ideas. It's brilliant!" ~ Diana      

"Hi....I totally love all your posts and enjoy reading them....the kids love the activities and enjoy them through and through." ~ Bianka