Make A Fossil:
Kids Fun Activities

You can bring the past to life by getting your kids to make a fossil! It's easy and fun to do.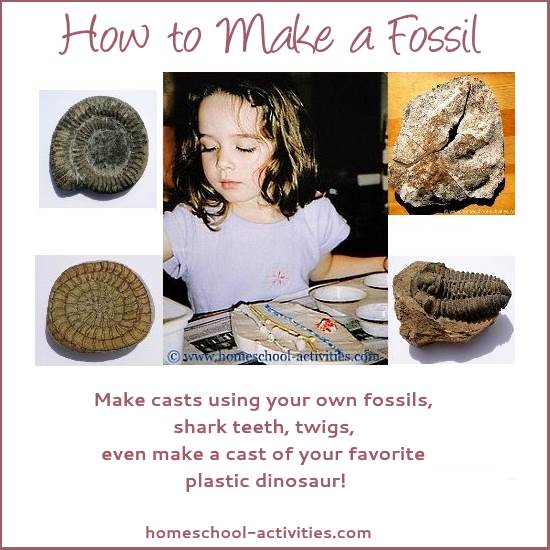 "Sonya we have made a fossil with your method, it turned out very well."
Beth, Courageous Homeschooling Facebook group

The essential ingredient for making a fossil is to have a few real ones yourself!
Shark teeth, ammonites, trilobites - they all work beautifully.
I've put some places you can get your own if you don't have any - and kids love them.
But you'll be pleased to know that you can use exactly the same method to take fossil prints of anything you like!
Plastic dinosaurs, plastic butterfly ornaments, real life objects like the twig my daughter Catherine is painting in our homeschool....
They all work beautifully.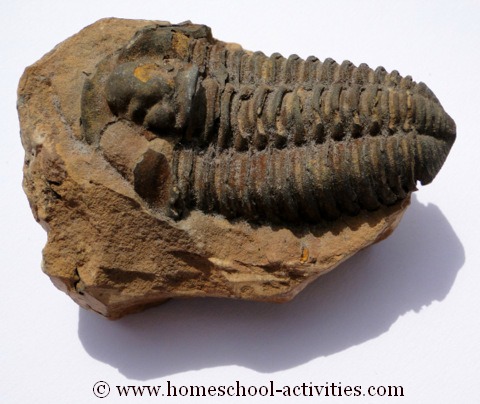 How To Make A Fossil

You'll need a few simple ingredients:
Your object - (you can get fossil molds on the internet if you're worried about damaging the one you have - see below)
Modeling clay (plasticine)

Plaster of paris (worth getting a large amount and storing in the loft for later!)
Two paper cups


Flatten a ball of homeschool modeling clay until it is about 2 cm thick. Make the top smooth.

Put the modeling clay inside a paper cup with the smooth side facing up. Gently press the object you want to fossilize into the modeling clay until it is partly buried.

Carefully remove your object from the modeling clay. You'll see an impression of the object left behind. This is the start of your homeschool fossil!


Pour half a cup of plaster of paris into the other paper cup. Add a quarter cup of water to the plaster and STIR until the mixture is smooth. Leave it for about two minutes. (You'll see mixing instructions on the plaster of paris bag).


When the mixture has thickened, pour it over the modeling clay in the other cup. Leave until the plaster has dried. Now tear away the sides of the paper cup, remove the modeling clay and you should see your own homeschool fossil!
Now, you can get your kids doing some homeschooling painting as part of kids art activities!

Please note that the product links on this page are affiliate links so if you buy I receive a small commission at no extra cost to you.
Dinosaur Footprints

You can use this method if, like us, you are lucky enough to live near some real dinosaur footprints!
This is the cast we made in our homeschool of a three-toed meat-eating dinosaur who lived on the Jurassic coast near where we live.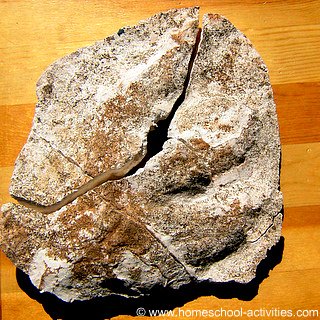 You can just see the impression of his three toes if you look carefully.
How To Make A Pebble Dinosaur Fossil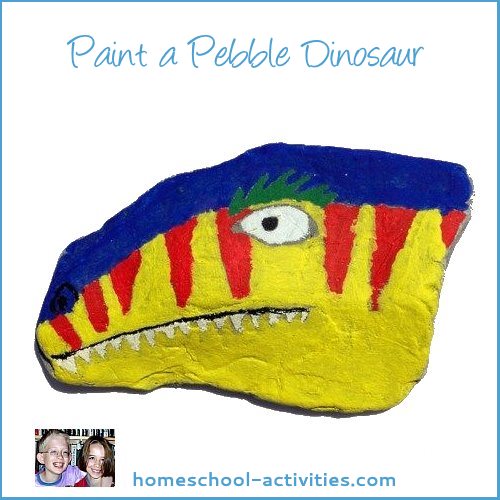 My children William and Catherine can show you another fun way of how to make your own homeschool fossil!
You need to pop down to the beach to find some likely looking stones which you can turn into a fossil. You can see Catherine found a dinosaur on her trip.

Here's our homeschool painted ammonite. You'll find lots more ideas on our rock painting page.

Finding out how to make a fossil is great fun for kids and a fabulous way of learning more about the animals from our past, as you'll see in our kids dinosaurs project.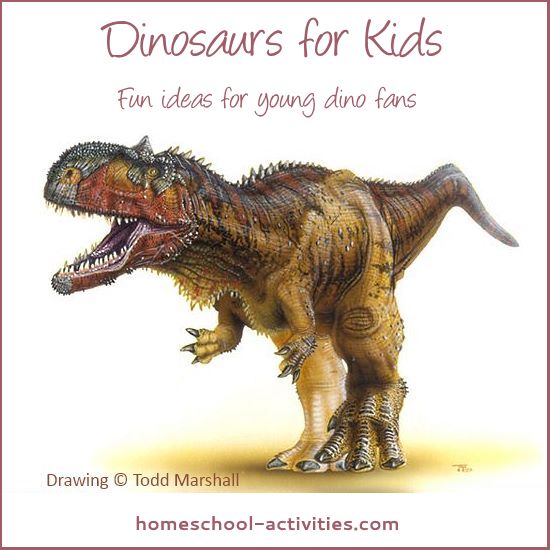 Love this page? Help me spread the word by sharing...
---
Homeschooling › Science › Fossils
---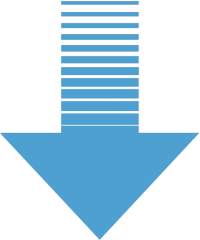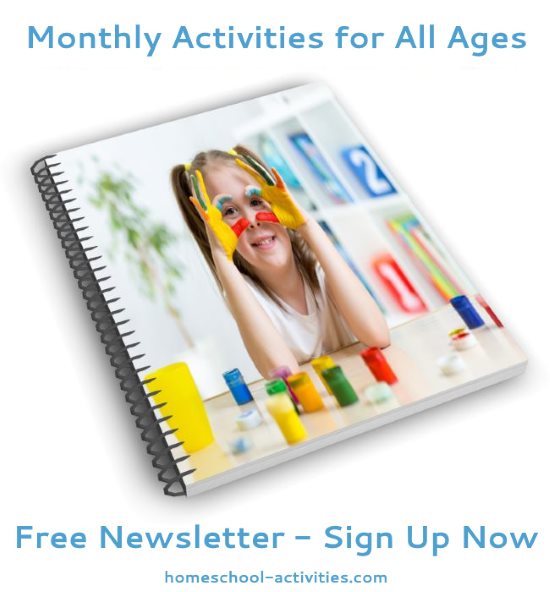 "Just had a look through your monthly newsletter focusing on math. Thanks so much for all the links and ideas. It's brilliant!" ~ Diana      

"Hi....I totally love all your posts and enjoy reading them....the kids love the activities and enjoy them through and through." ~ Bianka