Printable Alphabet Templates
Letters For Worksheets And Handwriting Practice

Fabulous homeschool free printable alphabet templates for all ages and levels.
Your child can use them for handwriting practice with the shapes of the letters.
They are perfect as extra teaching help to go with our free alphabet worksheets.
Each of the printable letters is shown in upper case and lower case. 
We have continued the homeschool Animal Alphabet theme as animals always make teaching the alphabet more fun!
We start with an A for Ant and end with a Z for Zebra.
All the drawings are by my homeschool daughter Catherine, whose work has been exhibited at the London Natural History Museum.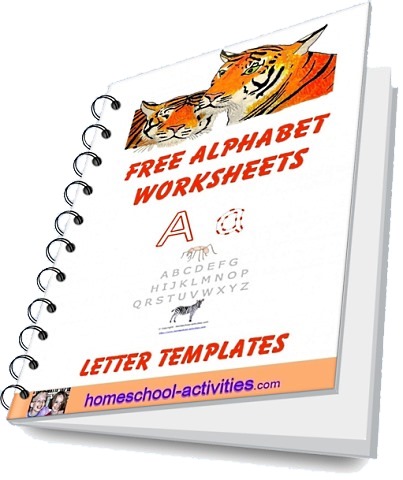 Nothing would please us more than for you to use our free homeschool printable alphabet templates for teaching the alphabet.
Website owners and commercial organisations - please note these free homeschool worksheets are copyright protected.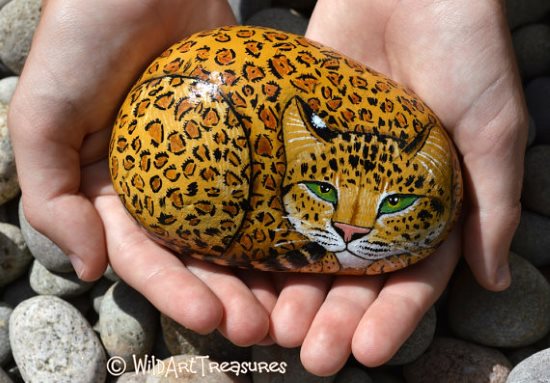 Catherine loves homeschool art so much she has now set up her own on-line Wild Art Treasures Etsy shop selling hand painted rocks, jewelry and spirit totems for animal lovers.

Free Alphabet Worksheets
It's a great idea to start teaching writing practice by showing your child how the shapes of the letters are formed.
You can see I've set my daughter Catherine a challenge for homeschool art.  She's chosen one of our kids art projects to draw animals especially to illustrate these free worksheets for you: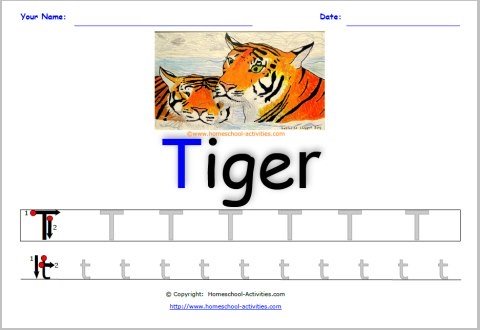 Our free homeschool worksheets make teaching writing fun.
You'll be able to spot all your child's animal favorites from a baby dinosaur hatching out of an egg, to a yak and even a unicorn.
Each of the printable alphabet letters starts at the dot and gives your child handwriting practice copying the letters.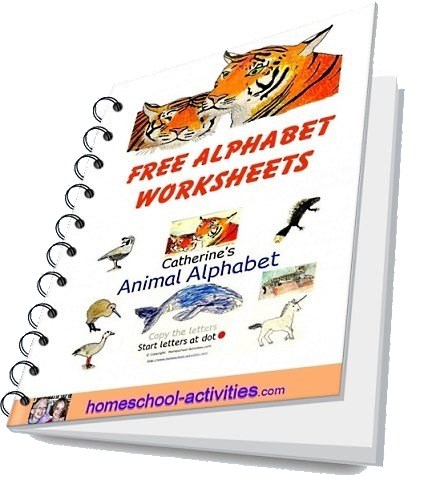 Printable Alphabet Letters
Each of our free printable letter templates is perfect for: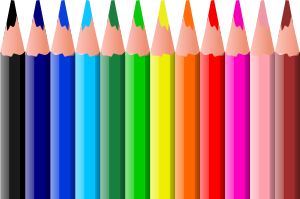 Coloring.  Why not start with our free alphabet worksheets and then get more help teaching writing practice by drawing the shapes with these letter templates?

Cutting out. When you've colored them, you could cut out the templates and stick them on a large piece of bright card. If you add glue and sprinkle over some glitter you're well on the way to some fun art activities

for children

.

Alphabet Games. A great use of these free homeschool templates is to turn them into a game and make teaching writing practice fun:
See how many things you can find in the room which begin with each letter.
Find the templates for the letters which match your child's favorite toys.

Make a collage.

Cut out the alphabet templates and stick down pictures of things which start with the letters.

There's all sorts you can do to make handwriting practice child-friendly!

Handwriting Practice Worksheets
You can use each of our free homeschool alphabet letters as templates for extra handwriting practice. Your child can write inside the letters and then color them in.
If you want some help with teaching alphabetical order, we've made some free printable homeschool worksheets to help based on Catherine's animal alphabet.
They are suitable for all ages and levels, so you can use them for teaching writing from preschool, when your child can use these free worksheets to draw a line from the letter to the animal's name.
You'll also find ones for more advanced grades where you're teaching your child to sort first and second letter words into alphabetical order.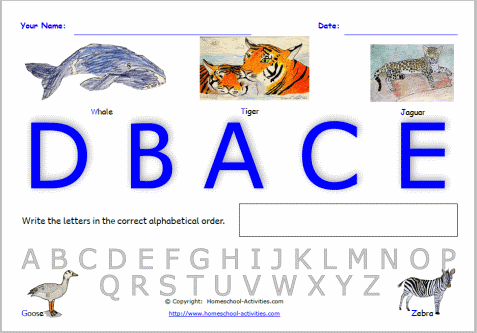 Free Printable Alphabet Templates
To download a full set of your free printable alphabet letters, click on the red link below the photo.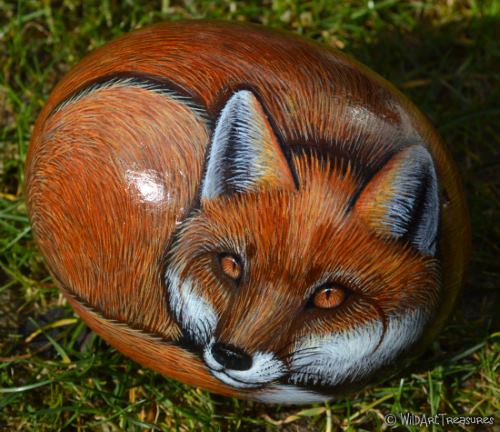 And to prove how far homeschool art can take your child, this fox is just one of the gifts my homeschool daughter Catherine sells in her Wild Art Treasures Etsy shop.

You'll find more resources to help with teaching preschool here:

Preschool Curriculum Ideas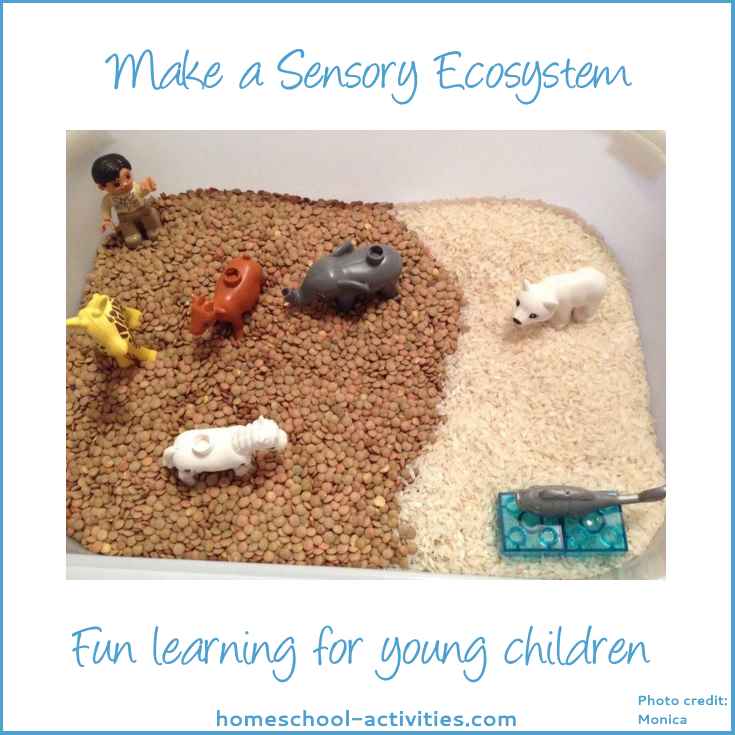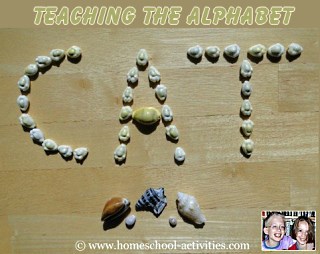 Helping Your Child Learn The Alphabet

We hope you find our free homeschool printable alphabet templates useful when you're teaching handwriting practice to your child.
Love this page? Help me spread the word by sharing...
---
---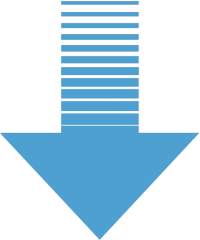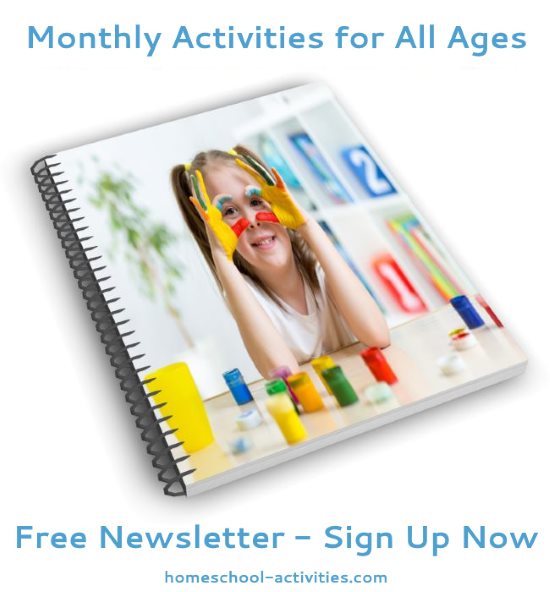 "Just had a look through your monthly newsletter focusing on math. Thanks so much for all the links and ideas. It's brilliant!" ~ Diana      

"Hi....I totally love all your posts and enjoy reading them....the kids love the activities and enjoy them through and through." ~ Bianka