Christmas Activities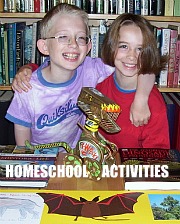 If you like this newsletter, please forward the link to share with your friends.
If you got this issue from a friend, please subscribe so you don't miss out on all our future Newsletters - including ideas and activities for all ages covering Science, Art, the Rainforest, Dragons and more....
I'm starting with a Christmas NEWS Flash:

Homeschool Secrets of Success
Christmas SALE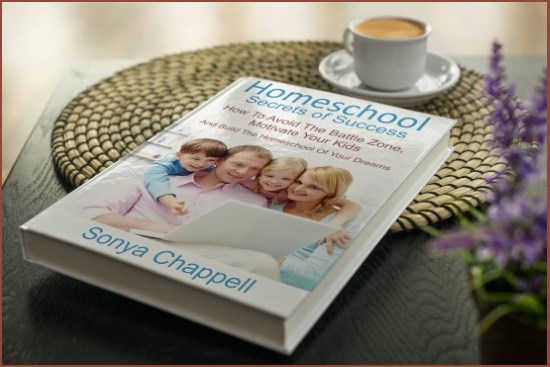 Good news!  My new book Homeschool Secrets of Success is now on a Christmas SALE and you can get it at a reduced price down from $9.99 to $5.90 (down from £7.99 to £5.99)

"Great book. Very encouraging and supportive." ~ Janet

In this Issue:
Christmas Ideas For Kids

Christmas is a great time to enjoy all sorts of educational activities with the kids as well as having fun! You'll see we've got ideas for festive math and science as well as lots of fun games and crafts.
Ideas For Younger Kids
Christmas Tree Ornaments

Simone from my Courageous Homeschooling Facebook group shared this wonderful and simple idea for making tree ornaments from jam jar lids.

"We have been making jam jar lid ornaments for the Christmas tree. So pretty and inexpensive to make. x" ~ Simone

Simone says to make them all you need do is:
Paint the backs of the jars with chalk board paint so you can write individual messages
Cut some pictures out of Christmas cards to fit
Use some sparkly pipe cleaner (chenille stems) around the edge as a neat trim
Add little bits and bobs to decorate
Put a ribbon and a message on the back if you like.

The hot glue gun is easiest, but can be made with PVA glue, too :-) x
"Looks wonderful..great idea..have to try it." ~ Bianka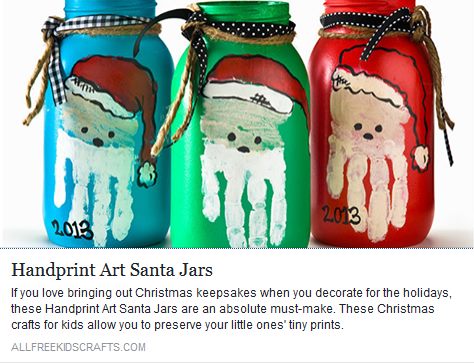 Bianka found this lovely Santa Jar activity and to show you how much fun her children had doing it here are the ones they made:

Enchanted Learning has some nice free crafts. You can make a Santa hat, a real crystal snowflake, and a paper plate snowman.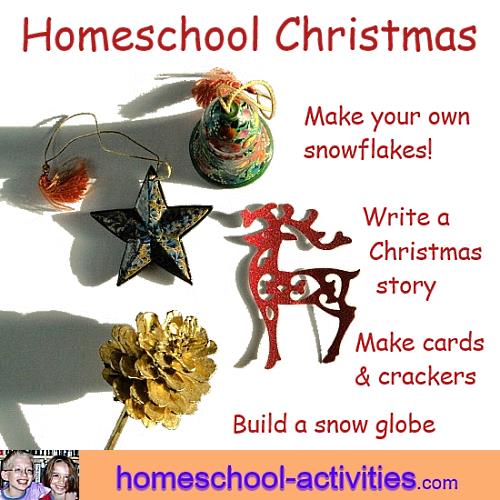 Our Christmas activities for kids page has lots of ideas to try, including our favorite: making your own Christmas crackers. You'll see ideas for homeschool snowflakes, mini pinecone Christmas trees and how to make tree ornaments using our salt dough recipe.
You could start by using our free writing worksheets to get your child to write about their best Christmas present - a great way to sneak in some homeschool English!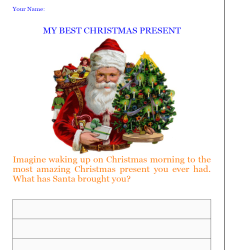 Stacey found these lovely melted bead ornaments:

"Thought this was brilliant." ~ Stacey

Free Christmas Printables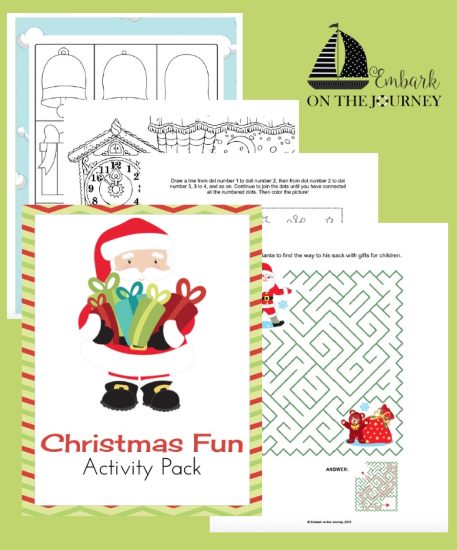 You can get a free pack of Christmas activities with eight free printables including tic-tac-toe and a dot-to-dot.

Samaritan's Purse is a nondenominational evangelical Christian organization providing spiritual and physical aid to hurting people around the world.
Jami from the Courageous Facebook Group recommends their free printables, which include a soccer maze, coloring activities and word searches.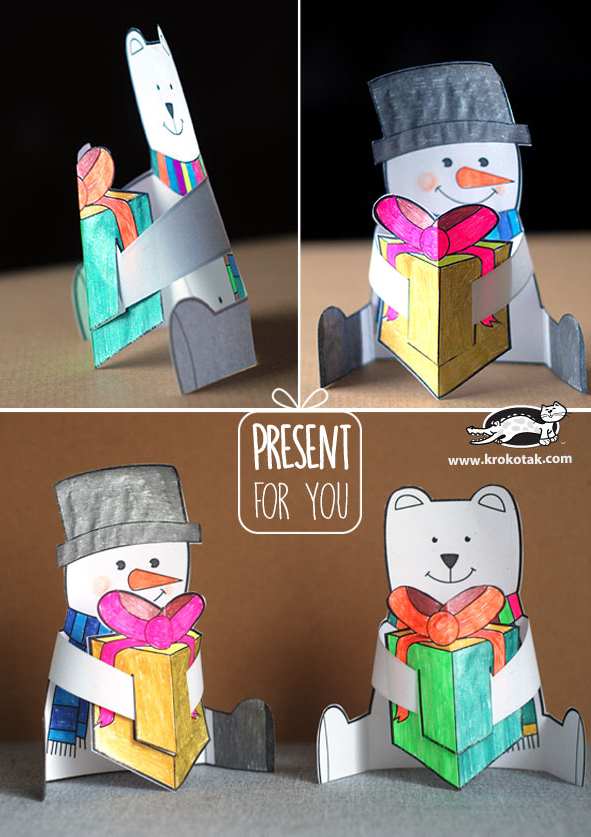 Bianka spotted these lovely free templates you can download to make these little paper toy holders.
Really pretty - thanks for sharing Bianka.

Party Games
Christmas is definitely the time for a party and I thought you might like these Xmas party game suggestions.
From Santa Says to Freeze and a Blind Snowman Dance, there's plenty to enjoy and you can print out free Christmas party invitations, with a special invite from Santa himself!
Online Games
Christmas wouldn't be Christmas without games! These ones are online and not that educational I have to say, but nonetheless I thought your kids might enjoy some of them!
Miniclip has a variety of games, from frostbite to snowbowl and eight ball pool.

Primary Games. Annoying ads at the start, but your children might enjoy games like helping Santa get his present back after a naughty elf has stolen his sleigh full of presents and a severe bout of reindeer hiccups scattering presents across Europe.
Fun Christmas Activities

The great thing about Pinterest is that everyone can share the best ideas they've found for activities, free print outs, games and fun ideas.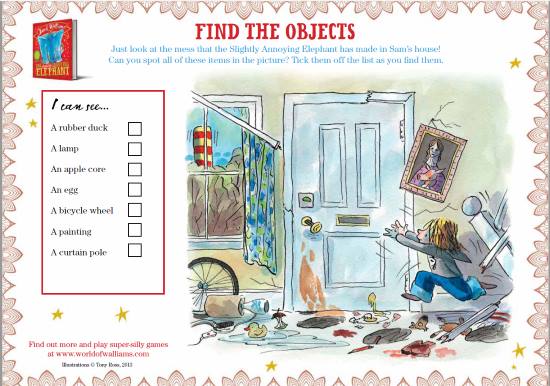 Not really Christmassy, but I thought I'd sneak in these fun free resources Sylvia found on the David Walliams site.
You'll find resource packs for Grandpa's Great Escape, The Slightly Annoying Elephant and the World's Worst children among others :)

E-mail Santa
How about getting your kids to e-mail Santa and get a reply from the North Pole?
And Santa might well enjoy having some fun in the snow when you have a go at making our snow globe in Christmas crafts.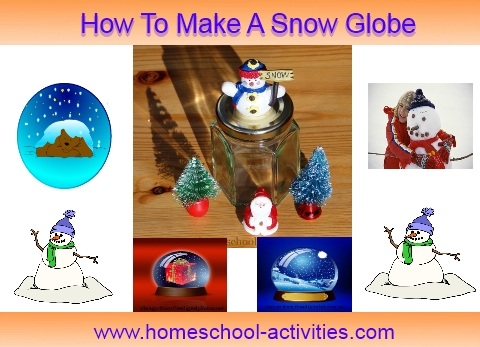 Science Fun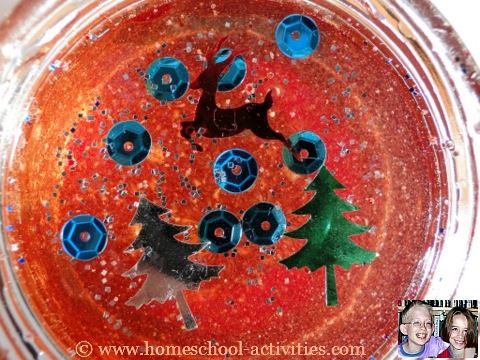 You could have some fun with the kids over the holidays making our homeschool lava lamp and dropping in some Christmas trees!

The Kindness Elves

Monica came up with this suggestion for the Christmas newsletter so I thought I would let her explain more:

"I don't know if you know of this tradition or similar one, we don't have it here, but it is really thoughtful. This is an alternative to Elf on a shelf. The elves do kind things for people, you can make your own elves, you don't have to buy them. ....
We have donated clothes and toys, helped a person in need, donated books, cooked food and gifted it, etc. It is up to the children if/what/when they would like to do. I really love the Kindness Elves" ~ Monica

Ideas For Older Kids
Frozen Planet
Get into the festive mood by watching some penguins being rather naughty:

Frozen Planet is a wildlife program about the Poles of the Planet - which makes it ideal Christmas viewing!
Christmas Math
Math may not be the first thing that springs into your mind when it comes to Christmas, but actually, as you'll see from our page on Christmas Games, we love playing family games together at Christmas and that gives you the perfect opportunity to sneak some numbers in! You'll see some of our Christmas favorites are Settlers of Catan and Ticket to Ride.
If you're fans of Agricola, you might like to know that William and Catherine have asked for the newest version called Caverna from Father Christmas and I think he's agreed!

US
UK
Courageous Homeschooling Facebook Group


This newsletter would not be what it is without the ideas and suggestions from my Courageous Homeschooling Facebook group.
If you would like to come and join us, please do.  I set the group up as a safe and supportive place where we could come to encourage each other through the ups and downs of our homeschooling journey.
Each day starts with us sharing what we are doing that day.

"I am also very grateful for being part of this group. Only through this group do I now have confidence in home educating my children xxxxx"  ~ S
"I'm over the moon thankful for this group. God has sent so many wonderful positive people my way through here." ~ N
"(I'm thankful for) this lovely group for allowing me to share my daily goings on and for allowing me to see what wonderful things you all get up to with homeschooling x " ~ A
"Today I wanted to say that I'm grateful for this group, which has not only given me the confidence to accept that we are doing the right thing but also for the many friends I have made both near and far." ~ S
Special Gifts For Christmas
It can be hard to find exactly the right present which is both fun and educational.
You can find the very best homeschool gifts for Christmas, Thanksgiving and Birthdays in this list.

They are all presents which have come top of the list with our children or come highly recommended by over 9,000 Facebook fans.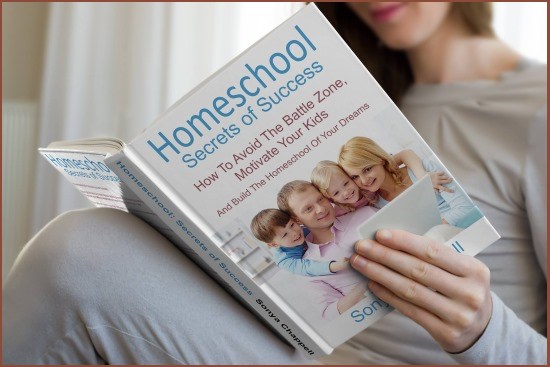 Christmas SALE

Good news!  Homeschool Secrets of Success is now on a Christmas SALE and you can get it at a reduced price down from $9.99 to $5.90 (down from £7.99 to £5.99)
"Love this book." ~ DansMum


Keep In Touch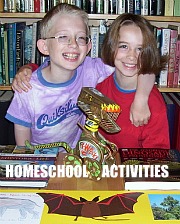 HomeschoolActivitiesCom Facebook
Find daily hints, useful websites and homeschooling ideas at Homeschool Activities Facebook. If you feel like it, be nice to me by ticking the Like box or leaving a Comment on my site!

I'm enjoying finding new ideas and setting up fun boards at Pinterest.

I post on Google+ too. 
If you've got any ideas or suggestions about my website or this Newsletter, please get in touch.
If you've enjoyed this Newsletter, please share it with your friends by getting them to subscribe.
Best Wishes and Happy Christmas!

Sonya
January Newsletter
FUN CRAFTS ACTIVITIES

Out: Start of January 2017

---
Homeschooling › Newsletter
---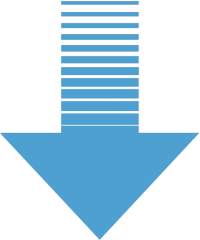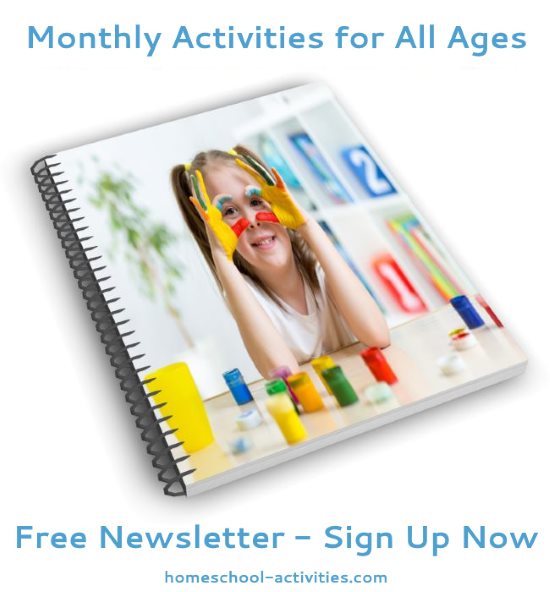 "Just had a look through your monthly newsletter focusing on math. Thanks so much for all the links and ideas. It's brilliant!" ~ Diana      

"Hi....I totally love all your posts and enjoy reading them....the kids love the activities and enjoy them through and through." ~ Bianka