Lego Fun: Kids Activities With Mini Figures Photography

The best lego fun! Your kids can use their favorite lego mini figures to create fantastic miniature scenes to spark their creativity and learn photography at the same time.

Lego minifigs are fantastic for fun learning.  See how to:
Use everyday objects to make your lego minifigs come to life
Take story time to a new dimension - see Alice in Wonderland with her giant mushrooms and set off through Mordor with Gandalf

Introduce your child to photography
Look at the world with different eyes!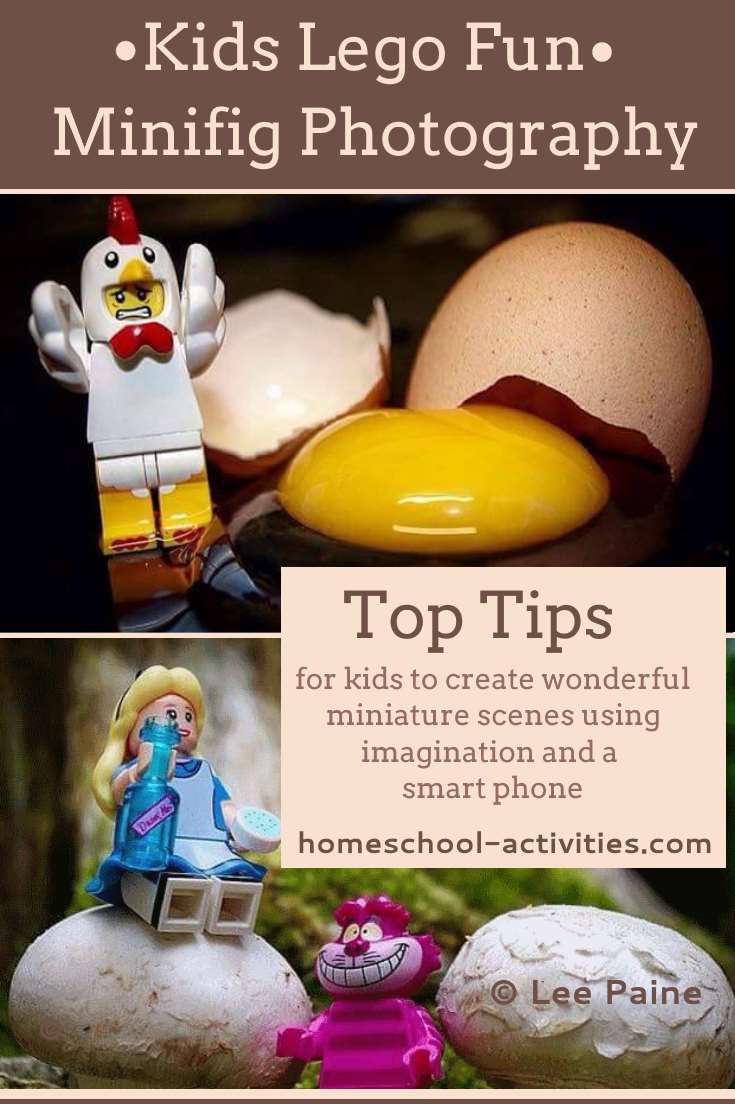 "Wonderful! Bravo!! Both boys are into the Legos right now and this is a great way that they can enjoy their figures and come up with their own scenes.
Love it! Thank you!!"
~ Angie

N.B. This wonderful page is a guest article.  All the photos are copyright Lee Paine. The ideas are his and Lorraine's.  Thank you both.

Lego Mini Figures Photography

All you need is:
A digital camera or smart phone
Some lego minifigures

A location e.g. the woods, the garden, a table top, the beach
Some random household objects
And lots of imagination!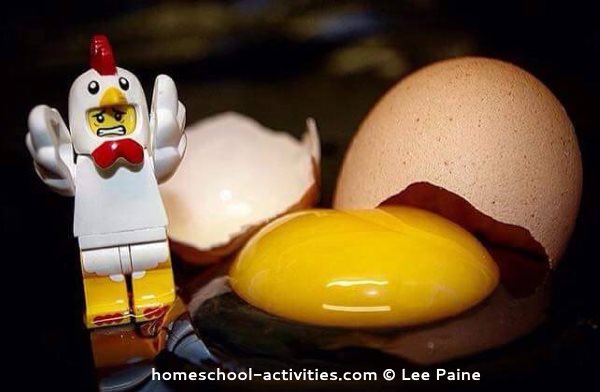 "The chicken man and the egg was taken on top of my oven just by cracking an egg and positioning the figure."
~ Lorraine

Lego Fun

This fun homeschool activity is very simple and easy to do.
You will find it a brilliant way to encourage your child to come up with all sorts of ideas to bring their favorite fig to life.
Here's Lorraine to explain:

"We use various figures: Star Wars , the lego mini figure collections and basically take them to the hills, woods or beach and create scenes with them to photograph or we build our own scenes indoors using cotton wool as snow!" ~ Lorraine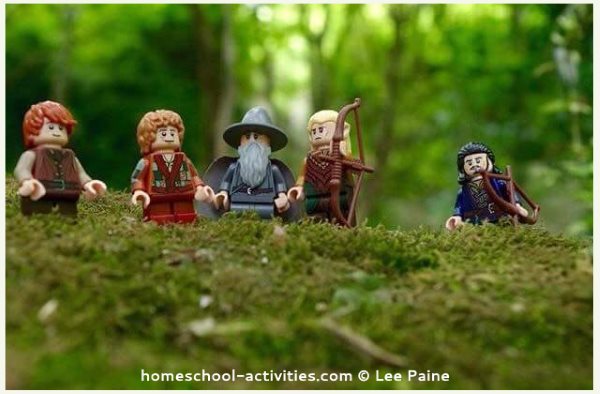 "A lot of the woodland ones ie the Explorer, the Lord of the Rings were taken using natural resources so it encourages your child to find moss and other materials - then basically it's a matter of playing with your figures and snapping away."
~ Lorraine

One tip for lego fun would be to take your figs out with you whenever you go in the outdoors and try photographing from low down on the ground.
If you are struggling to get your kids interested in the great outdoors, geocaching is a great way to get your minifigs off on a real-life treasure hunt and add in some homeschool geography.

You could even photograph your favorite fig finding the cache!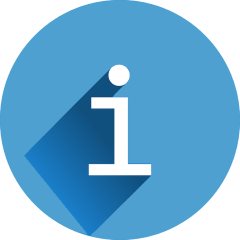 Photography Tips

A good tip is to help turn your minifig into a real person by playing around with the way they stand.  Try turning their head, leaning them over, putting an arm out - just like you would!
Imagining what the world looks like if you are 1.5″ tall is often best done from your tummy!  Get down and see how big a clock looks from ground level - you'll be surprised.
Everyday objects can work really well to surprise and make you smile - just look at Lorraine's son's egg picture.
The great outdoors is a fantastic place for all sorts of natural props.

"It feels like play whilst introducing photography concepts such as lighting, positioning etc... it can even encourage the less than eager child to get out and about and explore the natural countryside whilst looking for the perfect location :)"
~ Lorraine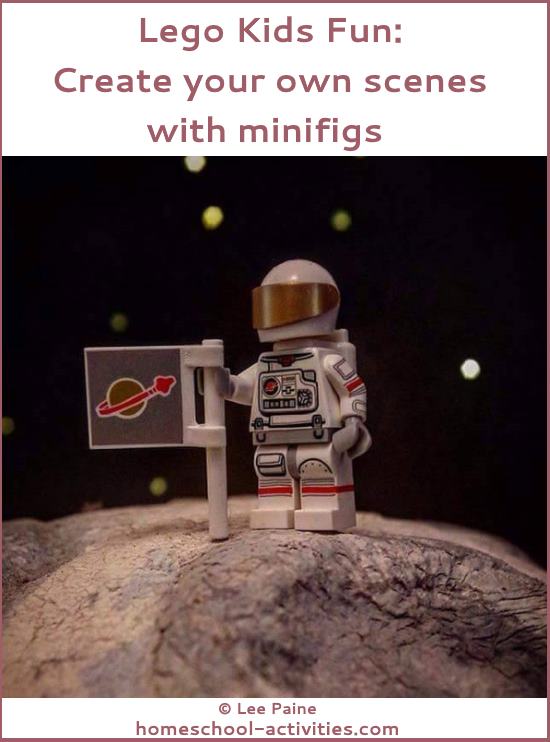 An astronaut scene like this one can spark an interest in space, which you can feed by doing all sorts of fun space activities.
Lego Learning Activities

Lego fun can lead into all sorts of fun learning activities.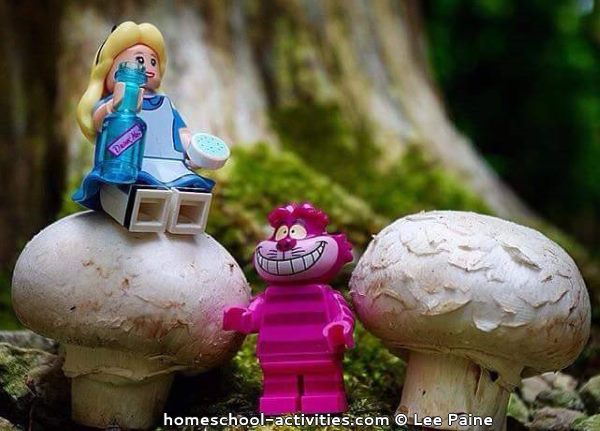 "The Alice in Wonderland one was taken in our garden ... we took mushrooms out of our fridge and propped them up with tooth picks!"
~ Lorraine

"The possibilities are endless and it's a lot of fun :)" ~ Lorraine

Your Lego Photos

To prove how much fun this can be, here are some photos that have been posted after seeing this page:

"My daughter felt so proud seeing her photo and she hasn't stopped taking photos since I introduced her to the page."
~ Ellie

Contact me if you have a photo to share :)

Lego Art

And if you still aren't convinced there is anything educational in this, you might like to know about the street art of Slinkachu.
He is famous for pictures like these showing a stern father who has just shot a bumblebee.  I am not recommending his book as it has significant adult content but he often leaves little people in the bustling city to fend for themselves.
And this artist will definitely inspire your children:

"I just love how you can incorporate story telling as well into this and how a simple fun activity can teach so much xx" ~ Lorraine

More Pages To Enjoy

Click on the picture to go to the page.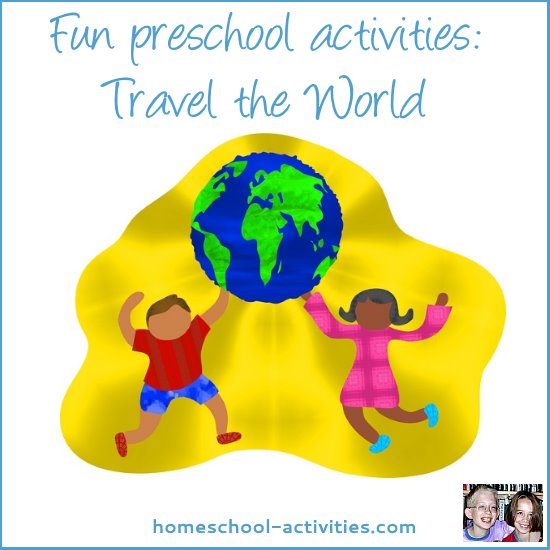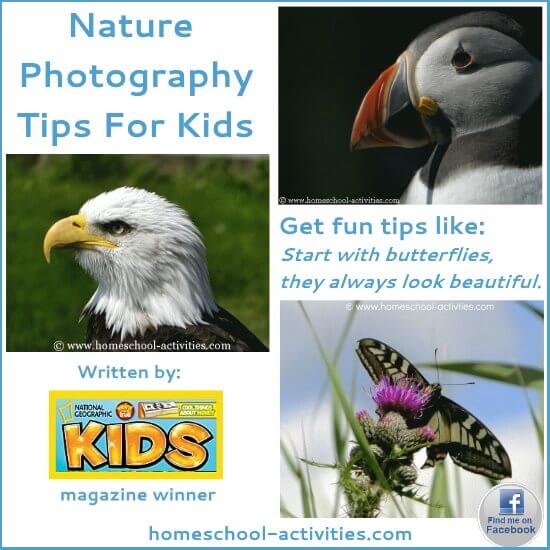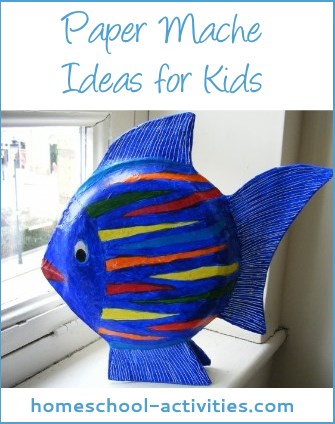 Love this page? Help me spread the word by sharing...
---
Homeschooling › Easy Crafts › Lego

---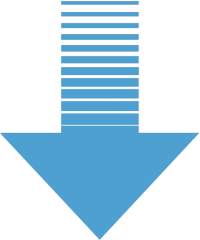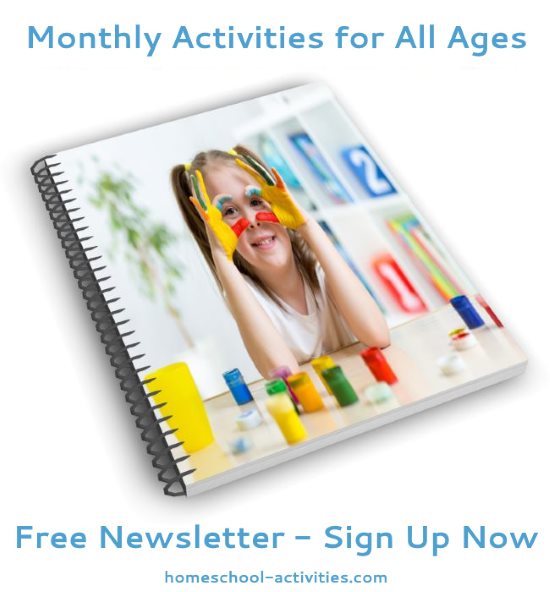 "Just had a look through your monthly newsletter focusing on math. Thanks so much for all the links and ideas. It's brilliant!" ~ Diana      

"Hi....I totally love all your posts and enjoy reading them....the kids love the activities and enjoy them through and through." ~ Bianka