Homeschooling Activities: Build  Dinosaur Robots

Learning how to build a robot dinosaur from recycled trash is one of our most enjoyable homeschooling activities.

You'll be building robot body parts using bits of homeschool household junk!
If you look closely at T-Wrecks you'll soon spot:
plastic fork teeth

screws

and an air freshener head!
And the techniques you'll learn will help you recycle all sort of things.
You can use your own junk to create your own robot dinosaur which really moves and looks fantastic!
I can show you the basics, but you need to get hold of this inspirational book to do it properly:

Stephen Munzer Making Dinosaur Robots from junk
The link takes you to the UK version, in the US you can get it here:
Please note that the book links on this page are affiliate links so if you buy I receive a small commission at no extra cost to you.
Homeschooling activities don't get much more cool than this!
Now DIY is not one of my strong points and I had to be nagged into it but the techniques are basically simple.
Fun homeschooling activities teaching STEM science and technology using recycled trash to build a dinosaur robot. Meet T.Rex with his ferocious plastic fork teeth!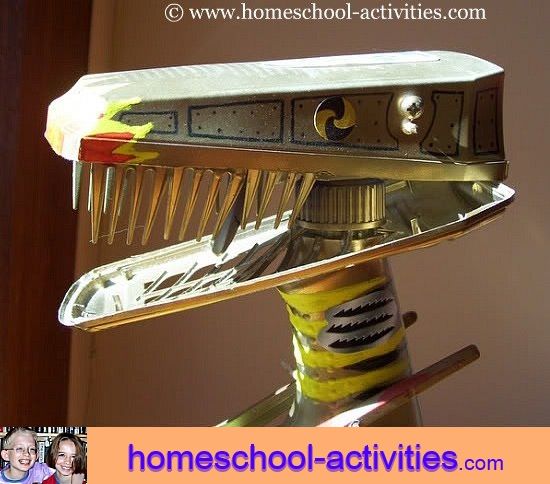 How To Build Robots
You'll be heating a bradawl (a screwdriver will do) over a candle flame to make axle holes in a plastic spray bottle.
Barbecue sticks are great as homeschool axles and circular air fresheners make cool wheels.
It's amazing how much pleasure my children William and Catherine got from just learning how to make something move.

You'll also find making kids models is a really cool way for teaching homeschool design and technology.
For the full details, you need to get Stephen Munzer's book.
Stephen tells you how to make a robot and also has suggestions for cool activities like dinosaur battles and homeschool remote control units.
You'll find it going very cheap on Amazon but the reason it's cheap is that it's getting a bit out-of-date.
The drive to have 'new look' cool products to tempt us means that a lot of your household 'junk' will have changed design since then.
That's not a problem in that the techniques you use when you build robots are easily adaptable, but it does mean your homeschooling activities are going to have to be a bit more creative!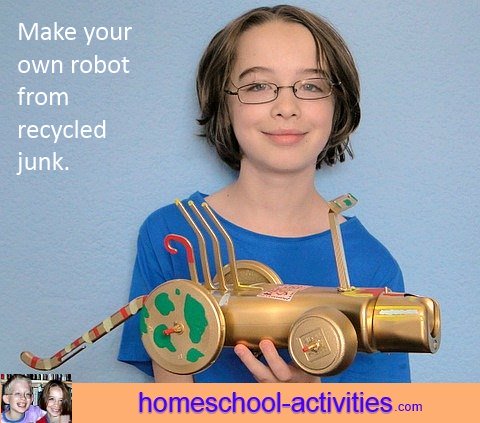 To help you, Catherine's taken you through the steps stage by stage so you can see the crafts skills you'll need to build your own robot in her page on homeschooling recycled kids crafts.
Homeschooling Activities: T-WRECKS PARTS LIST:
trigger-action spray bottle
two circular air fresheners

one wedge-shaped air freshener

eight plastic forks
one plastic clothes hanger

two metal bolts or screws
one plastic drinking straw
three wooden barbecue skewers
two plastic wall plugs

Gold spray paint

As you can see, I had two keen helpers to gather everything together for these homeschooling activities!
The book is aged 8+, we learned how to build our homeschool T-Wrecks dinosaur robot at 5 and William still enjoyed learning more about building robots at age 13.
For the first dinosaur robot the children were largely helpful spectators when it came to actually learning how to use heated bradawls and hacksaws – but it's surprising how much they learn from watching our homeschooling activities.
If you get stuck in too it's also much more fun for you!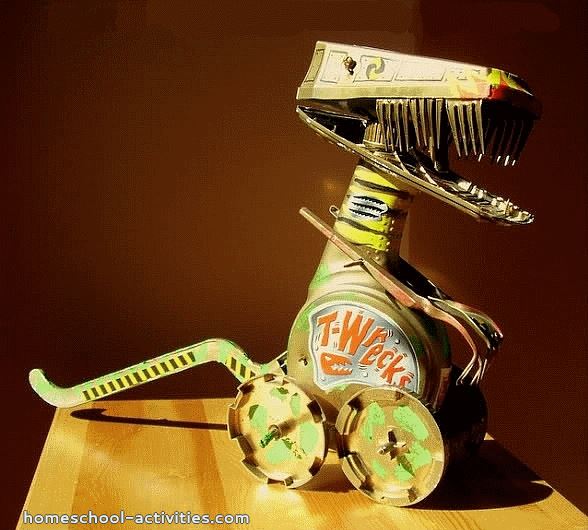 Building Robot Dinosaurs
Tips  And Techniques
I'm going to put some suggestions here, but you'll find more fun ideas in our homeschool page on building robot droids.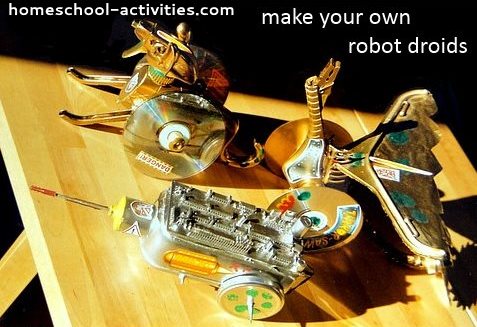 I'm not going to attempt to give a full account of how to build a homeschool robot T-Wrecks.
You need the book and you need to follow the safety instructions. I was never happy about leaving the children unsupervised – a heated bradawl in the eye comes agonizingly to mind.
More helpful is to give a quick round up of the basic methods, which you can apply to build a dinosaur robot or when you're deciding how to make other cool dinosaurs.
As you'll see, some of the techniques came in handy when Catherine went on to build her own dinosaur Velociraptor.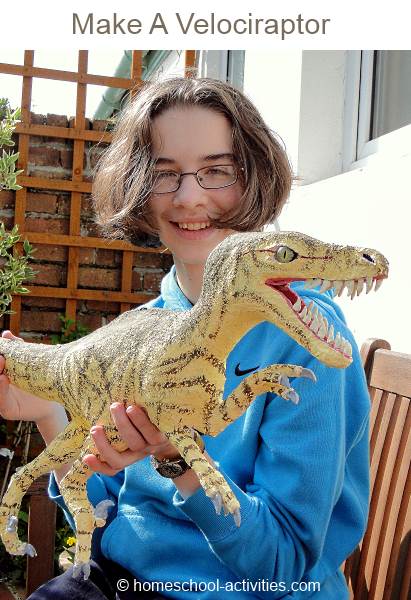 Cool homeschool robot BODY components are plastic spray bottles, loo cleaner bottles with swan-shaped necks and motor oil bottles.
You make robots MOVE by piercing axle holes through the bottom using a bradawl heated over a nightlight.

Use barbecue sticks through the holes as axles.

Homeschool wheels look cool if you build them from CDs. Or you can use milk bottle tops glued together, air freshener halves, insulation pipe and jam jar lids (tricky).

Bits of plastic straw make good homeschool spacers between the body and the wheels.
TEETH and CLAWS look cool made out of plastic forks. T-Wrecks gets his fearsome mouth from fork ends heated in a candle flame.
Homeschool WINGS look good from a plastic carrier bag.

Homeschool dinosaur robot TAILS are excellent as sawn-off clothes hangers.
 If all this talk about building wings and tails for robots isn't making much sense, have a look at our homeschool Terror-Saw: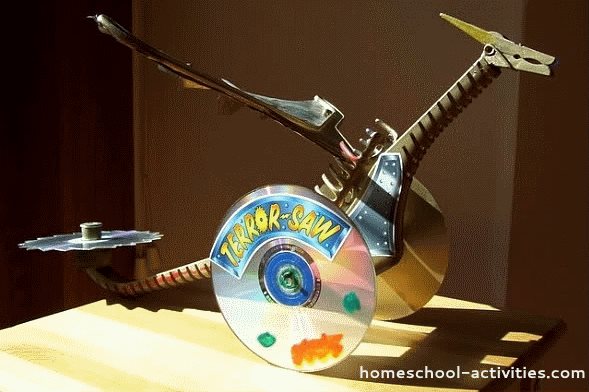 Cool Robots
Once your creative imagination is fired, you'll see all sorts of homeschool possibilities lying around!
Here are some more homeschooling suggestions for cool robots:
Antennae – wall plugs
Necks – garden hose
Stegosaurus plates – plastic spoons
You can learn how to make a saw bade tail by warming CDs in water and snipping teeth in them
Homeschool body coloration for robots is best delivered via gold or silver spray paint. It may sound a little garish but it really adds the finishing cool touch to your homeschool dinosaur robots

Robot Building For Beginners
In the process of learning how to build a robot it's astonishing how much your children will find out about homeschooling design and technology. It's also a cool way to recycle.
If your children would like how to make a different sort of homeschool model, we've got advice on the best model kits for airplanes.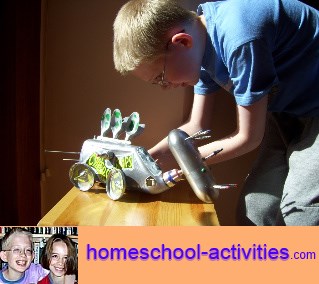 There's lots more to discover in the world of how to build a robot. And dinosaurs have to be one of those cool homeschooling activities where you can really let your imagination fly.

Where Would You Like To Go Now?

Here are some of my most popular homeschooling  pages.  Click on the pic to go to the page.  And - enjoy!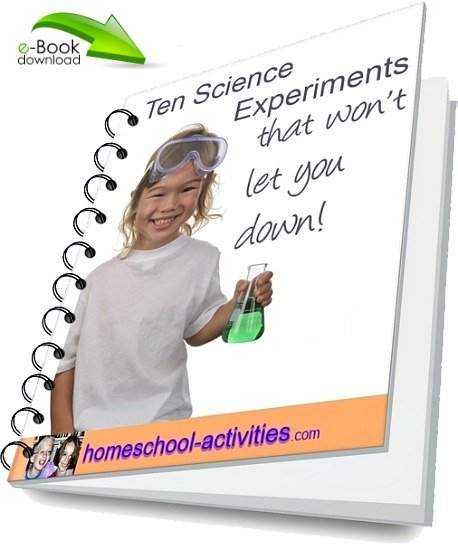 Love this page? Help me spread the word by sharing...
---
---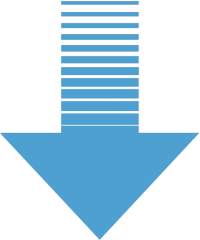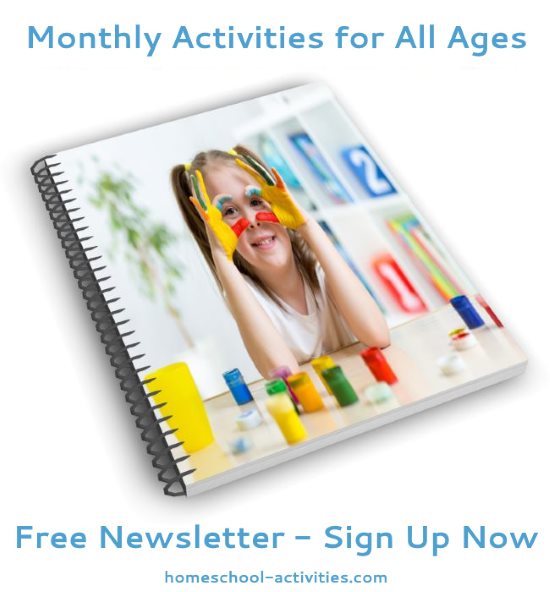 "Just had a look through your monthly newsletter focusing on math. Thanks so much for all the links and ideas. It's brilliant!" ~ Diana      

"Hi....I totally love all your posts and enjoy reading them....the kids love the activities and enjoy them through and through." ~ Bianka