Space Activities For Kids
Build A Space Probe
Our homeschool space activities for kids will show you how to make a Voyager space probe, get a free Planets printable and discover the Universe!
Before you start worrying, the basic design is really simple.
If you look at our homeschool model, you can see it's really just a series of cardboard tubes and loo rolls all covered in shiny foil.
You'll also see how to
build a model solar system

and find some brilliant space pictures. 
Building your own space probe has to rank as one of the best science experiments for kids!

Don't get put off thinking making a Space Probe is really complicated!
The basic design is a series of cardboard tubes and loo rolls covered in shiny foil.
How To Make A Model Space Probe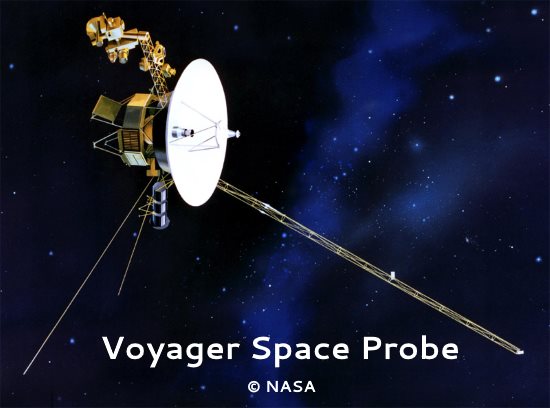 As you can see, we had great fun learning how to make a space probe in our homeschool activities.
To really get the idea, you need to have a look at the real Voyager Space Probe design.
The thing that really makes it all hang together is the dish (or 'high gain antenna' to give it the proper name!) and that's just aluminum foil sprayed onto a cone of homeschool cardstock.
What You Need To Make A Probe
Cardstock
Toilet paper rolls
Two drinking straws
Aluminum foil
Assorted homeschool cardboard boxes
Holographic paper
How To Make A Voyager Space Probe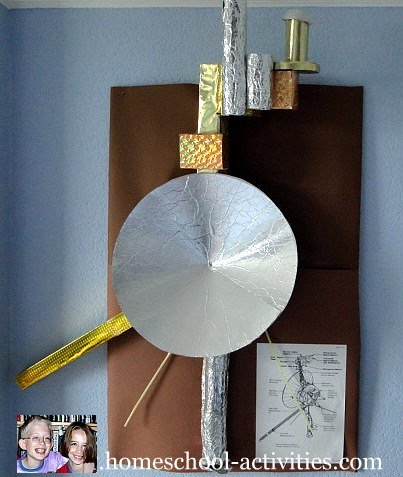 Start by cutting out a large circle of cardstock. Spray mount some aluminum foil on top of the card stock so it gives a metallic feel to your antenna dish.
Make a slit half way from the edge to the centre so you can fold it into a cone shape.
Start making the rest of the probe. The magnetometer boom can come from any long, narrow cardboard box - a homeschool plastic food wrap box is fine.
Cover with holographic paper - ours is yellow and shiny.
Get going with the toilet paper rolls! Cover with different colored holographic paper. Turn them into parts of your homeschool probe.

You'll find two homeschool drinking straws stuck one after the other will make a great

planetary radio astronomy

and plasma wave antenna.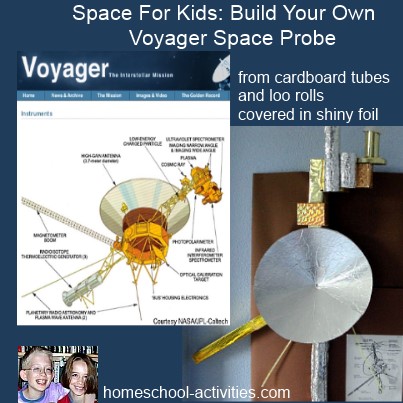 You can see some videos and images of the Voyager space probe in flight at NASA.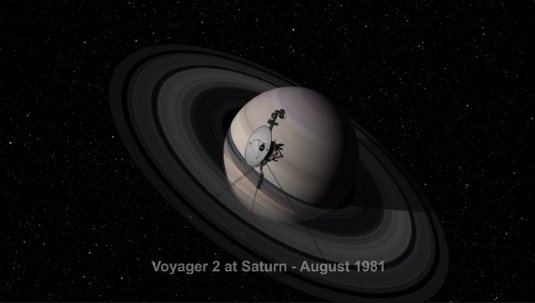 You'll know from our how to build a robot page that we really rate Stephen Munzer's books, and he's got this one on making spacecraft from trash.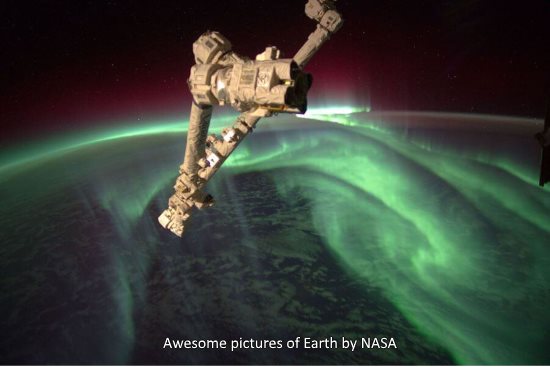 If you want to be inspired, you can go to NASA and get an image of the day taken from space.

Free Planets Printable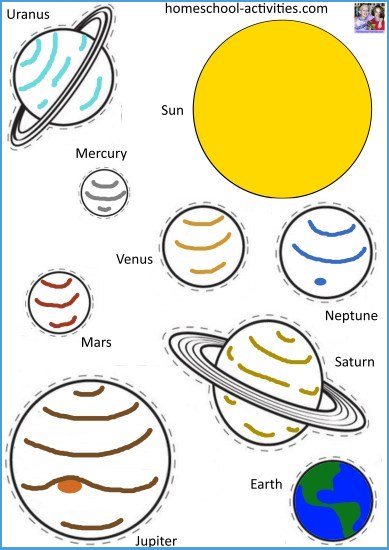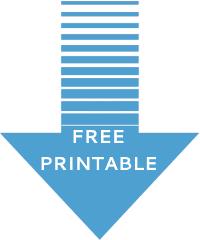 Get your free Planets download here.
Build A Solar System Model
Come and see how to build a solar system model for more homeschool space activities for kids.
This isn't just for space fanatics, as we show you in this page where Catherine has great fun splattering red paint to make homeschool sun spots and making balls out of modeling clay.
Make An Astronomy Cave
Fabulous space lesson for preschoolers and kindergarten, see how to learn the constellations by stepping inside your own astronomy cave made from cardboard boxes and dollar store lights.
You can see how to do it lower down on the page here.

Space Games For Kids

Games have to be one of the best space activities for kids!
Come to our kids space page for:
the best websites

space party food
free solar system trading cards: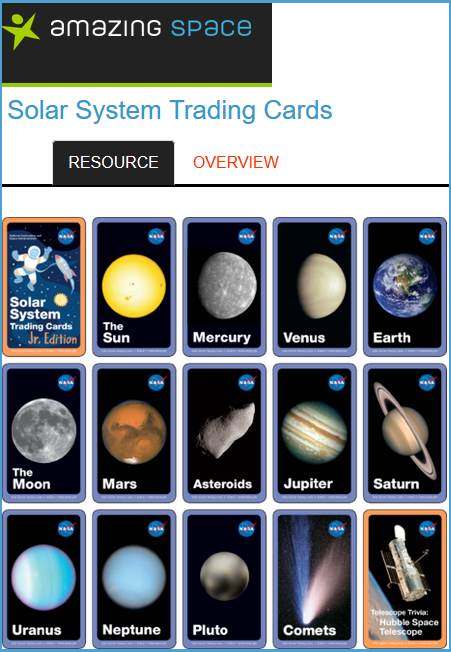 Love this page? Help me spread the word by sharing...
---
---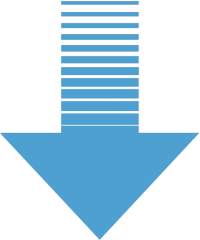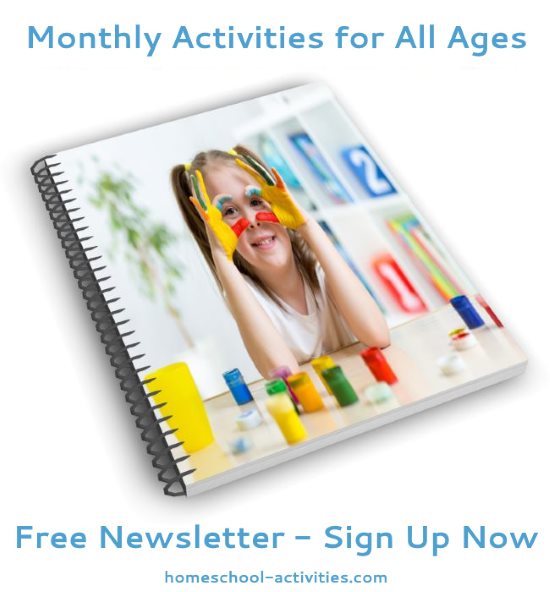 "Just had a look through your monthly newsletter focusing on math. Thanks so much for all the links and ideas. It's brilliant!" ~ Diana      

"Hi....I totally love all your posts and enjoy reading them....the kids love the activities and enjoy them through and through." ~ Bianka