Halloween Craft Ideas
Activities And Crafts For Kids

If you'd like a change from the usual Halloween craft ideas and activities for kids, you'll see we choose more wholesome crafts.
Come and join us as we make:
Bat mobiles
Bat lanterns
Animal pumpkins
You can also see:
Halloween pumpkin gallery

How to build a scarecrow and

A lovely idea about

visiting the elderly
Let's start by showing you something Bat-tastic!

"Here's my little guy in the Halloween costume I made him.  He still wears it around the house." ~ Nichole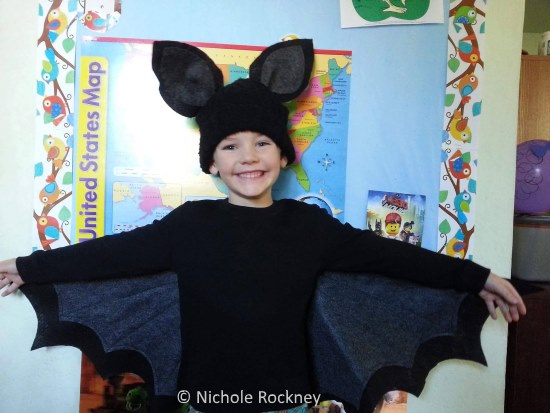 Pumpkin Gallery

There is nothing nicer than Halloween craft ideas that include carving a pumpkin!
I thought I'd start by asking members of the Courageous Homeschooling Facebook Group if they would like to share theirs to give us some inspiration!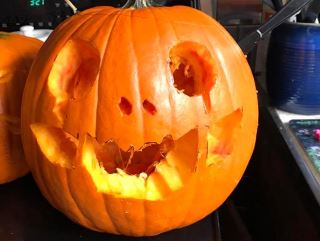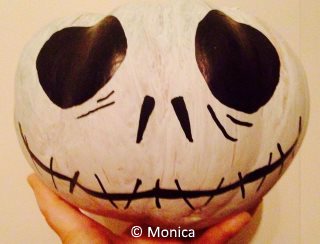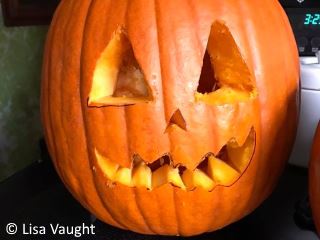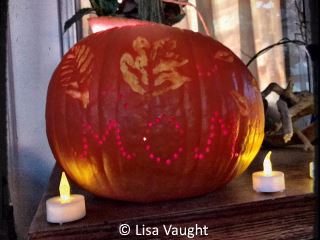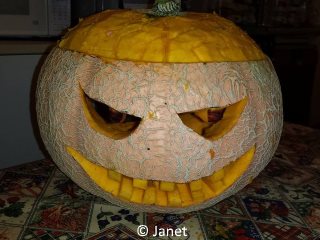 Finally, here is a lovely pumpkin made by Abby: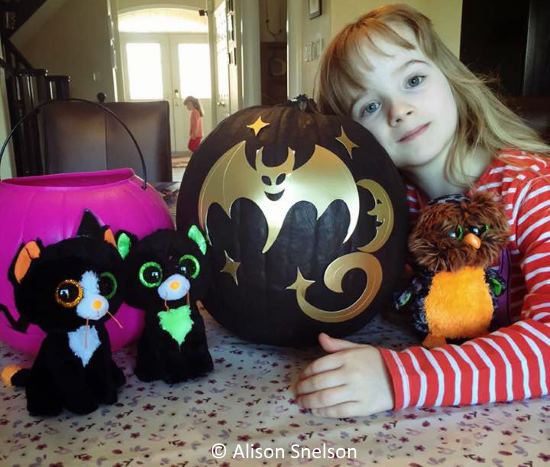 You'll also see an important post from Monica and Simone lower down about being aware and accepting of all the little people who visit your home at this time.

We celebrate this festive time of year with homeschool activities centered around the things we love - animals.
Bats tick all the Halloween boxes and are great fun for kids craft ideas - in fact by the time I've finished you'll be amazed how many homeschool Halloween activities they star in!
If you do want to add in some halloween crafts for kids that appeal to the Urgh! side, why not learn how to make slime!
Halloween Activities
Homeschool Halloween crafts in our house are a bit different.
We're not that keen on the modern fashion for endless over-commercialism, probably because I'm a bit of a softie and find it all a bit yucky.
So our Halloween craft ideas for kids take a different tack. 
We love bats in our homeschool, so making bat mobiles and bat lanterns along with the traditional lighted pumpkin makes for great Halloween activities.
I know we're not alone in finding a different way to celebrate.
Halloween Crafts For Kids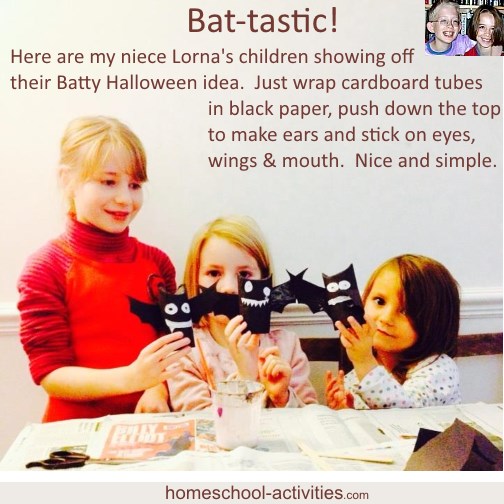 Make A Bat Halloween Scene

A Halloween bat scene is a great way to start your Halloween craft activities. Bats are also great for kids.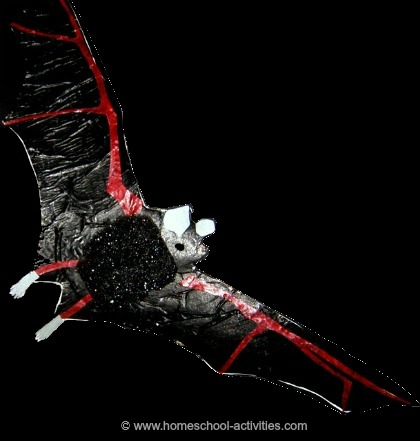 Making animal crafts scenes is something we've had great success with in our homeschool, as you can see from our rainforest scene in our rainforest for kids and our ocean creatures project in homeschool unit studies.
Bats are also great fun for Halloween kids crafts. The thing is to let your Halloween imagination run riot and get the kids running round the house for anything which could become a bat animal part. How about:
Red pipe cleaners for the wing fingers
Black spider tissue paper to imitate leathery skin (black craft tissue paper works just as well)
Black foam packing material for tummy fur (our homeschool craft version had extra sparkly bits in)
What you choose will depend on the age of your kids, but even some black card stock painted with black wing patterns is surprisingly effective and begins to set the scene for Halloween crafts.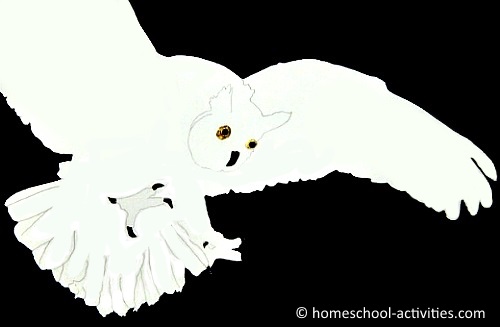 Make A Bat Mobile

Once you've begun to paint and draw bats, it's not too big a step to cut them out and turn them into a bat mobile craft.
Mobiles work really well for Halloween craft ideas for kids. We use bats in our homeschool, but if you insist then you could easily make a Halloween ghost mobile or anything your kids fancy.
You'll need:
1 sheet black construction craft paper
Black homeschool thread, cut into 6 different lengths
6 pennies
Two twelve inch wooden craft dowels
Scissors, glue, etc. and black jewelry cord or yarn
You need to keep your bats simple and symmetrical for this crafts mobile to work.
You could just draw a homeschool template with bat wings folded in half - open it out and you have a flying bat!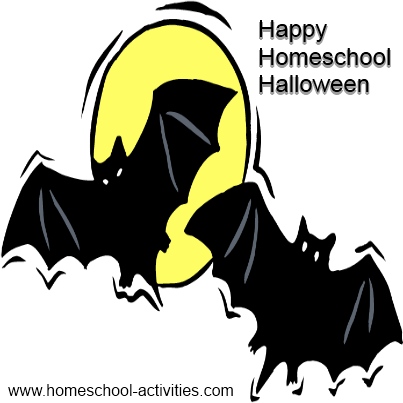 How To Make Your Halloween Bat Mobile
Cut out 6 identical bat shapes. Place a spot of glue onto the center and a piece of black thread into the glue. Press a penny into the glue on top of the thread. Do the same for all 6 bats.
Cut two lengths of jewelry cord, each about 24" long. Tie one end of cord to the center of one of the dowels, and the other end to the center of the second dowel.
With the other piece of jewelry cord, attach it to the center of one of the dowels, leaving the end loose; this will be the end from which you'll hang the mobile.
Attach two hanging bats from the top dowel, on the left and the right.
Attach the other four bats to the bottom dowel. To make them hang properly, the first bat hangs short, the second long, the third short and the fourth long.
What could be nicer than celebrating your Halloween activities and crafts with a bat mobile?
More Halloween Kids Crafts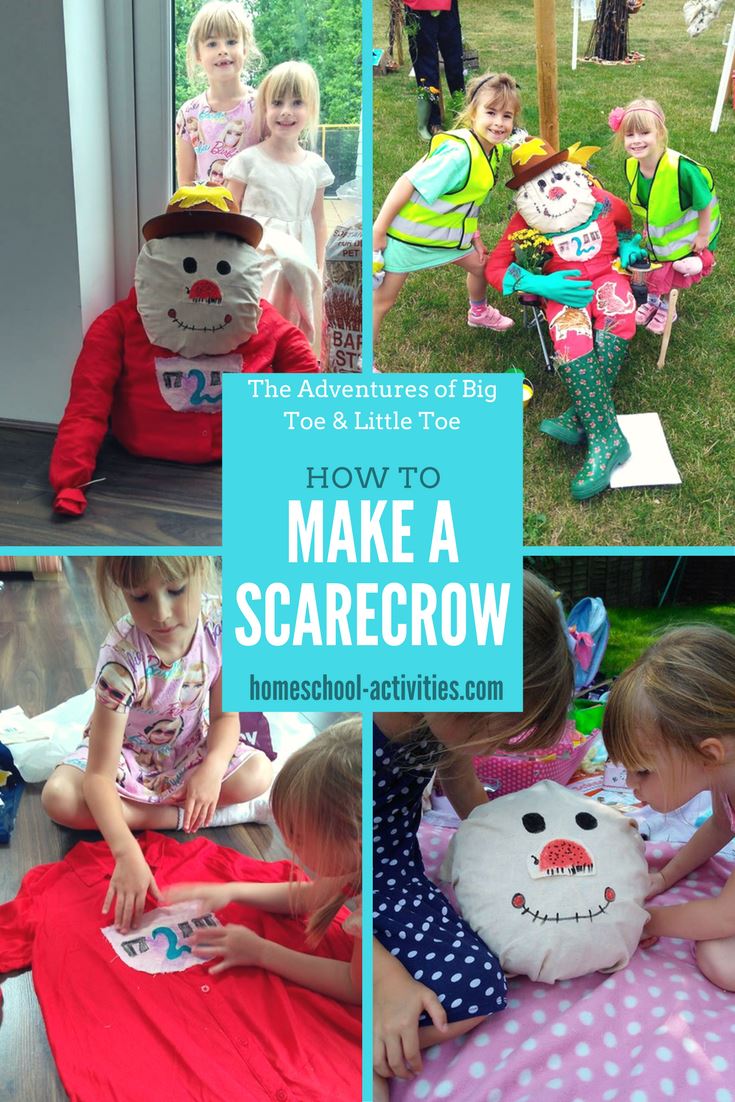 Scarecrows are growing in popularity for Halloween craft ideas and fall-themed decorations.
This page will show you top tips on how to build one.

Bat Lantern
Lanterns are great ideas for Christmas activities for kids.
You can make fantastic homeschool Halloween lanterns using jam jars with tea lights inside. But the finishing touch is to enjoy some kids crafts by sticking some bat shapes on the jar using crepe paper.
It's amazing how magical it is to switch the lights off and watch your Halloween crafts activities pay off as the bats shine through.
Bat Pumpkin
OK so by now you've got the hang of this - but honestly Halloween craft ideas and activities for kids do look really good if you get your kids to carve the pumpkin with bat shapes!
You might need to give some help by marking the bats out first, and we have been known to use other homeschool animal ideas (including cats).  Either way pumpkin lanterns are always one of the best Halloween craft ideas.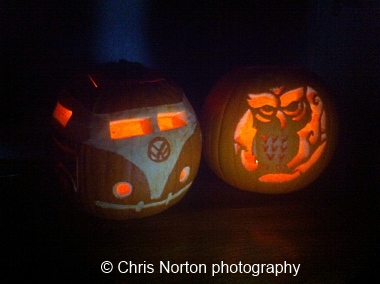 More Batty Halloween Craft Ideas
We've also got ideas for how you can enjoy Halloween crafts for kids in a way which will surprise and horrify some:
You could make a Halloween evening bat watch the highlight of your celebrations!
You'll also find a really good page where you can watch a baby bat and hear a Pipistrelle hunting at Wikipedia - which might get you inspired to try even more batty ideas with your kids!
Either way, I hope our Halloween craft ideas and activities for kids have given you lots of unusual ways to celebrate.

Things To Remember This Halloween

"With Halloween upon us, please keep in mind, a lot of little people will be visiting your home. Be accepting. The child who is grabbing more than one piece of candy may have poor fine motor skills. The child who takes forever to pick out one piece of candy may have motor planning issues. The child who does not say trick or treat or thank you may be non-verbal. The child who looks disappointed when they see your bowl might have an allergy. The child who isn't wearing a costume at all might have a sensory issue (SPD) or autism. The child who is grabbing and running may have ADD or ADHD. It's not their fault and it's not failure on the parents part to teach them manners, some kids just have invisible issues. Be nice. Be patient. Its everyone's Halloween." ~ Shandi K Dews

This lovely post was shared by Simone in our Courageous Homeschooling Group.  I am also sharing Monica and Susanne's replies because they are so inspiring:

"Yes, very true. Thank you for sharing! There is always at least one child with an allergy or non verbal, etc. That's why every year I have a sign in front of the door(so if someone is hearing impaired they can read it) in two languages and I prepare candy(chocolate, lollipops, etc.), fruits(apples, bananas,etc.) and small toys(just in case if someone can't have any food, because is fed otherwise). It works well and it takes just 5 min:)
~ Monica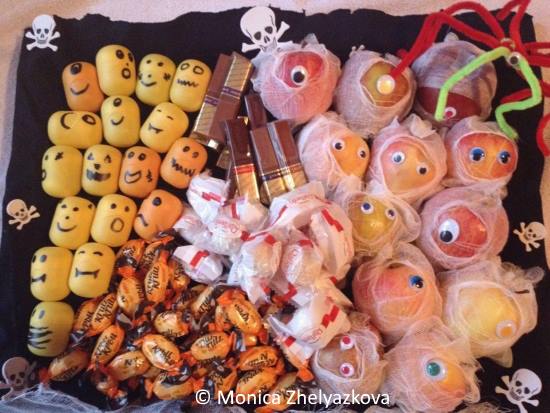 "We might wrap our sweets in little parcels using green crepe paper and string.......if no one calls or we have left overs we will save them for carol singers."
~ Susanne

P.S.
For those of us who find things too scary!

When it comes to Halloween craft ideas it can't just be me who finds the modern Halloween ghouls and ghosties a bit scary ...
Here's an idea from Diana if your kids are not really into Halloween:

"My children don't really like Halloween either so we tend to concentrate on celebrating the harvest and autumn (and) not the scary masks.
We used to take part in a 'trunk or treat' event organised by a local church... Every family decorated the trunk/boot of their car with a little Halloween themed activity and the children walked from car to car trying out the activities and getting a treat at the end. It was actually really nice."
~ Diana

Share The Love: Visit The Elderly

"Halloween here.
I bring her to visit the elderly on Halloween. It makes them happy to see the children. Before Mo is allowed to take any candy, she has to wish everyone a happy Halloween. She has to have a brief conversation with everyone and then thank them for the treat.
We aren't in this for all the candy. My kids don't need all that sugar. A little bit is fine, but manners and compassion are more important."
~ Nikki

Love this page? Help me spread the word by sharing...
---
---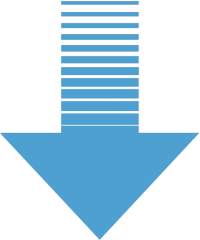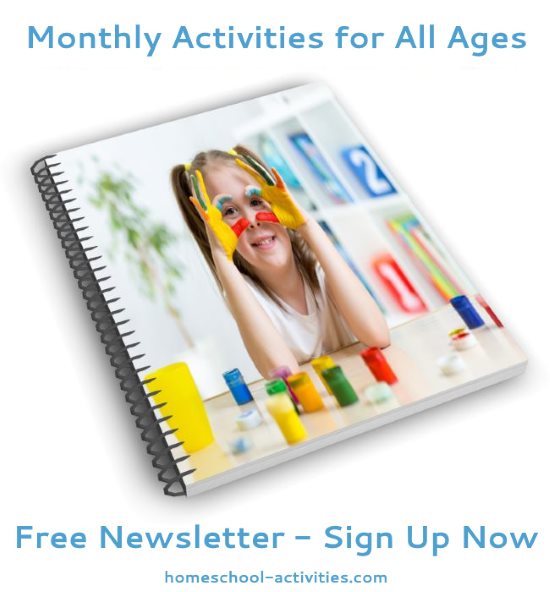 "Just had a look through your monthly newsletter focusing on math. Thanks so much for all the links and ideas. It's brilliant!" ~ Diana      

"Hi....I totally love all your posts and enjoy reading them....the kids love the activities and enjoy them through and through." ~ Bianka