Kids Creative Writing Activities
Ideas, Tips and Prompts For Children
Here is one of the best kids creative writing activities to inspire your child based on my experience as one of the very few second generation homeschooling families.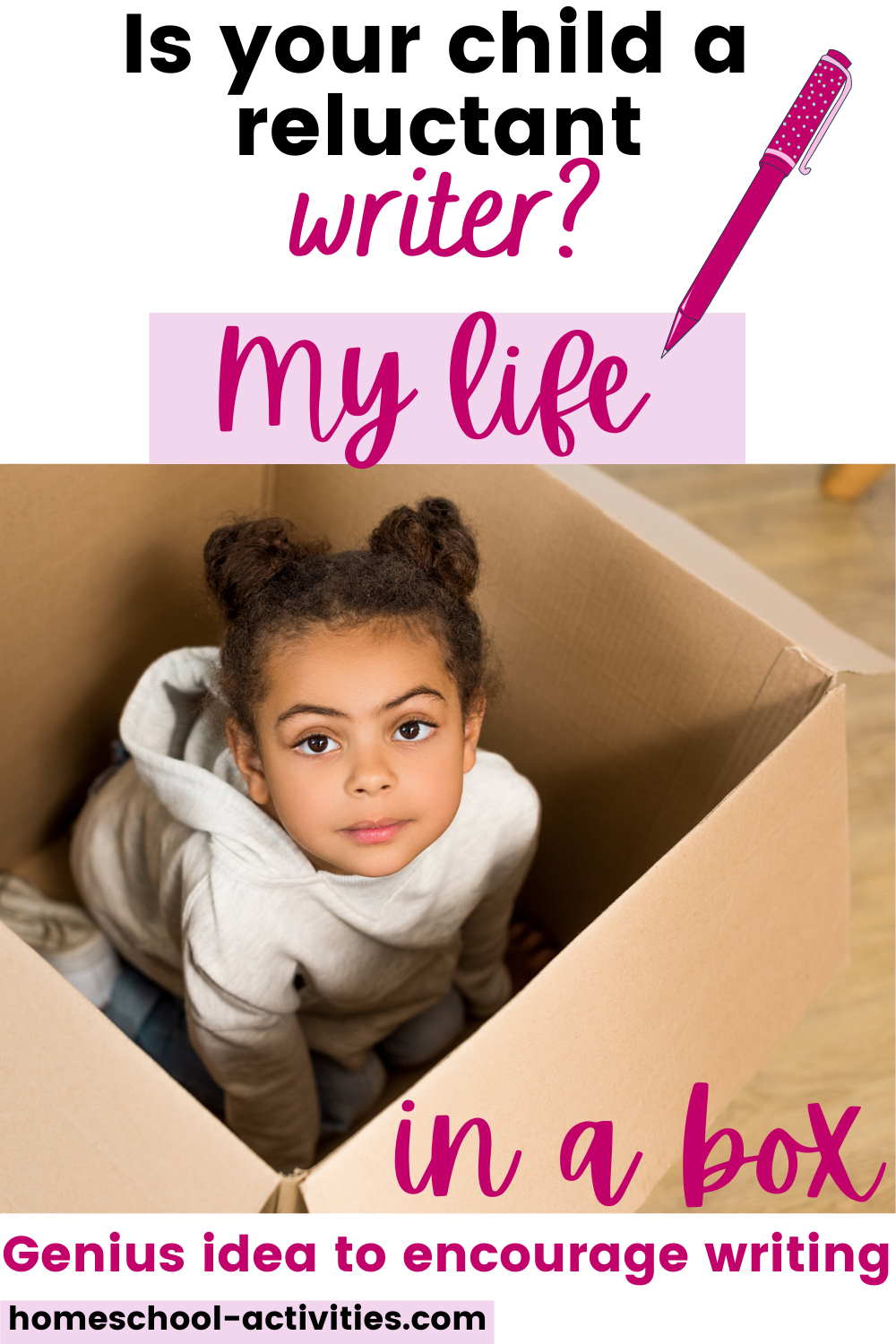 You'll find lots of homeschool prompts and suggestions here because I am convinced that if you can get children wanting to write, everything else will follow.
Have a look for tips and activities in our page on kids writing ideas, where I reveal the first topic that really caught fire in our homeschool - TOP TEN DISASTERS!
You'll also see activities like making a letter code and journaling, along with ideas like writing lapbooks, making a homeschool bubble story and starting a kids blog.
My Life In A Box
My Life In A Box is one of those brilliant homeschool creative writing activities which you can easily adapt to different kids ages and interests.
It's also great for children because the activities involve lots of other exciting ideas and prompts - like collecting objects - which don't appear to have anything to do with writing!
There's something magical about collecting all the essentials of a life in a shoe box.
It makes kids really use their imagination - which is the basis of all creative writing.
Here are some homeschool ideas of what you might put in "My Life In A Box":

Write a poem about yourself

Make a copy of your birth certificate and put in some baby photos

Print off a photo of your favorite animal


Write about a fun / exciting time you had, your pets and favorite things

Write about your worst summer holiday
A Life In A Box
But of course you can get just as creative by choosing anyone to live in your box!
How about a famous person?
That might sound difficult, so I'm going to show how we did it in our homeschool so you can adapt our ideas and see that a shoe box really does force you to think creatively.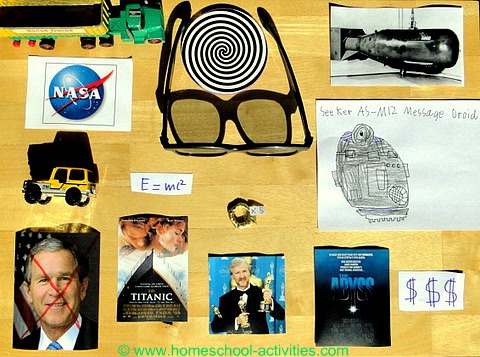 You'll see that our homeschool kids writing tips are all based around one vital factor: interest.
Once you've used the right prompts to get your kids excited and engaged, who knows where you'll get to.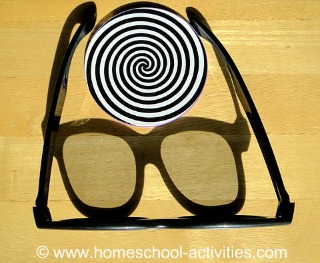 Avatar was the source of enormous inspiration to my children William and Catherine, and the 3-D glasses and optical illusion might be all the clues you need to guess that special effects was a big part of James Cameron's life.
The toy truck is there to show that James Cameron started as a miniature model maker, and the wedding ring has a x 5 symbol to show that James Cameron has been married five times.
Creative writing tips
The best way to inspire is to keep things fun!
(You'll also see from our gold braid ring that creative writing activities can also be fun if they include some crafts.)
You can see the final result of our homeschool Life in a Box at the top of the page.
(If you're wondering why George W. Bush has a red cross through him, you may know that James Cameron isn't a Bush supporter.)
Now you're all set up to fire off lots of creative writing activities and prompts:
It'll all depend on the age of your kids, but you could imagine life in your own Pandora.
Think of those virperwolves, banshees and direhorses - what animals would you meet? What sort of language will your Na'vi speak?
What about ideas like being a passenger on the Titanic?
(By the way, A Life In A Box is only one way to be creative with a shoe box. See how you can turn a box into a kids homeschool ocean diorama.)
Creative Writing Prompts For Children
Obviously, there are many ways to encourage creative writing activities.
You can find a lots of inspirational tips and activities in our page on prompts to start kids writing including:
Cartoons

Scrapbooks

Ideas for fantasy Maps

Animations

Pen Pals and Pet Pals

Film scripts
But I know it's hard.
Nothing worked with my son William in our homeschool until he was about 9, and the trouble with creative writing is that you can't force it.
If kids aren't interested, you'll get nowhere and might even put them off altogether as you'll see in the homeschool help section which answers a common problem: my child can't write.
We've also got help for you if you're struggling with helping your kids with handwriting.

Creative Writing Ideas
The best way is to have lots of prompts up your sleeve so that you can find some homeschool creative writing activities which spark your child's imagination.
---
---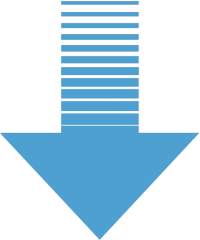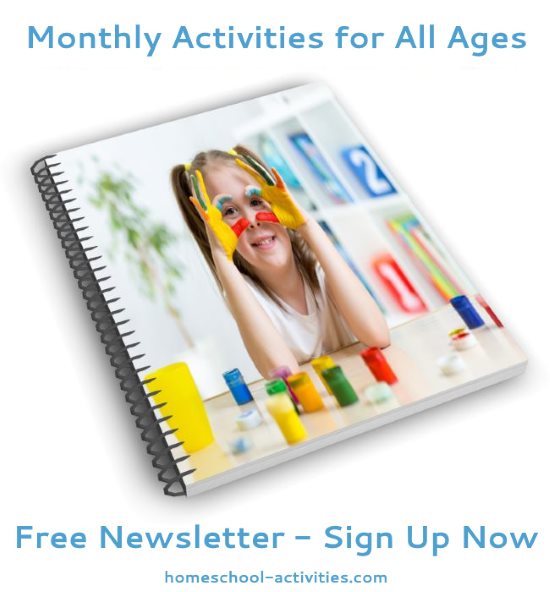 "Just had a look through your monthly newsletter focusing on math. Thanks so much for all the links and ideas. It's brilliant!" ~ Diana      

"Hi....I totally love all your posts and enjoy reading them....the kids love the activities and enjoy them through and through." ~ Bianka