Simple Science Experiments:
Kids Fun With Flowers And Surface Tension
Get a free e-book of the best simple science experiments that won't let you down! 
Let's start by making a flower picture and then demonstrating surface tension with the magic of milk.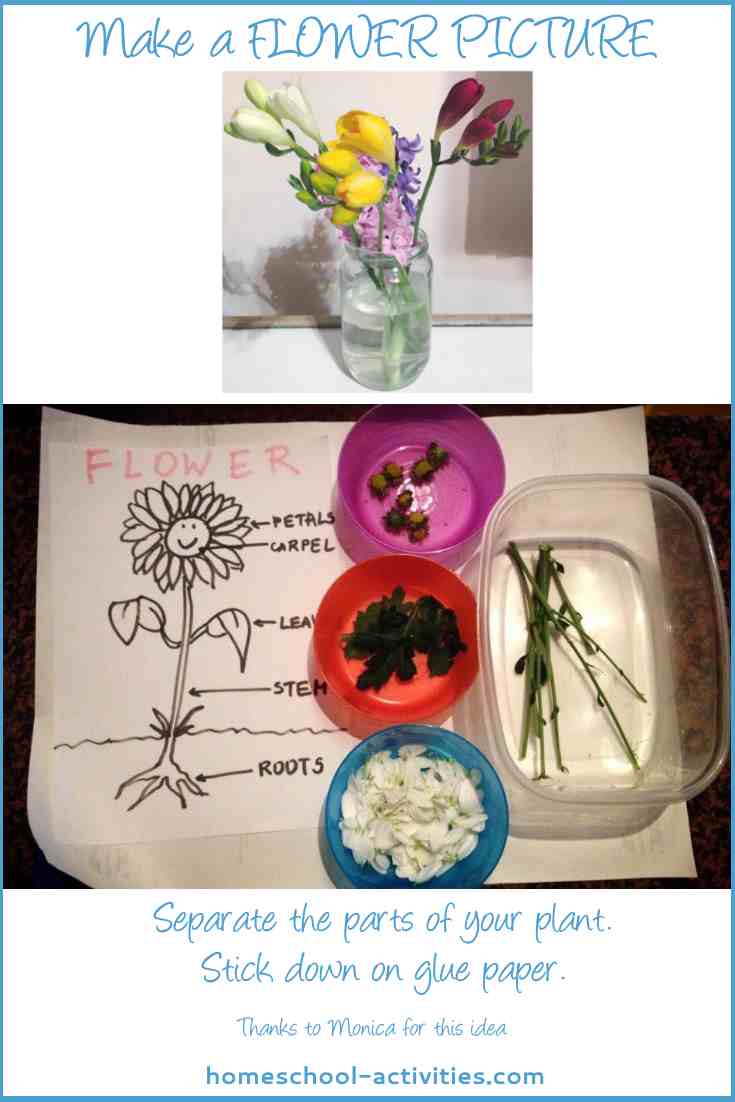 "You get a plant and separate the parts (it would be good to have roots here but we didn't), then you get a sticky paper (it's these different sizes A3, A4, etc. that have glue on and you can stick them like a poster, they are different colors too) and you put on the paper the different parts of the plant.
Th parts stick very well to the paper and it's like a picture:) You can do it with a plain paper and glue too, but it's lots of fun this way."
~ Monica

Surface Tension Experiment

Here's why I like this experiment so much:
You're almost bound to have the ingredients

It's simple, safe and quick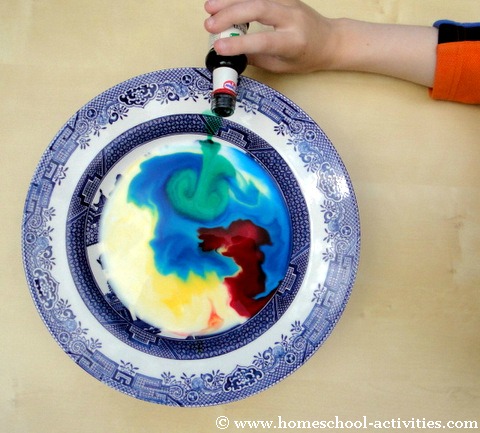 "We have done this experiment. My daughter loved it."
~ Dorene, homeschool-activities facebook fan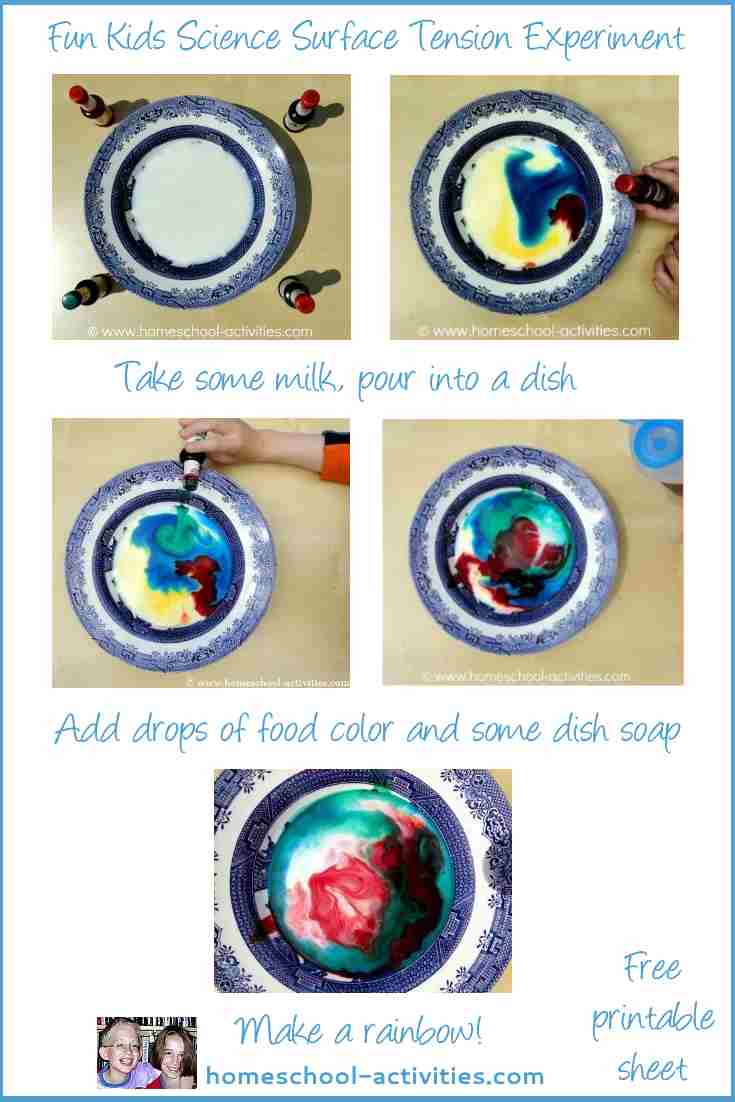 "We did this, it was awesome!"
~ Carmen, homeschool-activities facebook fan

As you can see, the stuff you need for this homeschool experiment should be in your kitchen cupboard.  Any brand of dish soap (washing up liquid in the UK) will do. 
Warning:
You may need to supervise the bit when your kids add the food colors as they can go a bit wild and muddy brown is not everyone's favorite color.

Homeschool Science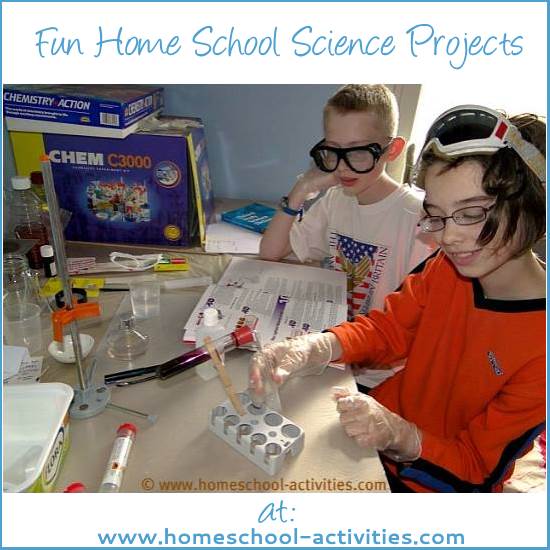 This simple science experiment is one of many kids science ideas you'll find here.
If you're interested in the homeschool science behind the experiment, you'll be pleased to know you've just used simple science to demonstrate the basic reason why pond skaters walk on water!
The molecules in the milk are attracted to each other and that bond makes an invisible 'skin' on top of the milk. That's the surface tension effect.
By adding dish soap you weaken the surface tension and the molecules move apart. That's how come this simple experiment shows your kids pretty colors as the food dyes mix together to make beautiful sunsets.
You can get a free printable sheet of this homeschool experiment here: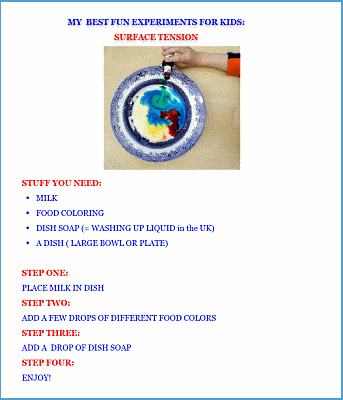 Teaching Home School Science
I learned a lot about home school science teaching from the kids, and the main thing I realized was that your basic role as a parent and teacher is to encourage your child's natural curiosity and wonder in the world.
It's that sense of wonder and excitement which is the basis for getting your kids interested in science.
It's also the basis for our free homeschooling curriculum.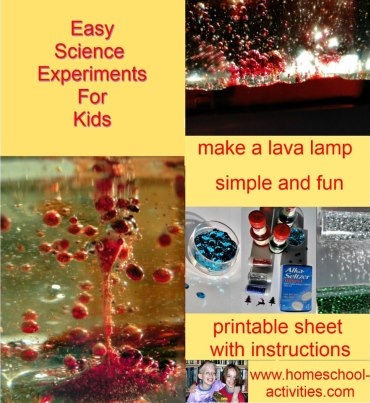 Kids Lava Lamp Science Experiment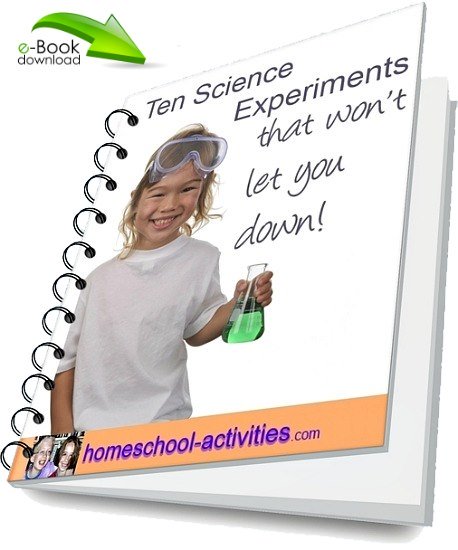 Go to the link to kids experiments below to get my free e-book of ten simple science experiments that won't let you down!
Love this page? Please Share...
---
Homeschool › Kids Experiments › Surface Tension
---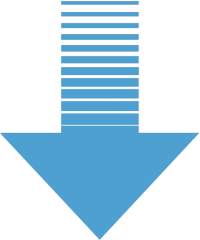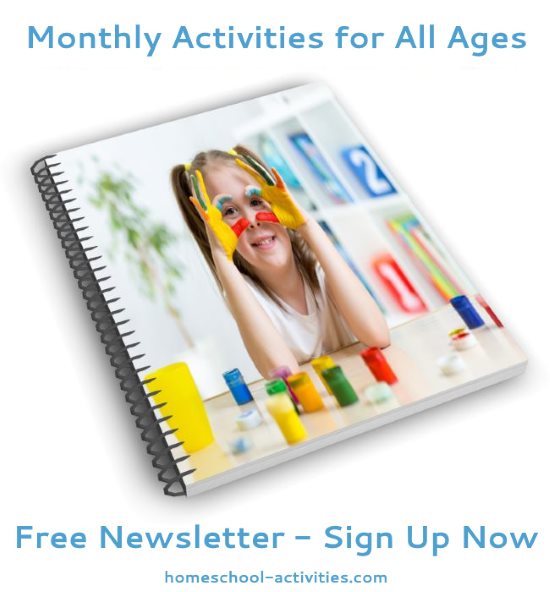 "Just had a look through your monthly newsletter focusing on math. Thanks so much for all the links and ideas. It's brilliant!" ~ Diana      

"Hi....I totally love all your posts and enjoy reading them....the kids love the activities and enjoy them through and through." ~ Bianka

Share This Page