Kids Cooking Recipes: Orange Cupcakes and Chocolate Philadelphia
by Eleanor Eva
(South Wales)
This kids recipe was inspired by the new flavoured chocolate philadelphia. It's scrummy and I wanted to make a special cupcake for our weddding anniversary.


This is another easy recipe that is very child friendly. The cup-cakes are very moist with just a little twist on the
classic chocolate orange flavours
.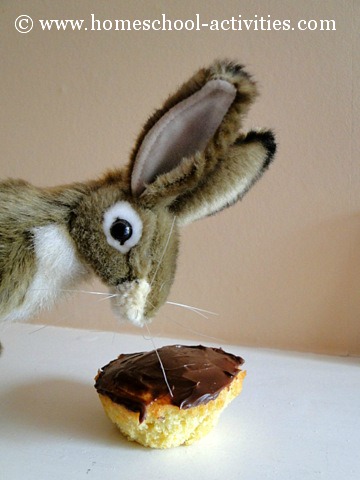 (N.B. This is Catherine's jack rabbit trying out Eleanor's scrummy cupcakes after we tried her recipe. It's gorgeous! Thanks Eleanor)
Ingredients
125 g unsalted butter, room temperature


130g granulated white sugar


3 large eggs


1 1/2 teaspoons pure vanilla extract


Zest of 2 oranges


200g self raising flour


1 1/2 teaspoons baking powder


1/4 teaspoon salt


60 ml milk


1 tub chocolate flavoured philadelphia spread
Method
Preheat oven to 180 degrees C and line 12 muffin cups with paper liners.


Place the sugar and orange zest into a mixing bowl and mix until well blended.


Add the butter and continue mixing until light and fluffy.


Add the eggs, one at a time, making sure to mix well after each addition.


Beat in the vanilla extract.


In a separate bowl mix together the flour, baking powder and salt.


With the mixer on low speed, alternately add the flour mixture and milk, in three additions, beginning and ending with the flour. Scrape down the sides of the bowl.


Spoon mix equally between the cake cases and bake for about 18-20 minutes or until nicely browned and a toothpick inserted into a cupcake comes out clean.


Remove from oven and place on a wire rack to cool.
Once the cupcakes have completely cooled, spread chocolate philadelphia over the top of the cakes.