Free Chocolate Fudge Recipe
How To Make The Best
I've made you a free printable sheet of our chocolate fudge recipe so you can share one of our best homeschooling treats.
This recipe works either as a brilliant homeschool activity or if you're just looking to make the best yummy fudge recipe.
Cooking with your kids is usually a hit  - especially when you end up with such a fabulous result.
But cooking fudge isn't always plain sailing.  Once you've tried learning how to make it and you've ended up with a sticky burnt mess in the bottom of the pan you're not keen on trying again.
So we thought we'd share our recipe tips so you can make sure of success.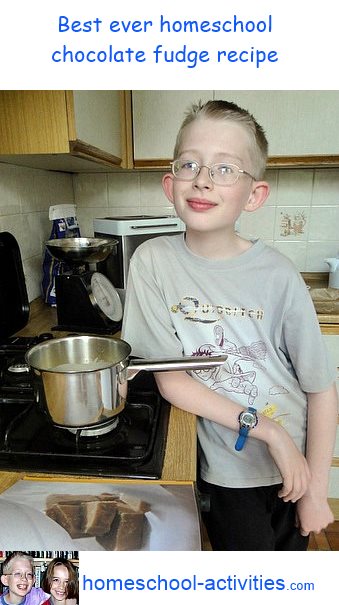 Here's my son William proving that he loves cooking fudge!
Free Chocolate Fudge Recipe Printable
My son William has perfected this recipe for you.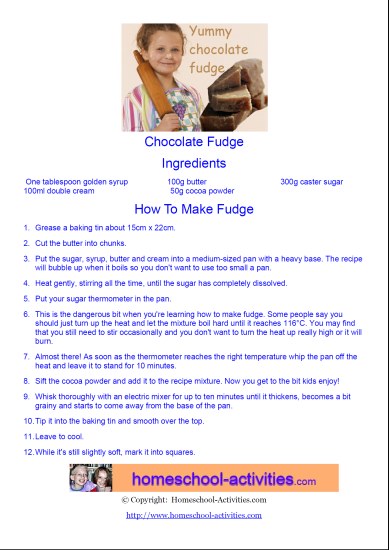 To make it easy for you, I've made a free chocolate fudge recipe printable which you can download as you head off to the kitchen.
These are the ingredients you'll need:

1 tablespoon golden syrup
100g butter
300g caster sugar

100ml double cream

50g cocoa powder

Tips To Make Fudge

I bet, just like in our homeschool, your kids love eating fudge.
Our homeschool recipe is obviously great for kids to eat as a treat. But in terms of learning how to make fudge I'd leave turning your kids into homeschool chefs until they're a bit older.

Our recipe is great to make but probably best for kids aged 10 and over.


There is one special tip I can pass on that's essential when you're learning how to make chocolate fudge recipes:
They're not expensive and once you've got one you can use it for your favorite jam recipe too.
But without it you just don't know how hot to make the mixture and instead of excited faces sniffing the kitchen you'll be opening the door to let out the smell!
How To Make Fudge

You'll find all the instructions in our free printable.

But there is one bit to watch out for. Where it says:
"As soon as your candy thermometer reaches the right temperature whip the pan off the heat and leave it to stand for 10 minutes."
It's important to resist the temptation and leave the pan alone!
You don't want to stir it or even shake the pan until it has cooled to about 110 degrees F/43 degrees C.
Stirring it before then leads to large grains in the fudge and it won't be quite so smooth - not that your kids will notice!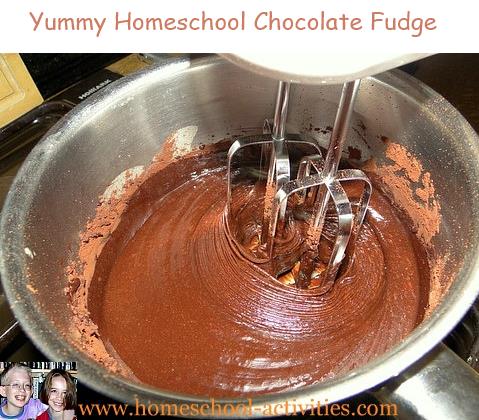 When you've finished you can invite the kids in to try out the best chocolate fudge ever!

More Kids Recipes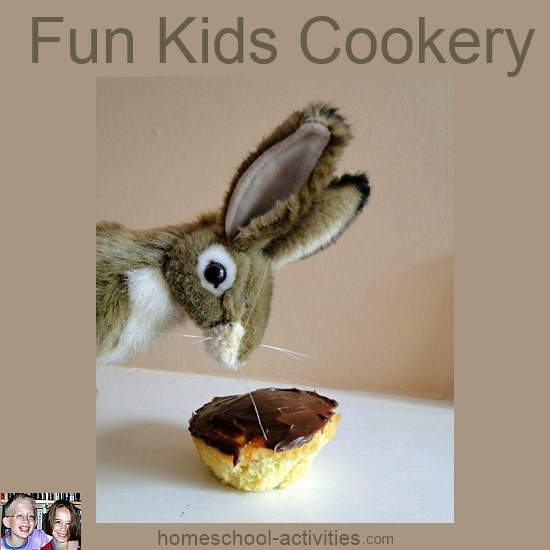 Luckily I have another yummy chocolate cupcake recipe to share, thanks to Eleanor who wrote in with her version of Orange Cupcakes and Chocolate Philadelphia.

It was so nice you can see my daughter Catherine's jack rabbit couldn't wait to try it out!

Where Would You Like To Go Now?
You'll find lots more fun kids activities below.  Click on the pic to go to the page.  Enjoy!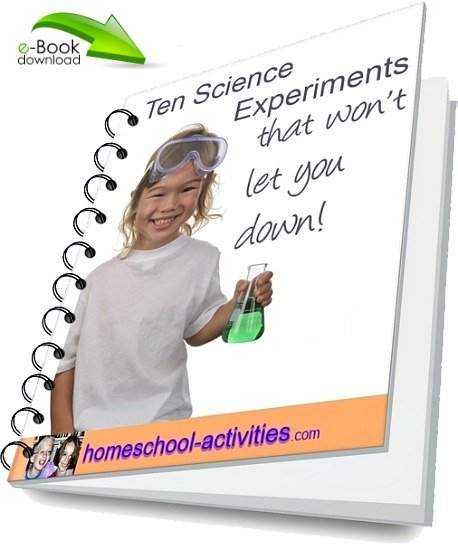 Whatever activity you choose, a bit of our homeschool chocolate fudge recipe should round off the day nicely.
---
Homeschooling › Craft Ideas › Chocolate Fudge
---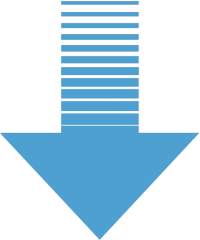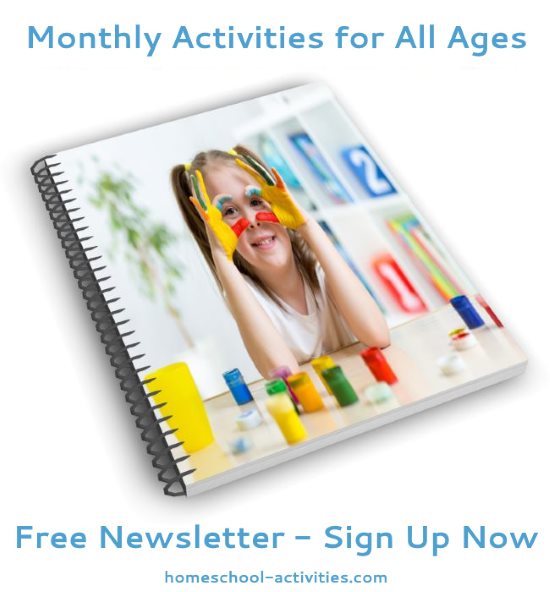 "Just had a look through your monthly newsletter focusing on math. Thanks so much for all the links and ideas. It's brilliant!" ~ Diana      

"Hi....I totally love all your posts and enjoy reading them....the kids love the activities and enjoy them through and through." ~ Bianka