How To Make Paper Airplanes:
A Step By Step Guide For Kids

If you want to know how to make paper airplanes it's best to choose an expert.
William loves making paper airplanes. He's made all the models we've ever seen.
So I asked him to show you step by step his favorite easy model which is guaranteed to fly far and will give your kids hours of fun.
There are lots of airplanes to learn how to make, but you'll soon find that some fly better than others and instructions can be a bit hard to follow.
It's always good to get first-hand advice.

I've chosen one which has been flight-tested and got top colors as the best you can find!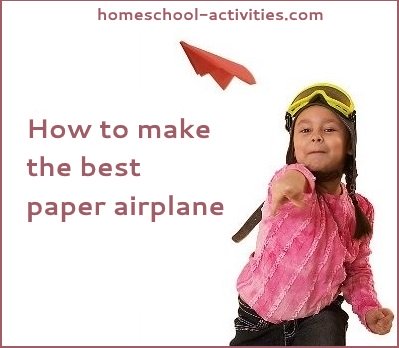 Step By Step Guide

The homeschool airplane William's chosen isn't the most beautiful model you've ever seen.
In fact it looks a little like its nose has been squashed in!
But his homeschool airplane for kids is really easy to make and will definitely fly far.
What more do you need?
It's a paper airplane that's probably appeared in a number of kids books before; the difference is that William's flight tested it and rated it top for the best easy model around.
He's going to take you through the stages step by step so you can learn how to make your own.
Step One

Take an A4 piece of multi purpose printer paper. Fold the top edge to the side edge.
Step Two

Fold down the top corner.
Step Three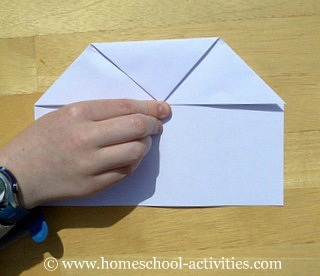 Fold down the top corner again.
Step Four

Fold the plane in half.

Step Five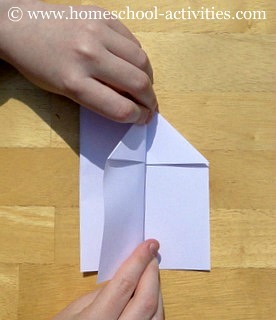 Fold down the wings on the front and on the back.
Step Six

Fold up the bottom edges of the wings on the front and back to make slats.
Step Seven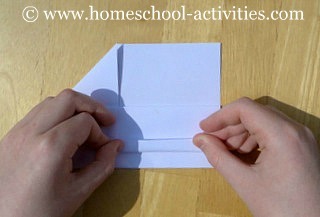 Make the wings stick out to the sides and then get the slats to stick straight up.

Step Eight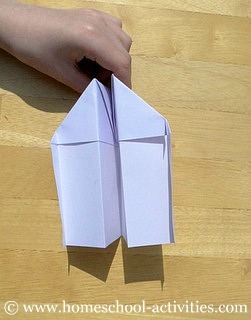 There you go! The finished homeschool airplane which will fly far and defy all comers.
Free Download: Learning About Flight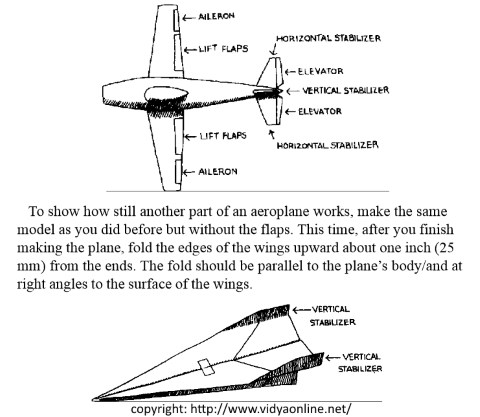 There's a great non-commercial site which has a free printable 21 page booklet which shows you:
How to make some simple designs - including ours!

What you can learn about real airplanes from making your own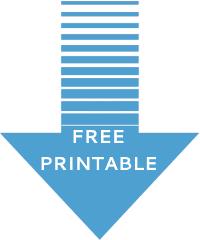 You can get it here.

Origami Paper Airplanes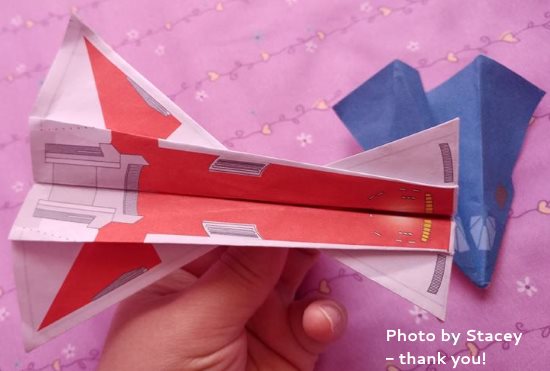 Stacey recommends this book that she is using with her daughter.  The book has a 32-page booklet and 6 original design projects and are all easy paper airplanes that look great and fly well.

Please note that the book links on this page are affiliate links so if you buy I receive a small commission at no extra cost to you.
Ideas To Have Fun With Paper Planes
Now you've made your homeschool plane, the fun can start:
Why not decorate your airplane in your own flying colors with felt tips or gel pens?

Use your planes to get your kids to send each other messages

.



Have a kids competition to see whose plane will fly far enough to hit the window.

See if you can make your homeschool plane land on a target.


Learning how to make paper airplanes often leads onto making even more exciting models.
We've done loads, so we've put together a homeschooling guide to help you pick the best in our page on kids model airplanes.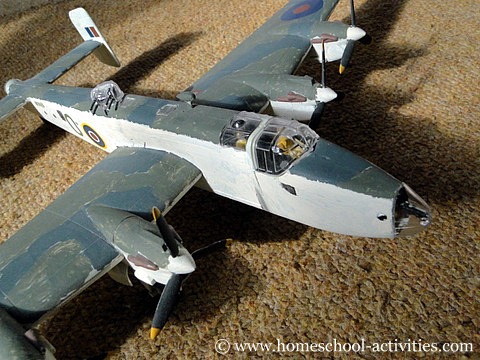 General Tips

Here are some general tips for kids whatever airplanes you choose to make:

The paper you choose is really important. You can make lots of kids airplanes out of A4 printer paper. Don't use anything that's too thick (it will make it hard to fold) or too flimsy.

The hardest part in learning how to make paper airplanes is folding firmly to get a straight crease. You may need to help your kids with this.
Make sure both sides match up evenly.

Step By Step Flying Tips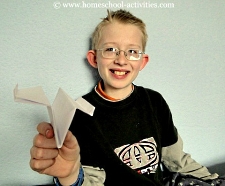 As you can see from my son William, when you're launching your airplane, it's best not to throw it hard. The best way to make your airplane fly far is to release it gently, holding under the wings and releasing upward.

A paper clip can work well to give extra weight to the nose, and you can move it into different positions to see how best to make you airplane fly far.
Sticky tape is another alternative to keep layers of paper together without adding too much extra weight.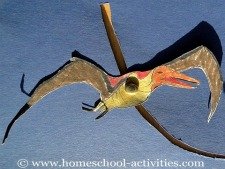 If you'd like more ideas for homeschooling kids paper crafts, we can show you how to make paper move. Make a pterosaur fly and see the volcano erupt in our homeschooling kindergarten activities.
We hope you have a lot of fun learning how to make paper airplanes; we certainly did!
Love this page? Help me spread the word by sharing...
---
Homeschooling › Easy Crafts › Paper Airplanes
---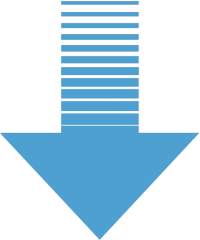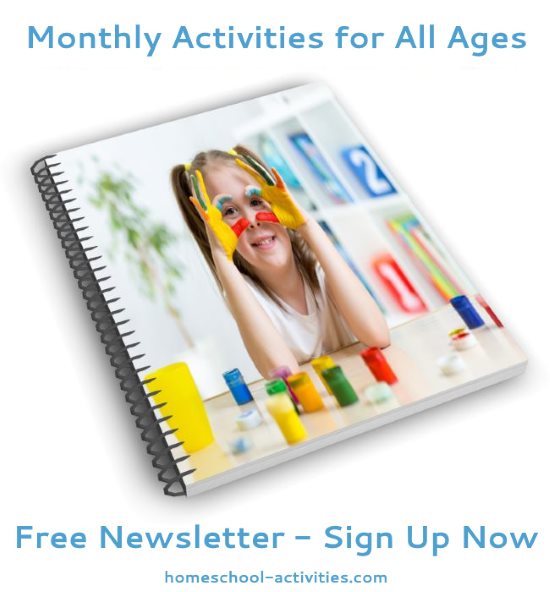 "Just had a look through your monthly newsletter focusing on math. Thanks so much for all the links and ideas. It's brilliant!" ~ Diana      

"Hi....I totally love all your posts and enjoy reading them....the kids love the activities and enjoy them through and through." ~ Bianka