How To Make Butter
Learning how to make butter is one of those lovely activities for kids which is fun homeschool learning for everyone.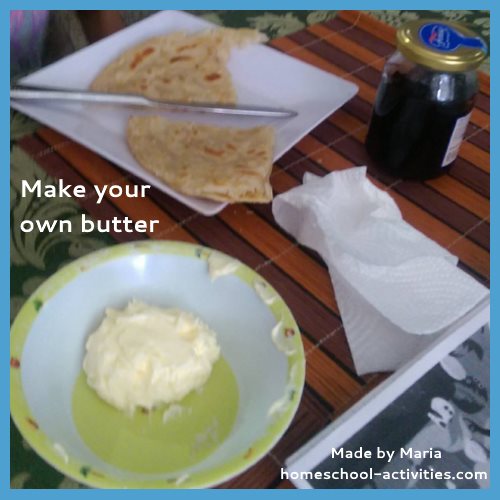 "That's awesome. We've made ice cream a few times. I'll have to do the butter." ~ Nikki
"How fun!" ~ Lisa

Maria shared this idea in my Courageous Homeschooling Facebook group and I thought it would be something you would enjoy trying!

Butter Making Recipe Instructions

Here is the full recipe for making butter from Maria.  You can see it is easy and simple to do - and you don't need much apart from whipping cream!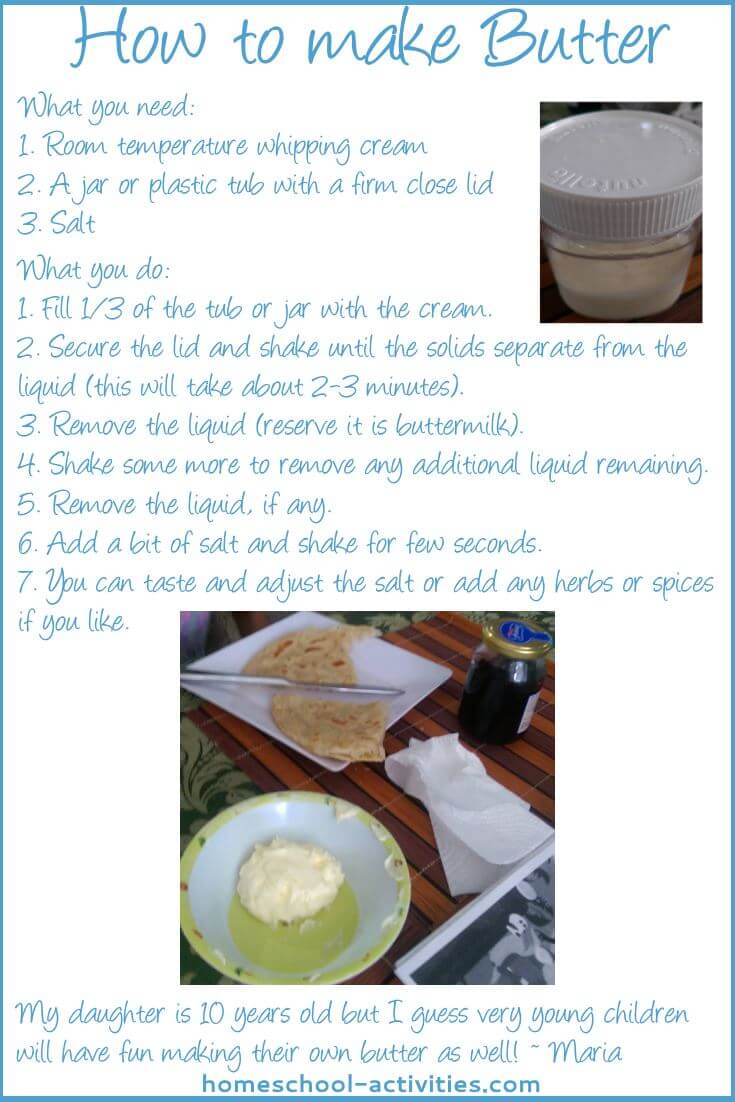 What you need:
1. Room temperature whipping cream.
2. A jar or plastic tub with a firm close lid.
3. Salt.
What you do:
1. Fill 1/3 of the tub or jar with the cream.
2. Secure the lid and shake until the solids separate from the liquid (this will take about 2-3 minutes).
3. Remove the liquid (reserve it is buttermilk).
4. Shake some more to remove any additional liquid remaining.
5. Remove the liquid, if any.
6. Add a bit of salt and shake for few seconds (the butter will become creamy).
7. You can taste and adjust the salt or add any herbs or spices if you like.

"Love it Maria." ~ Nydia 
"Thanks, Nydia!!!! Thinking about putting some garlic and spices in it (for garlic bread.)" ~ Maria
Butter Making Problems

Although learning how to make butter is easy and straightforward, there are two things to watch out for:
You need to use whipping cream not buttermilk.  Someone in our group shared that she used buttermilk by mistake and after half an hour of vigorous shaking nothing happened which was rather disappointing!
Make sure the whipping cream is room temperature. If the cream is cold it will take about 20 minutes to separate.

"We really enjoyed learning how to make butter and served our butter alongside shop bought to see which was preferred. We won."
~ Susanne
Butter Making History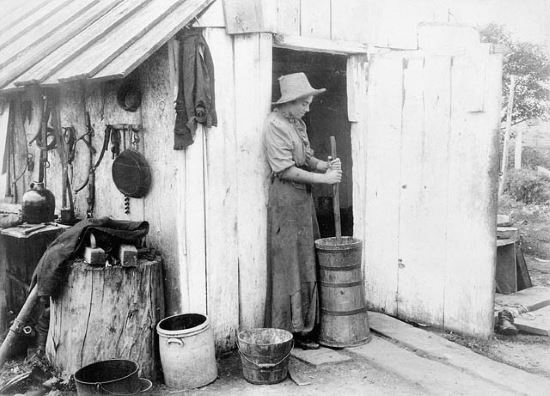 Learning how to make butter is a brilliant way to bring history to life.
You could easily add this activity to a homeschool Unit Study or a lapbook. 

It's amazing to think that all the way from the Middle Ages to the Industrial Revolution, butter was made by hand in a barrel with a plunger!
And once your kids have a go, even with the small amount you make at home, they'll see for themselves what hard work it was.

Wikipedia has some interesting info about butter churns, and this site Butter Through The Ages has all sorts of fascinating information about the history of butter.
Butter Through The Ages also suggests that you might like to add a marble to the jar when you shake the whipping cream as it speeds things up and makes it more fun for kids.
Thanks to Maria for sharing this lovely activity and teaching us how to make butter.
If you'd like to see more activities from fellow homeschoolers and get some support and encouragement, you are welcome to join the Courageous Homeschooling Facebook Group.

More Pages To Enjoy:

Click on the picture to go to the page:

Love this page? Help me spread the word by sharing...
---
Homeschooling > Crafts > Butter
---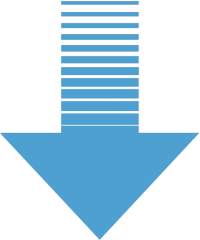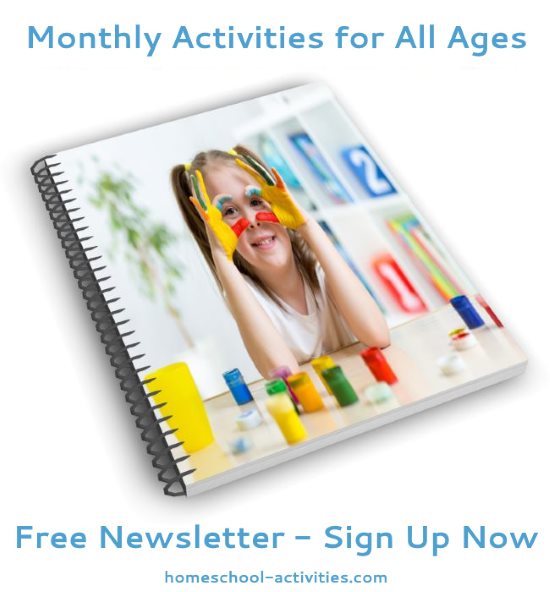 "Just had a look through your monthly newsletter focusing on math. Thanks so much for all the links and ideas. It's brilliant!" ~ Diana      

"Hi....I totally love all your posts and enjoy reading them....the kids love the activities and enjoy them through and through." ~ Bianka