Homeschooling Affirmations
Homeschooling affirmations and quotes are powerful tools. 
You'll find they are a brilliant help to remind yourself that teaching your child at home is the best decision you ever made.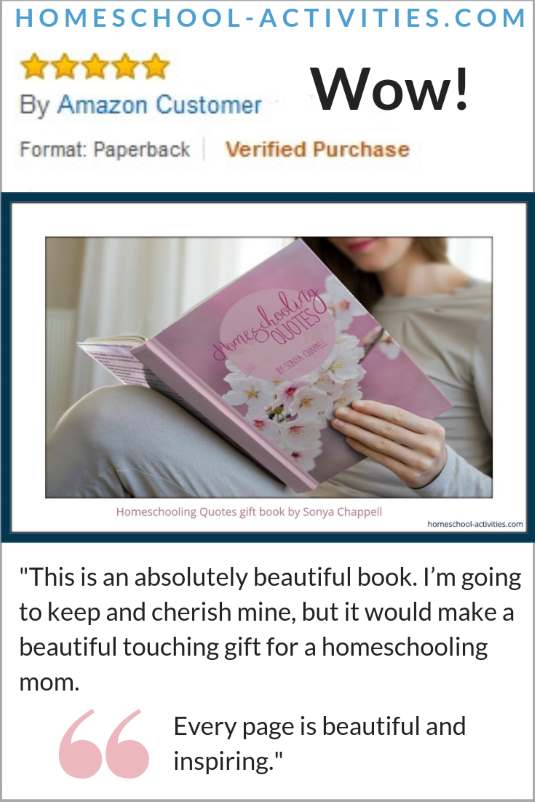 I wrote the book because even as a second generation homeschooler taught at home myself, I can reassure you that we all often face a daily battle with niggling fears and doubts. Keeping going through the hard times when nothing seems to happen, feeling judged by those around you, worrying if you are going to fail your child - the responsibility can feel too much.
So I decided to make this wonderful gift book to sit on your bedside table to dip into whenever you need a boost of courage and confidence - and want to feel great!
Reading the words of some of the best thinkers in the world is a great way out of this worry trap.
Susan Jeffers with her bestselling book, Feel the Fear And Do It Anyway! has shown us the way.
She has proven that at the heart of all our fears is the fear of failure.
The good news is that the techniques Susan Jeffers uses has helped millions of people turn fear and indecision into confidence and action.
And the biggest lesson Susan teaches is that all these fears are in your mind.
All you need do to overcome those fears is to change the way you think.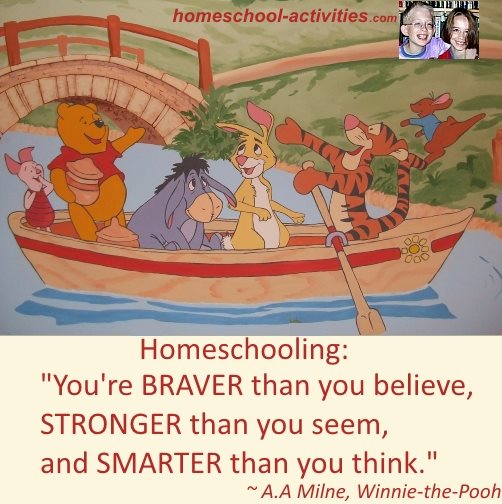 Look at what Irma posted on my Facebook page:

Gosh, we can all identify with that one. 
And what about all those other worries that leap out of the hat:
Am I preparing my child enough for life to be a productive and happy grown-up?  Or will I fail and take my children down with me?
Those words can come to stab you in the back when you're lying awake at night.
So you need a way to fight back and give yourself some loving help and support.

Affirmations are a wonderful way to make a positive statement that something is already happening.
Affirmations are one of the nicest ways I know to become your own best friend.

You can get a free printable list of homeschooling affirmations here.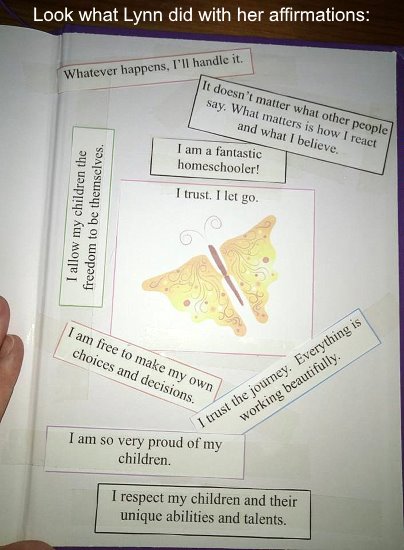 "My affirmations in our homeschool diary. Thanks."
~ Lynn

You can print these out, cut out the ones that speak to you, add in some of your own and put them somewhere you can see every day.
Affirmations are a marvelous tool to support us through the ups and downs of homeschooling because our subconscious believes the words we use to ourselves.
And I can guarantee you are doing yourself down!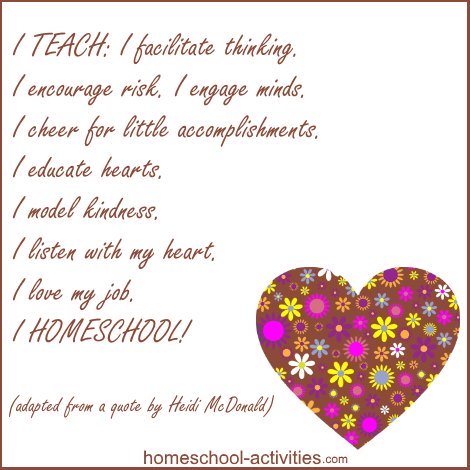 You can use my list of homeschooling affirmations to say the words which will heal, soothe and bring confidence and power.
Courageous Homeschooling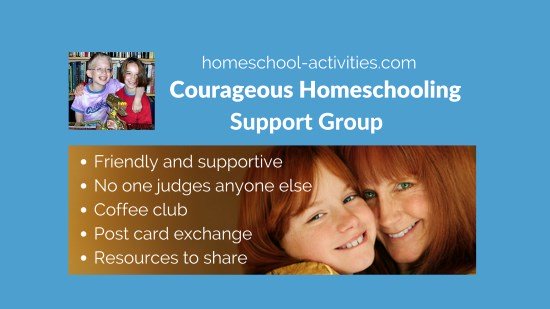 I have been running a Courageous Homeschooling Facebook support group so that we can share the ups and downs of our days - which also means posting the affirmations that make us feel great.
I can already tell you it makes such a difference to wake up in the morning and visit the group to see a post like this one from Katie: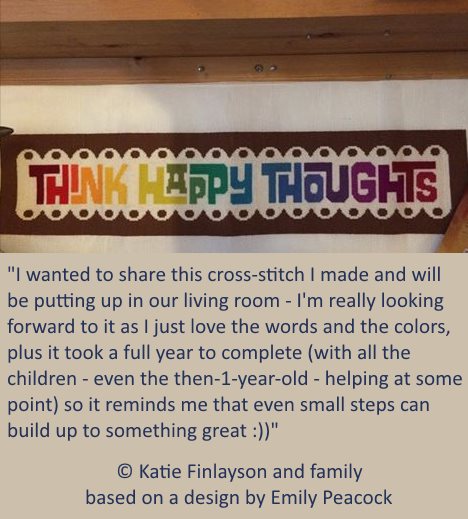 I will put here some of the affirmations that our Courageous Homeschooling group post which make them feel good so you can feel good too!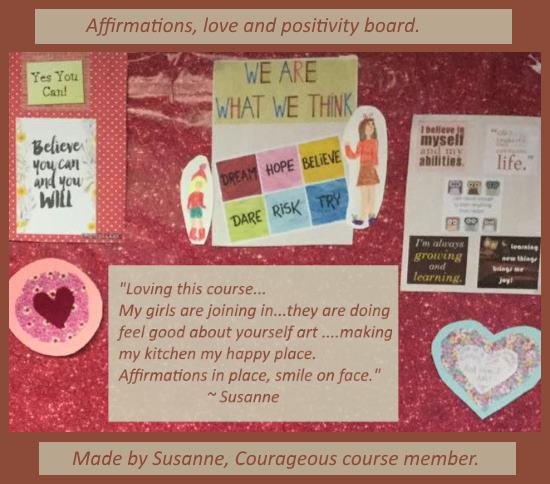 Homeschooling Quotes

Affirmations are just some of the tools you can use to make homeschooling so much more rewarding and fulfilling for all of you.
You can find more homeschooling inspiration here.
In the meantime, I would like you to keep thinking to yourself:
"I am special."
"I am wonderful."
"I am doing the best I can."
Because even though I haven't met you I know all those things are true!

---
Homeschooling › Start › Affirmations
---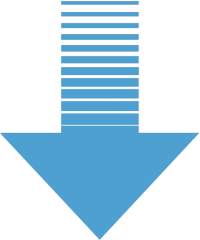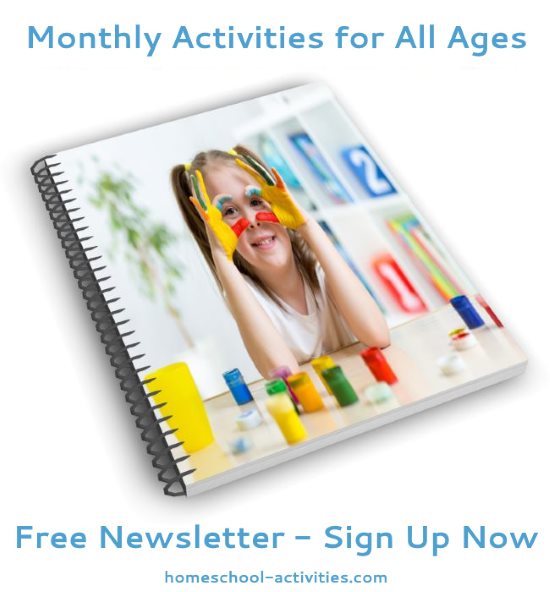 "Just had a look through your monthly newsletter focusing on math. Thanks so much for all the links and ideas. It's brilliant!" ~ Diana      

"Hi....I totally love all your posts and enjoy reading them....the kids love the activities and enjoy them through and through." ~ Bianka