The Cost Of Homeschooling:
The Essentials

To a large extent, the cost of homeschooling is similar to all lifestyle choices.
The amount you spend comes down to your own priorities, how much you want to spend and how tight your overall budget is.
My son William's drawing of a fancy rocket-propelled car illustrates the point beautifully.
Who wouldn't want to own a car like that?
Our real version has done over 100,000 miles, is 12 years old and has lichen growing round the window seals. But we still get reliably from A to B.
So far anyway!
What more do you need?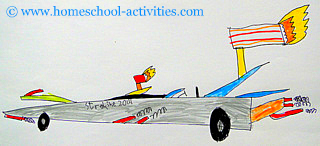 And that's a very important point.
There are plenty of brilliant free on-line homeschooling resources for you to use to teach your child right through high school.
To prove the point, this infographic features the best free educational websites so you can see for yourself that teaching your child at home doesn't have to cost much - and is also far more effective and successful.

If you look at the research into homeschooling, you'll see something fascinating.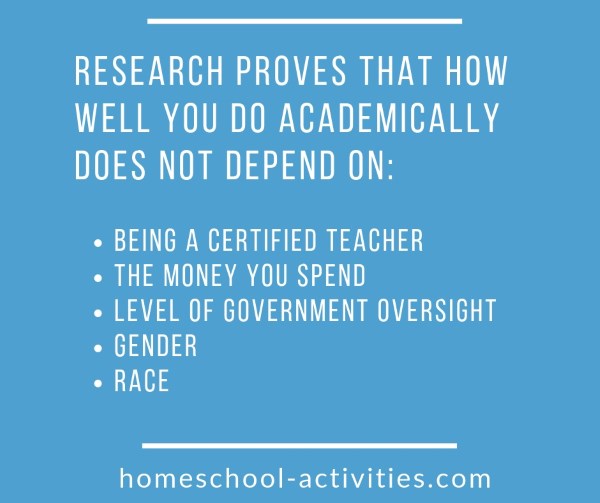 So you don't have to spend loads to make sure your child does well at home.
To a large extent, the homeschooling cost is as little or as much as you like.
And, of course, you don't have to pay all the bills you would if your child went to school like school supplies, field trips, special programs or other "extras."

Nonetheless, you need to know which bills are the ones you can't escape.
And there is one inescapable budgetary deficit.
My husband Rob and I are living on one income.
Most homeschool parents choose to have one person at home with the children, though obviously that could be both partners working part-time.
However, that just goes to prove you can homeschool on a low income because thousands of people are doing it already.

The Homeschooling Cost: What You Have To Pay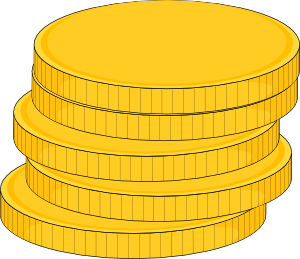 These are the basics you can't escape:
Higher home energy bills.
A computer (almost obligatory these days).
Membership of national homeschool organisations.
Legal association dues (US only).
Travel to and from homeschool groups plus a contribution to cover hall hire etc.
Entrance costs for educational visits to castles, museums, parks, zoos etc.
Cost of educational sessions run by outside organisations.
Stationery and, particularly, craft materials (my weakness!)
In addition, in the UK one essential cost you'll face is if you decide to enter your child for High School exams (GCSE, IGCSE, A/As, Open University etc.)
The cost per GCSE/IGCSE varies. The average price seems to be about £160 per subject, though it depends on the exam center and you can pay half or double that depending on the school.
You also have to pay the exam centre, which costs on average £40 per exam.
It's probably best to budget £150-200 per subject for exam costs and if you find it cheaper, that's a bonus. You may also need to factor in travel costs, depending on where you live.

Other Costs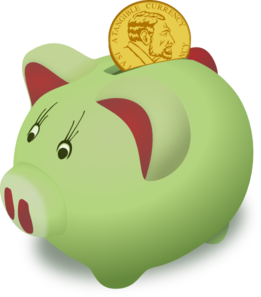 These will vary according to how you choose to homeschool:
Curriculum course fees (can be very expensive)
Tuition fees for specific subjects
Workbooks and Textbooks
Educational software
Finally, there's the cost all parents incur to a greater or lesser degree:
BOOKS to encourage your child's interests - in our case anything from Asterix to astronomy.
Educational activity kits and toys (blast-off bottle rockets are a favourite as well as an electronics kit and the super-inventive Lego.)
Microscopes, binoculars, telescopes, sewing machine as appropriate.
The cost of outside activities your child enjoys e.g. swimming, sailing, chess club, drama, tennis lessons, snow boarding…
I would add: the cost for a family pet – but maybe that's just me!
Seriously, though, in the US:
American homeschool families say the cost of homeschooling is from between $300 and say $3,000 per year.
Recent statistics show that: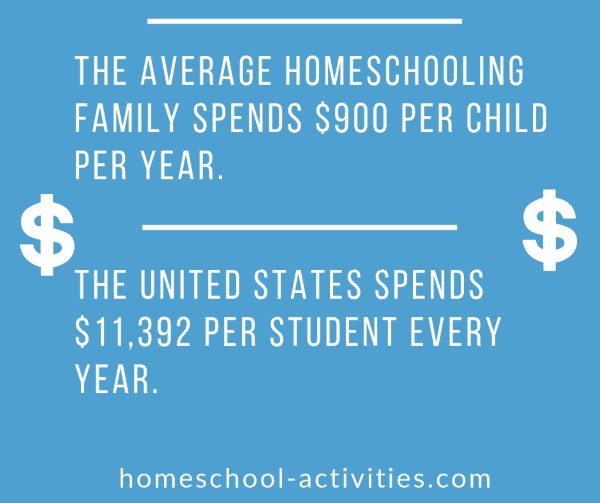 You can see some tips for cutting the cost of homeschooling here, including this great infographic on the best free online educational websites.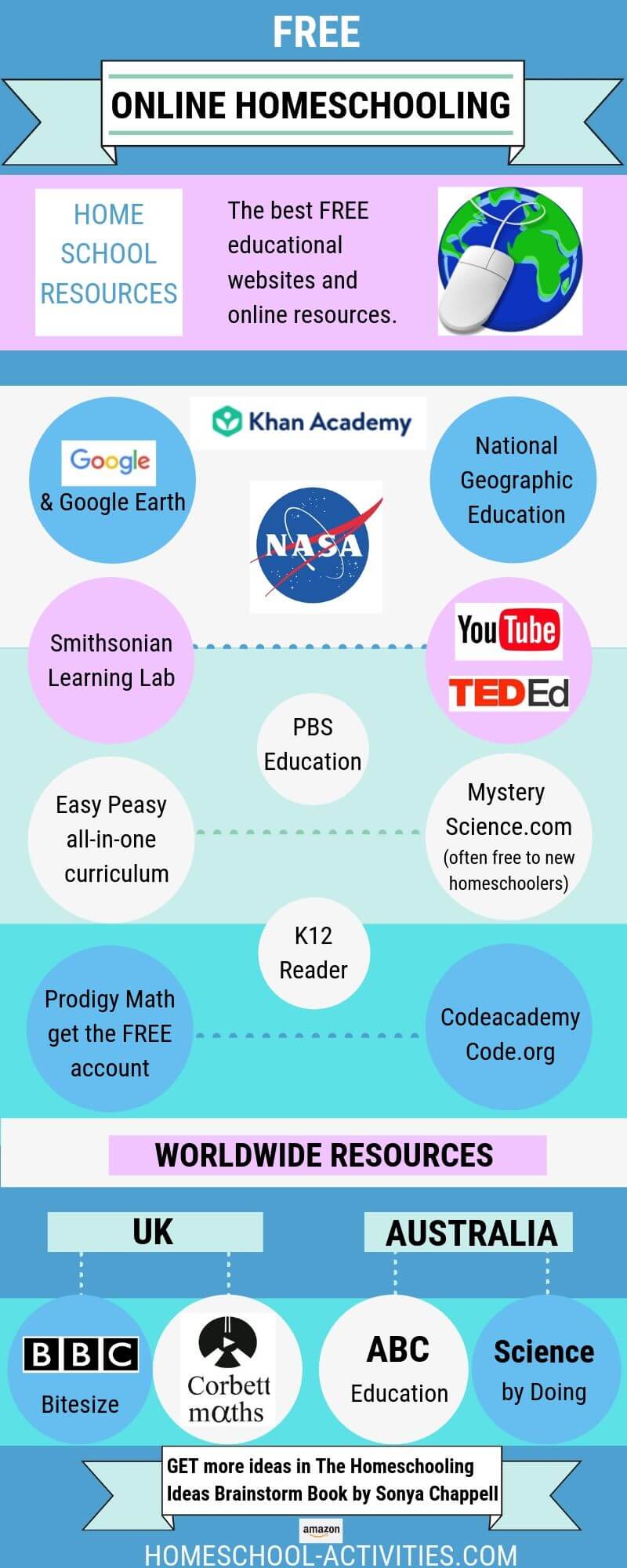 All in all you can keep the cost of homeschooling very low and there are ways to make it affordable.
Pages To Enjoy

Click on the picture to go to the page: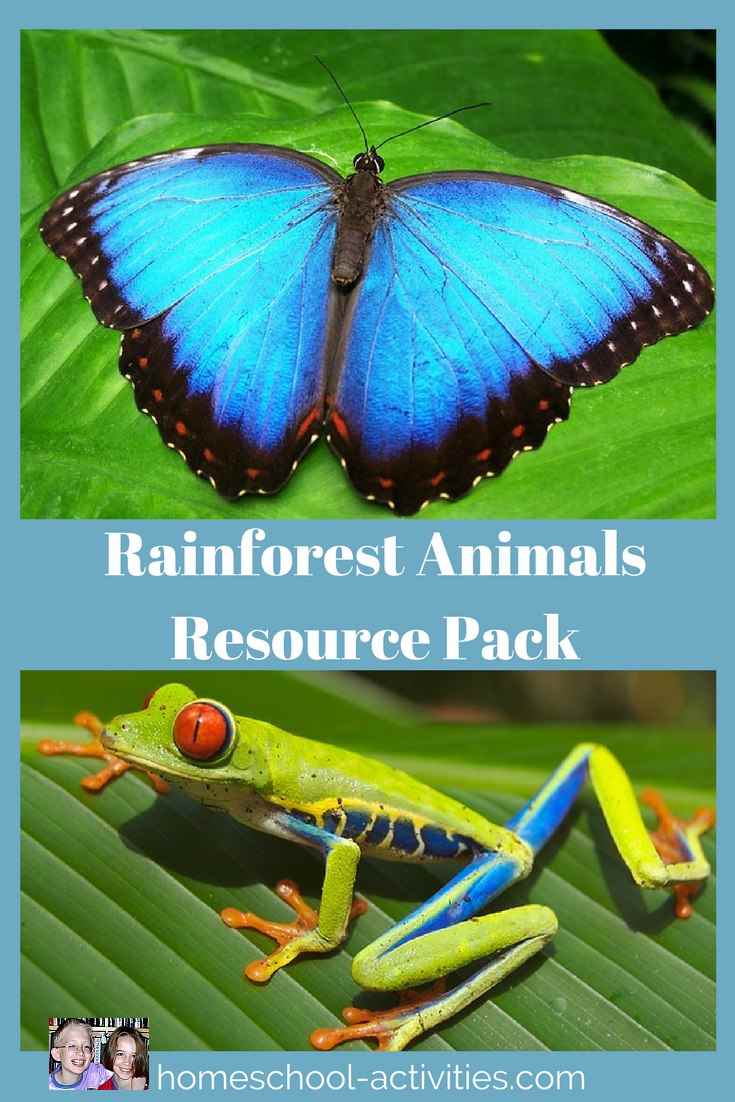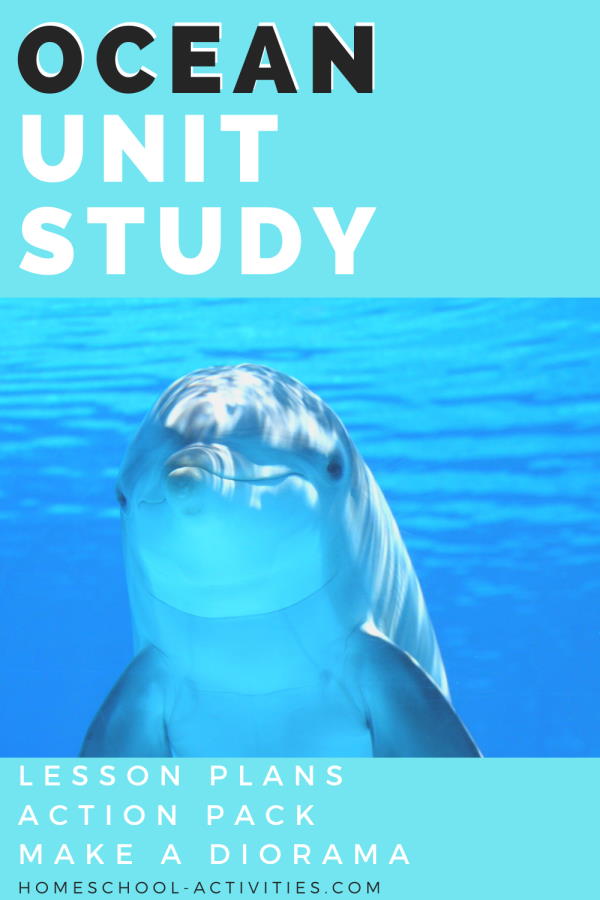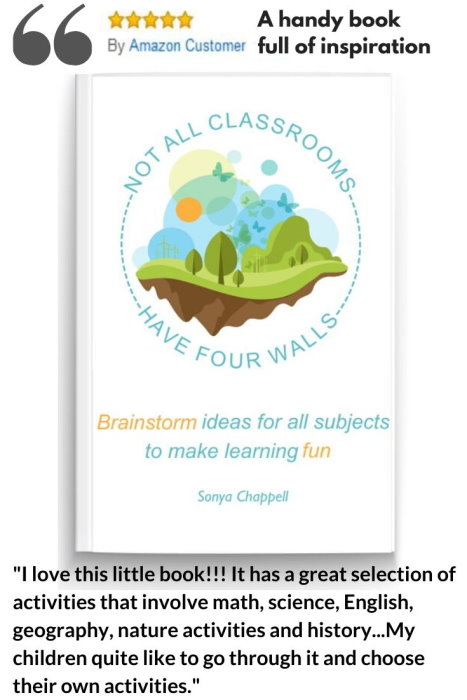 Please note that the book link above is an affiliate link so if you buy I receive a small commission at no extra cost to you.
Love this page? Help me spread the word by sharing...
---
---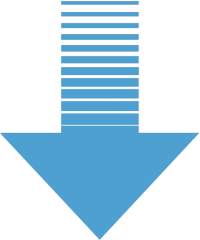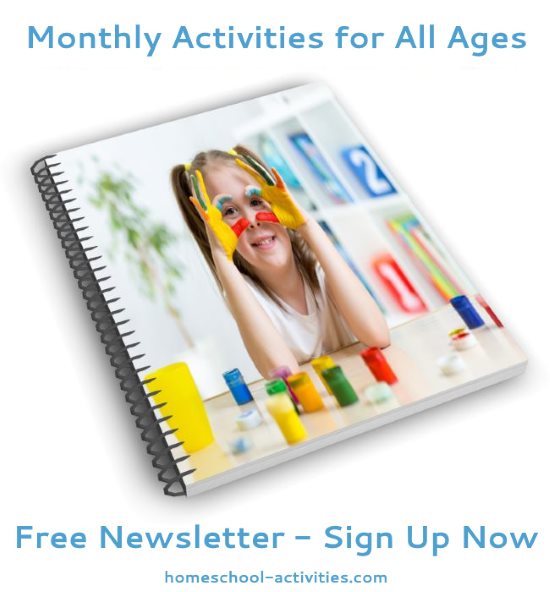 "Just had a look through your monthly newsletter focusing on math. Thanks so much for all the links and ideas. It's brilliant!" ~ Diana      

"Hi....I totally love all your posts and enjoy reading them....the kids love the activities and enjoy them through and through." ~ Bianka