My Daughter's Artistic Success
by Stella
(Sri Lanka)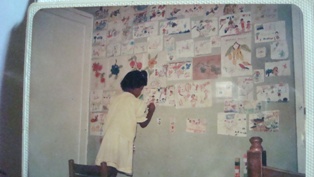 Drawn when she was two years.
My Daughter's Artistic Success

(An inspiring account from Sri Lanka, showing that helping and encouraging your child with their art from an early age is really worthwhile).

My daughter's name is Anushka Udeshni. She is now a Medical student.

I realised that she had a great talent for art. So I bought whatever she needed to make her efforts successful.

One day, after I came home from work, she showed me what she had drawn. She had drawn a flower. At that time she was only two years old. From that day onwards she drew more and more pictures.

You can see a picture of her first painting here.

When she was three years old she drew a picture and called it "my home". It was very good and a children's newspaper published it.

By the time she was 12 years old, one hundred and three of her drawings had been published in many newspapers! And her success continued. A children's TV programme showed 30 of her drawings and she won 1st, 2nd and 3rd place in various art competitions.

She went on to enter Island-wide and International art competitions, winning silver and bronze medals and 73 awards and certificates.

When she was 22 she went to China to study for Higher Education.