Marbled Paper Making For Homeschool Activities
by Stacey
(Australia)
How To Make Marbled Paper


First Method
1. We filled a baking tray half full with water and then added a few drops of
vinegar
.
2. In some plastic throwaway cups we added a couple of drops of
acrylic paint
. We put in one color per cup and then mixed the paint with a few drops of
methylated spirits
.
3. We then added a few drops of the runny paint to the water/vinegar mixture.
4. Then we placed a sheet of
white paper
on top of the water, making sure all the paper was pushed onto the water. After a few seconds we pulled the paper off and then let it dry on some newspaper on the table.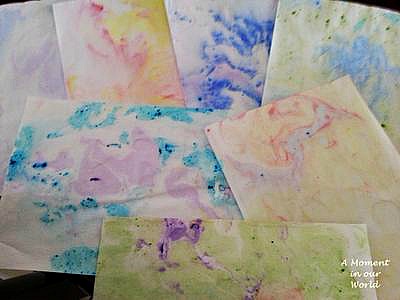 Finished Marbled Paper - Method 1
Second Method For Making Homemade Paper
1. This time we half filled the baking tray with
shaving cream
and flattened the top. This makes it a really fun homeschool activity!
2. Then the boys dropped drops of
food coloring
onto the shaving cream.
3. Using a
tooth pick
, they swirled the food coloring through the shaving cream.
4. Finally, they placed a piece of
paper
on top of the shaving cream. After gently pushing the paper onto the shaving cream, they slowly pulled it off.
5. They scraped the excess shaving cream off with a
spatula
.
Finished Marbled Paper - Method Two
There are lots more ideas for homeschool activities on Stacey's site.
Check out her great website which is full of fun activities from balloon helicopters to recipes and unit study ideas:
http://www.amomentinourworld.com