The Homeschool Daily Schedule:
Planning Your Day
Our homeschool daily schedule shows what might work for you, with a great free planner you can use to organize your year. The printable planner has 164 pages to schedule weekly learning activities, yearly goals, to-do lists and achievements.
I'll start with a unique glimpse inside our homeschool to give you an insight into what you might include in your daily homeschool schedule.
The link to the free homeschool planner is at the bottom of the page.

How To Plan Your Homeschool Daily Schedule

Okay here goes - here's a fly-on-the-wall look into our homeschool because it's always good to see how other people do things.

That may be especially useful in our case because I am one of the very few people taught at home myself so I have first-hand knowledge of what it feels like to follow a school-at-home sort of schedule.
I loved being homeschooled and if a traditional school routine is the  way you want to do things - that may well work for your family.
However, I don't homeschool the way Mom did! Being taught at home myself has given me the confidence to enjoy a much more relaxed schedule than I had to follow as a child.
In fact, I think the problem with following too closely a school sort-of daily schedule may well be that it leads to more battles with the kids over 'school' work.
That's one of the biggest reason to give up homeschooling; keeping your kids motivated and engaged in learning is the key to homeschool happiness and something I help with in my first book Secrets of Success.

Before I let you through the door, I want to say something that I know is true because the 2,000 members of my Courageous Homeschooling Facebook support group have shown me. 

Every family is different; the daily schedule somene else follows probably won't work for you because each of us adapt our schedule to how our child learns best.

It's true that having some sort of homeschool daily schedule can help you with planning your days.
It's certainly nice when you wake up on Monday morning to have an idea of where your home school is heading!
But you don't need to follow a home school daily schedule or a planner.
Every family does what suits them best.
Many start homeschooling with a more rigid timetable which becomes more relaxed over time.
Others never use a schedule at all.
Our Home School Daily Schedule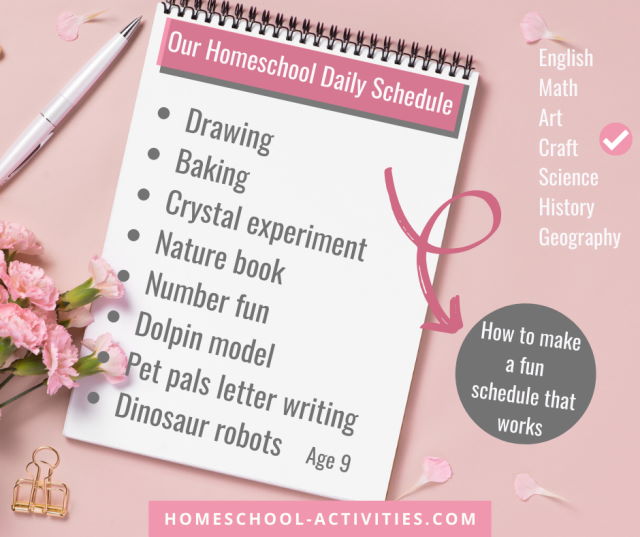 These are some of the things for Catherine to choose from when she was 9.
We will have planned this list together, based around her interests at the time.
You may be amused to see what she wrote about her day in our tips on how to organize homeschool scheduling.
The only thing an educationalist would have been impressed by is the number of wees she did that day!

Our home school daily schedule is basically a weekly list which we all add to and pick things from.
Our list becomes our homeschool daily schedule.
When you come to make yours, it can be as basic as that.
Or you could do some detailed planning with each day parceled out into separate times.
I've put some suggestions to make your home school schedule here.
Catherine's schedule is one you can use to help with your planning.
Talk with your child and write down some projects or ideas they'd like to do.
There's lots of great activities you can try on this site!
And I asked the 2,000 members of my Courageous Homeschooling Facebook group to come up with their best ideas for homeschool projects and activities covering all subjects.

You'll decide for yourself how structured you want to be in your homeschool daily schedule.
Your homeschool schedule won't be the same as ours!
That's just how it should be.
We all work to our strengths and whatever suits you and your children best is the right thing to do.
Homeschool Weekly Scheduling

There are some things that happen every week in our home school.
It's like having a few fixed planets in our home school constellation.
We go to our home school group.
The children have their own groups they go to - swimming, sailing, young Naturalists - whatever. Friends visit.
There may be a home school Museum session, or we may be going to see inside a coal mine or something similar!
Next, we have a few things I think have to be included in our homeschool planning.
Math is a fixed item in our home school schedule as you can see from our

kids homeschool math

pages.
Writing is also there in our daily schedule. I try to find ways of slipping it in unobtrusively - letters to friends is a good one!
But I know that it's no good trying to do something if the children don't feel like it.
If they're really not in the mood I don't push it; similarly if something's not going well we finish early.
My son William is at the stage where he enjoys workbooks. He also likes a schedule.
Ours, as you can see, is pretty relaxed but you need to choose what suits you best.
If you want to see different ways to do things and tips on making a homeschool planner, look here.
Back in our home school our planning includes William doing Physics and Math with my husband Rob on Fridays. I schedule in a couple of Biology sessions twice a week.
That's about enough of a home school schedule to take us through.
Free Homeschool Planner
Here's a great free printable homeschooling planner you can use to schedule your time. There are 164 pages for you to organize your weekly learning activities, yearly goals, to-do lists and achievements.

N.B. I should point out that I based this schedule on William and Catherine aged 10 and 12.
A few years on and everything has changed!
Just goes to show age and interests progress constantly and you'll need to adjust your homeschool daily schedule accordingly.
The homeschool daily schedule that suits you will be different from ours; so long as it works for you that's exactly how it should be!
Want to remember this? Post this How To Make A Daily Homeschool Schedule page to your favorite Pinterest board!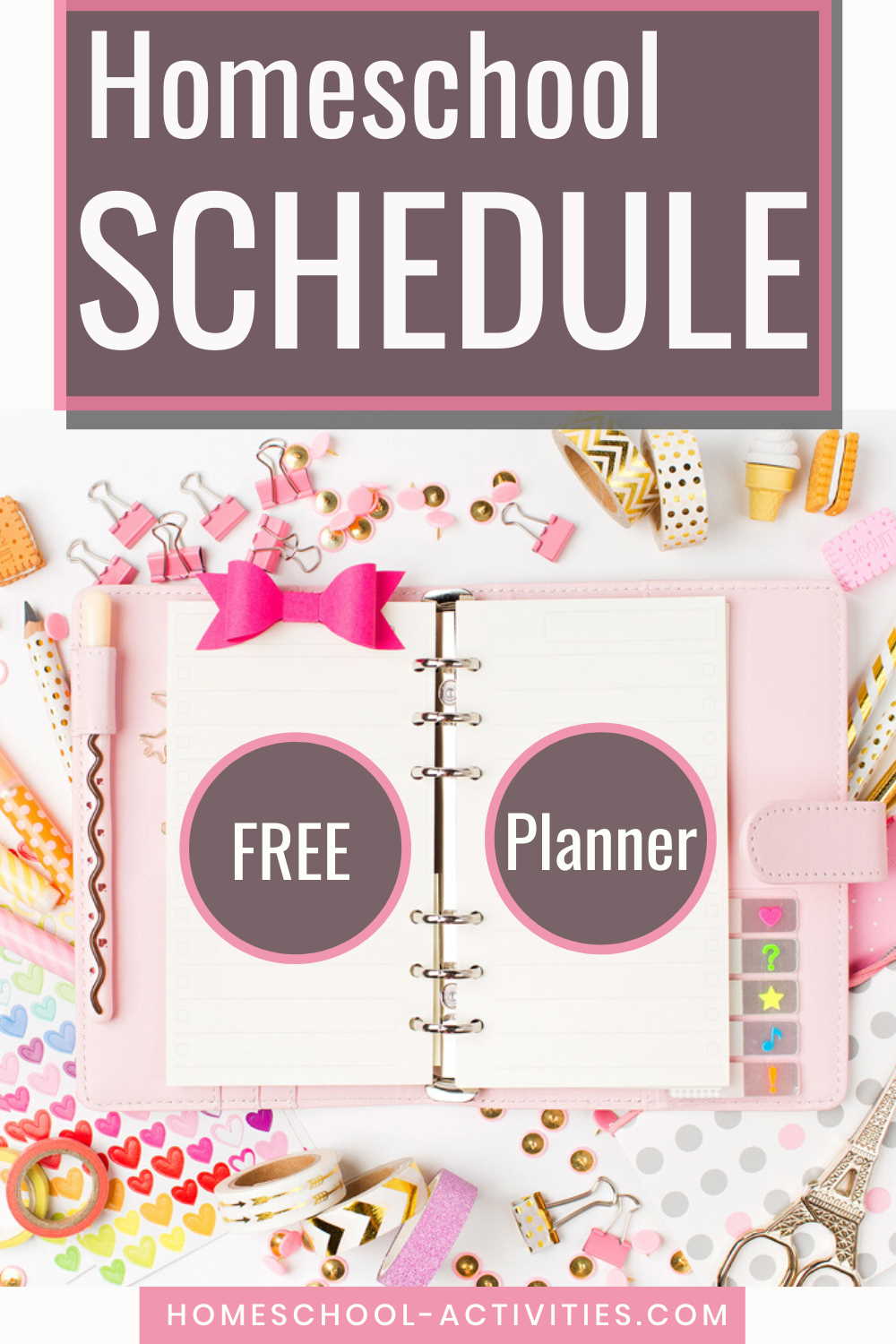 Love this page? Help me spread the word by sharing this page...
---
---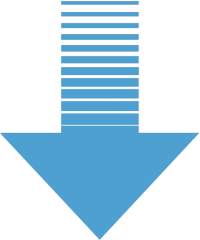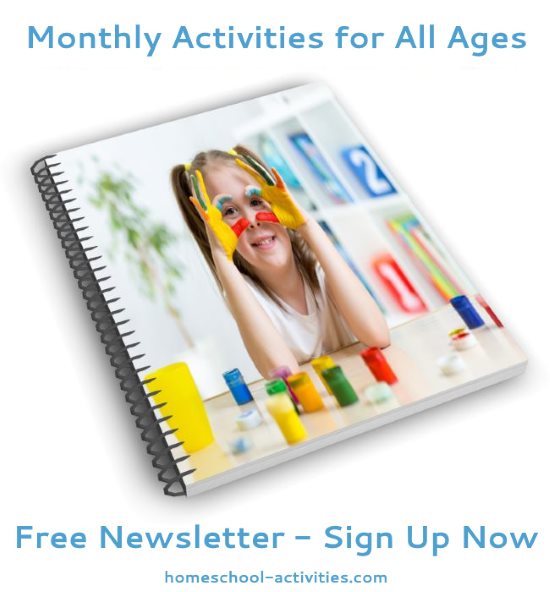 "Just had a look through your monthly newsletter focusing on math. Thanks so much for all the links and ideas. It's brilliant!" ~ Diana      

"Hi....I totally love all your posts and enjoy reading them....the kids love the activities and enjoy them through and through." ~ Bianka