Easy Kids Crafts Thanksgiving Holiday Tree
by Claudette
(Nashville, TN)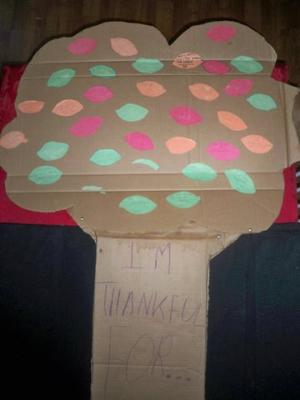 Thanksgiving Tree
This Thanksgiving Tree was one of our easy kids crafts favorites and we still have it after several years.


First, our daughter sketched a tree trunk on a large piece of cardboard. Next, it was carefully cut out with my son's utility knife. Then, we attached the upper part of the tree which resembled the branches. Finally, we
wrote
the things we were most thankful for on
leaves
cut from green, orange, yellow, and red leaves.
It was terrific! Each child really "got into" what they would put on his/her "thankful for" leaf. Of course, it became a competition to see which person got the most "hits" by having their name mentioned on the tree!
Each Thanksgiving holiday we read the leaf comments aloud and continuously add others to it.
This activity was very
easy
to make using only cardboard, colored construction paper, glue or tape to attach leaves, and braids to connect tree branches to trunk.
Sonya's note: you can see more ideas from Claudette on her website:
All About Homeschool Curriculum
.