Free Homeschool Unit Studies:
Ocean Creatures

Our free homeschool unit studies bring water and ocean creatures together to make an irresistible combination for any kids aged 5-7 – so long as you don't mind the bathroom getting wet!
STOP PRESS!

I've added a link where you can get free lesson plans for all ages.
Like all our free homeschool unit studies, you will actually cover a whole range of learning 'targets.'
Depending on where your child's interest take you, you'll cover science, geography, art and craft and reading - all in one go!
Teaching children is easy when you get them on your side. We love this ocean creatures project.

So, where do you start?
With your child, of course! You have to go where your child's interest is and adapt this ocean creatures homeschool Unit Study to them.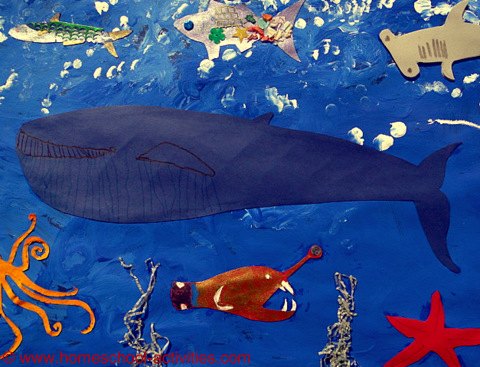 First, we took the largest sheet of poster cardstock we could buy. BIG is always best with small children. Wallpaper lining paper would be great.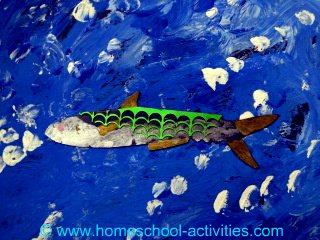 As you can see, we've painted the waves on the card and then got messy sticking our fingers in paint to make white fingerprint 'wave crests.'
We've used crinkly shredded paper to make homeschooling seaweed and cut out a big blue whale which the children have drawn on.
How about going down to the beach – there's lots of free homeschooling stuff just waiting on the tide line to be collected!
Ocean Creatures
Sequins make great eyes for an octopus: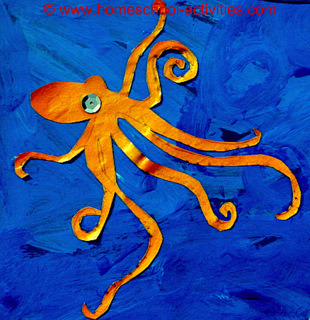 Or you could put them on fish and add some flower shapes and gold barring for scales: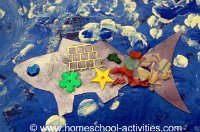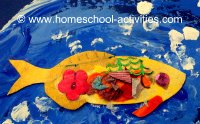 You'll see from my affordable homeschooling advice, there is one area I don't think you should skimp on. Top quality craft materials are a must for homeschool unit studies or any other projects you work on, like our model solar system.
Ocean creatures look good in felt too! Here's a hammerhead shark:
Homeschooling Unit Studies Activities
Free Lesson Plans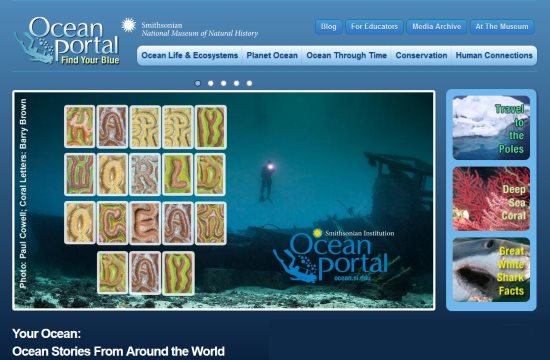 The Smithsonian Education Ocean Portal is a fantastic learning resource which you can use to back up your homeschool Unit Studies.
You'll find:
Lesson Plans, including an introduction to Coral Reefs (grades 3-5, 6-8)
An Activity Book
More complex issues for older kids like a lesson where students investigate the relationship between the size of the wave and depth to which the effects of its energy can be observed.  (Grades 6-8 covering Earth Science and Physical Science)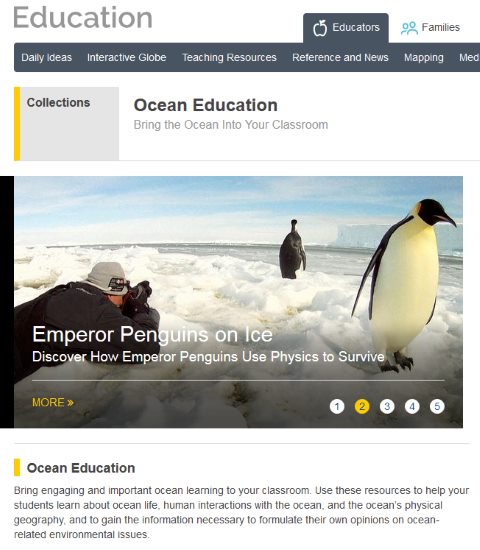 National Geographic is also great for all ages.  Find great facts, photos and videos of ocean creatures from the bottlenose dolphin to sharks and emperor penguins.
It also has a great photo gallery of deep sea creatures. 
It has activities like making your own waves and the Earth's water cycle.  Highly recommended.
Endless Ocean

Janet from my Courageous Homeschooling Facebook group has suggested a lovely game you can play exploring the oceans.  There are two versions, one for slightly older children and one for younger ones.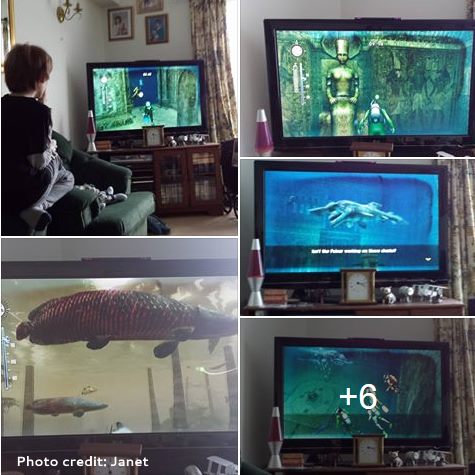 "I took these of my son playing Endless Ocean 2 on his time off the other week and thought you might like to see them, I think it's a wonderful, realistic and detailed game....It's very educational as the animals are shown in great detail in their natural environments and there are descriptions of each species, from whales and herring to goblin sharks, giant squid and angler fish.
There is a cast of characters, a story line and boats to dive from into some of the world's oceans and rivers."
~ Janet

"Thanks for sharing this Janet. I have just ordered Endless Oceans (the first edition), which says it is suitable for age 3+ x"
~ Simone

Help Save Ocean Creatures
If you want a fantastic way to inspire your kids to start this homeschooling unit study, watch this true home video of the rescue of a humpback whale from fishing nets. It's so amazing; the whale even comes back to say thanks!
Art And Craft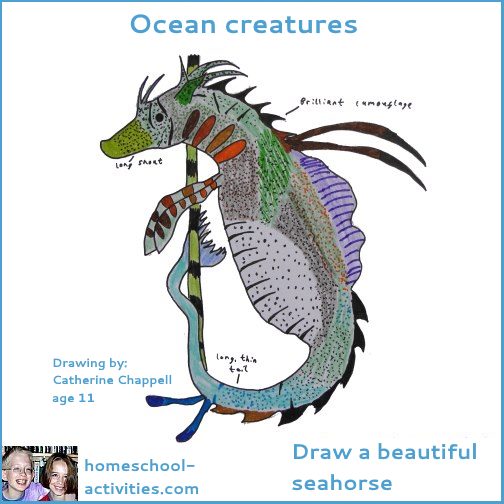 Kids love drawing! What a shame so many of them get put off by school…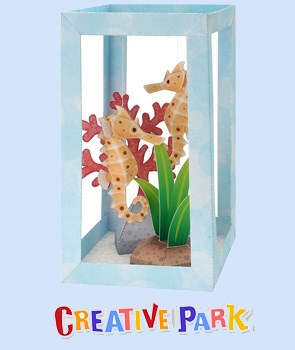 Shirley tells you how to make some great sparkly pink and yellow sea anemones using toilet rolls and plastic bags in her page on sea anemone craft.
Origami is fun. You can easily make a homeschooling origami whale, either by following instructions from a book or by getting an origami Ocean Creatures World kit. We added a silver foil shiny spout and a stick-on eye.
Watching David Attenborough's The Blue Planet got us fascinated with ocean creatures like Anglerfish and how they attract their prey.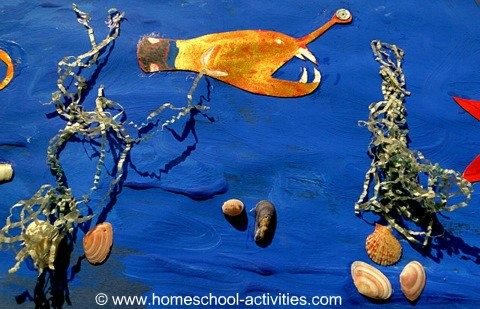 We enjoyed Free Willy too. My homeschooling diary from October records that we spent the whole of one day with everyone being whales – krill for lunch - hmm!
Science Experiments
What an ideal way to add water into the equation and learn all sorts of free homeschooling science!
You can fill your bath full of ocean creatures and play the game: Does it float or does it sink? ("Properties of materials" for those who do teacher-speak homeschool unit studies).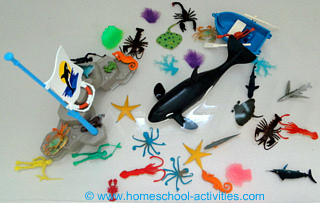 If you squeeze the bubbles out of a sponge, you'll be able to work out why 'floaters' sink too.
You can make metal ships out of tin foil, divide the inside into cargo holds with bits of cardboard and work out how load effects which end sinks first. (Physics for free as part of homeschool unit studies.)
Field Trips
This is a must activity to get the most out of your homeschooling unit studies.
The London Aquarium left us with memories of glass catfish, a sleeping leopard shark and feeding manta rays.
We met Bruce, the black-tipped reef shark, on a homeschooling trip to a Sea Life Sanctuary.

Ocean Diorama
If you've got a child who likes making models, you've got an ideal way of adding design and technology to your ocean creatures homeschooling unit studies.
We used K-Nex to make a 94cm shark.
We made a free homeschooling submersible out of a cereal packet body with cardboard egg box lights and a vegetable net fish-catcher.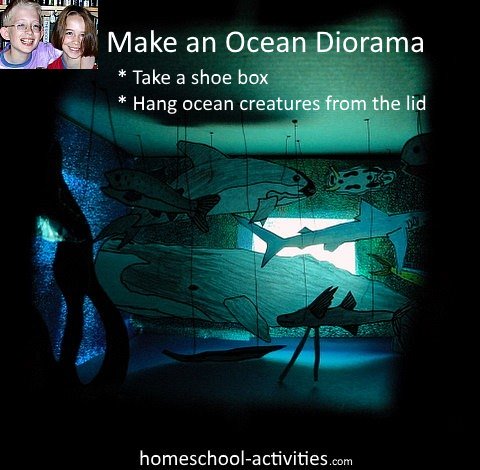 If you have older children, you can add to your homeschooling unit studies by making this fantastic free ocean diorama. All you need is a shoebox to create your own secret undersea world.
Finally, hello for me!  Here's our other free unit studies: Homeschool Science: Rainforest for Kids Activities.
So I hope you can see that ocean creatures make an ideal free homeschool unit studies project, with your child learning all sorts of things and having fun at the same time.
Love this page? Help me spread the word by sharing...
---
Homeschooling › Science › Ocean Creatures
---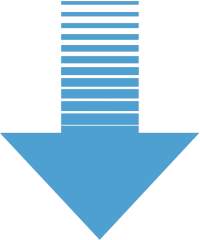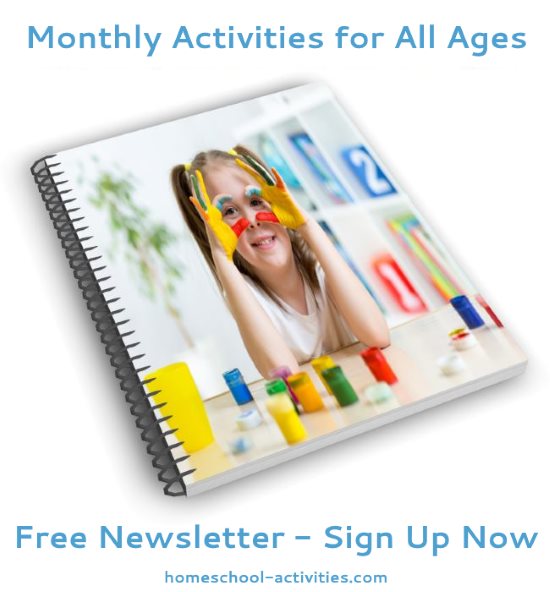 "Just had a look through your monthly newsletter focusing on math. Thanks so much for all the links and ideas. It's brilliant!" ~ Diana      

"Hi....I totally love all your posts and enjoy reading them....the kids love the activities and enjoy them through and through." ~ Bianka