Homeschool Science:
Rainforest for Kids Activities
Homeschool science comes alive in the rainforest! If your child loves animals and is aged 5 to 7 plus come and join in our Rainforest for Kids activities.
We'll start by making a homeschool rainforest scene, including the largest spider in the world! We'll go on to meet brightly coloured poison frogs, turn a pineapple into a bromeliad, catch insects in a pitcher plant and listen to the forest at night.
I've added a whole load of rainforest activities for all ages in my free Newletter, Explorers in the Rainforest. See how to make a blowpipe, get free clip art and watch Ray Mears build a rainforest shelter by subscribing to my Homeschool Newsletter.
Back in the rainforest, you'll finish your homeschool science activities by finding out what you use in your house that comes from the rainforest and see how you might help save them. It's easy to turn these activities into a fun rainforest lapbook.
---
The first thing you need to make homeschool science fun is a large piece of green card - the bigger the better. You need to start by making the habitat your animals will live in - and, by the way, you've just added a lovely word to your homeschool science curriculum.
This is an 'all in it together' homeschool science project with you working alongside your kids.
Catherine was age 4 when we did this, William 6. They've always loved animals - and with more than half the known animals and plants in the world - Rainforest for Kids activities fits the bill perfectly!
You could begin by painting the trunks of the emergents towering above the canopy.
Metallic bronze paint is great for those enormous tree trunks. Add a few branches coming off to support your leaves.
Wool makes fabulous liana vines.

---



The canopy layer is nice and thick. You can block out the sunlight by using finger-prints. Just get your kids to stick their fingers in lots of different coloured green paint and add a few swathes of green with a big brush.

This was part of the forest activities William and Catherine really enjoyed! What a way to work the word 'canopy' into your homeschool science.

A few more golden branches sticking out will support all the bromeliads, toucans and spider monkeys you're going to add to the understory.
Dark felt tips do well for the forest floor.
Remember to add big buttress roots coming off your trees. Ours look more like lumpy fingers but you get the idea!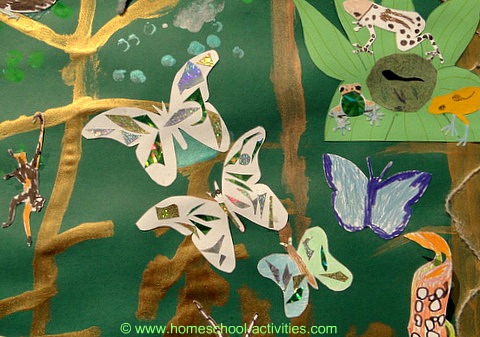 Now is where your Rainforest for Kids activities come alive as you add all the animals. How about starting with some butterflies? The choice is overwhelming. How about a birdwing butterfly or an African sunset moth?
William's chosen a blue morpho.
Sometimes it's exciting to plump for the world's largest. Records are something rainforests have in spades, and it's another way to make homeschool science memorable for kids. For beauty and the world record, add an Atlas moth.
To make it easier, you could cut out butterfly shapes and let your kids stick bits of holographic paper on top to make the patterns.
You could download pictures from the internet and stick them on. We didn't, but it would work just as well.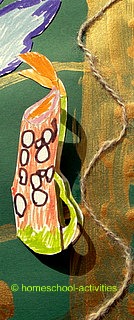 Rainforest Activities: Carnivorous Plants
Wow! William loved the idea of plants setting traps for animals and Rainforest for Kids was the beginning of his fascination with carnivorous plants.
Cut out an outline of a pitcher plant which you can fold in half.
Stick the bottom half down on the paper so you can fold it open.
Get your kids to draw the trapped insects inside!
As part of your activities to celebrate rainforests, why not buy your own pitcher plant?
There is so much homeschool science to learn in the way plants attract their prey. Maybe it's going a bit far to suggest that part of your homeschool activities might include leaving your cat food out for a few days to mimic the smell of rafflesia!
But I can easily show you how to make a terrarium for carnivorous plants and I'm sure your kids will love watching them catch insects.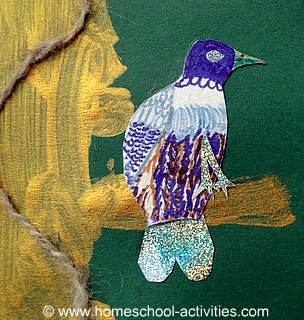 Birds of Paradise have to be one of the stars of the rainforest.
Holographic paper makes some attempt to imitate the beauty of this male blue Bird of Paradise.
You can make him display to a female by sticking him on a flap below a branch. If you draw him upside-down he bobs up and down!
If that sounds too complicated, Rainforest for Kids was the start of our love-affair with making things move on the page.
William and Catherine loved homeschool activities that involved opening and closing things and making things slide along.
You can see the simple techniques we've used if you look at our flying pterosaur and leaping ichthyosaur in our page on homeschool Kindergarten Crafts For Kids.
How about an emerald tree boa slithering along one of your branches?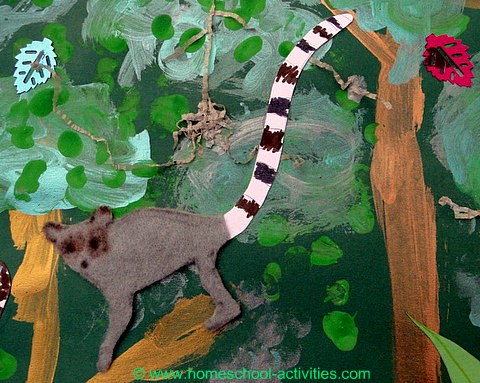 Rainforest Activities:
Listen to the Sounds of the Rainforests
Before your kids decide who else to add, you could wake their interest by listening to them!
Live Rainforest
So many animals to learn about for homeschool science!
If you want to look at some gorgeous photos of them, William and Catherine loved this adult reference book:
Our ring-tailed lemur comes from grey felt with a card tail.
You couldn't let your kids miss out on the arachnids! There are more species here than anywhere else, with 850 species of tarantulas alone.
Our Goliath spider is not only the world's biggest spider but the only one with eyes like that! A bit of artistic licence is allowed sometimes, and googly eyes are easy to buy and fun for the kids to stick on.
The rest of him is from black felt and card. Your kids will certainly learn how many legs a spider has as part of homeschool science! For fun, you can add some cotton thread to represent the flying hairs he uses to shoot at attackers.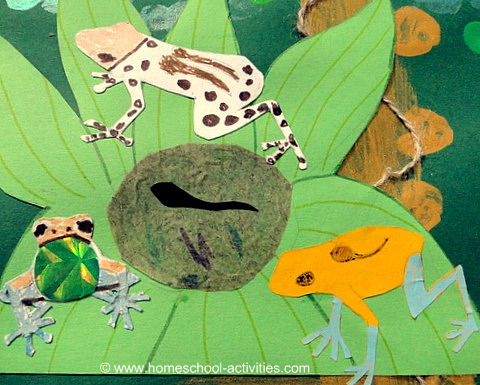 Rainforest Activities for Kids: Make a Bromeliad
Poison frogs are fabulous.
Choose lovely bright card and glossy paper. Iridescent paper works well to show off ballooning throat patches.
My kids really enjoyed adding baby tadpoles to the mother's back and putting one inside a bromeliad pool.
How about extending your Rainforest for Kids science activities by making your own bromeliad? The Remarkable Rainforest by Toni Albert has this great homeschool science project:
Chop the top off a pineapple, leaving about 3 inches of fruit attached to the leaves.
Let the pineapple top dry for a day or two. Then remove the soft fruit, but leave the core attached to the leaves.
Fill a container with soil. Plant the pineapple top with the core in the soil and the leaves above the soil. Get your kids to water the pineapple plant.
Set the pineapple in a sunny place. Water when the soil gets dry.
After your pineapple plant has grown some new green leaves in its centre, put the plant outside during warm weather. Place the plant in its container under some shrubs or trees and leave it for several weeks. (Water when needed.)
Check the pineapple plant every day to see if it is collecting water in the centre of the plant or at the base of the leaves. Look out for particles of dirt, leaves, pine needles, or flower petals. Are there any insects or worms on the plant?
Facts for homeschool science: real bromeliads are part of the pineapple family. Up to 250 different species of animal have been found living inside bromeliad pools. Tank bromeliads can hold up to 10 gallons of water.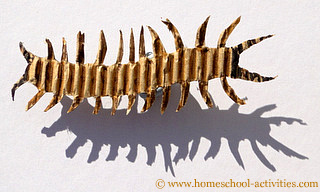 Don't forget the forest floor!
Millipedes are enormous. You could use corrugated card to show off the segmented body.
How about a rhinoceros beetle?
Bring the Rainforests Home
Part of the fun of Rainforest for Kids is to make it real. Why not go round the house and see what you can find that originally came from the forest?
Bananas - you could eat one too!
Rubber
Cloves, pepper, nutmeg, ginger...
Your homeschool science activities could include finding out what else comes from there!
Save the Rainforests!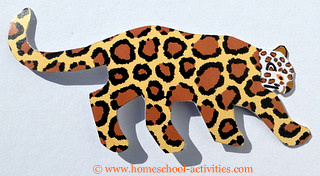 This jaguar isn't going to be the only one to suffer if we keep on chopping down the trees.
Field Trips
Part of your rainforest activities should really be visiting one.
Here in the UK, The Eden Project has a fabulous tropical forest biosphere.
Rob took William, age 5, to Barcelona to see the rainforest in CosmosCaixa science museum. Live capybaras in a rain-drenched forest supplied by water jets. Perfect!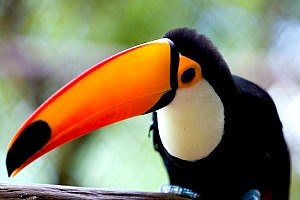 Once you've all begun to see how marvellous rainforests are, you'll probably want to help try and save them.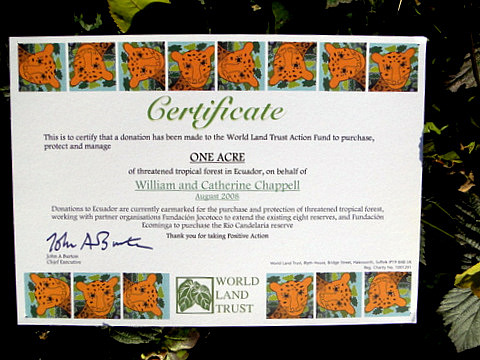 You could add writing activities to your homeschool science. Pretend you are an orang-utang in the forest. Imagine what it would be like to have loggers come to cut down the trees to grow palm oil.
Don't forget our fun science project Ocean Creatures for Kids.
---
By now you should have met spider monkeys, harpy eagles and tree sloths. Rainforest for Kids is all part of the delight of homeschool science.
---
Return from Homeschool Science to Home School Science

Return to Home Page