Recycled Crafts Ideas For Kids:
Build Your Own Robot
Recycled crafts ideas for kids don't get much cooler than learning how to build a robot using junk from the trash can.
Catherine is going to show you how to make her fabulous homeschool robot droid, Robo Spikes, which she designed and made herself so that you can see the crafts skills she's used to build your own robot.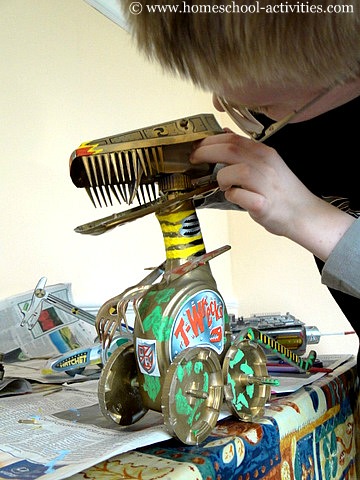 Fans of our site will know already that we are robot mad in our homeschool! It all started with this great book:
How To Make Dinosaur Robots From Junk by Stephen Munzer
Stephen showed us one of the best recycled crafts ideas I've ever seen: picking up bits from the trash can and building them into fearsome T Wrecks. The great thing about learning how to build a robot using Stephen's book is that it has meant William and Catherine can use his techniques to invent their own homeschooling robots.
We're hoping your kids will want to do the same! In order to get in the mood, you really need to start by looking at these three pages: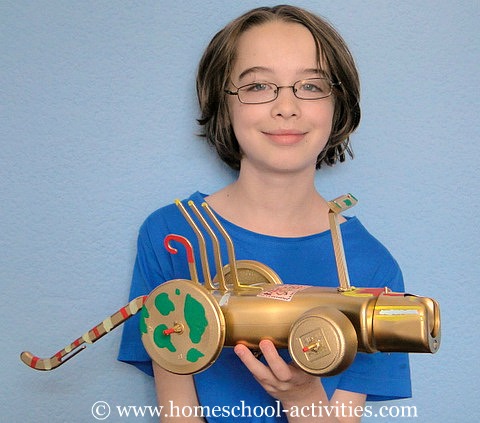 If you look at homeschooling activities, you'll see how to make recycled crafts terrifying by building them into T-Wrecks. I've put a parts list and an outline of the simple crafts skills you'll need to build robots.
If you move on to our homeschool page on how to build a robot, you'll see Catherine showing you the crafts skills you need for building robot wheels using recycled milk bottle tops with barbecue stick axles.
Lastly, our building robot page shows you our best homeschooling robots. Meet Saw Bot, Ray Droid, and Squash Droid.
Build Your Own Robot
Catherine's going to show your kids how to make Robo Spikes, her latest homeschooling robot. The idea isn't so much that you exactly copy what she's built, but more to open your mind to the possibilities of using recycled crafts ideas for kids robots.
By looking at the homeschool crafts skills Catherine's learnt, you'll be able to build your own kids robot out of bits of household junk.
Recycled Crafts Ideas
Robot Building Parts List:
This homeschool recycled parts list is meant as a guide to help you build your own robot, but the important thing is for your kids to substitute. Your kids don't need to pick exactly the same recycled items as we have; you just need something roughly similar and you'll end up with your own unique kids robot made from the trash can!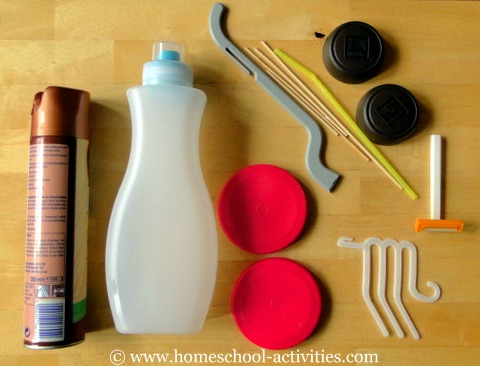 Body part. Ours is a homeschool detergent bottle.
Head. A good head really adds the finishing touch to your kids robot. Catherine's homeschool choice is an aerosol lid from a furniture spray bottle.
Tail. Chopped off coat hangers make perfect homeschooling tails for robots.
Four robot wheels. We used two homeschool cocoa powder lids and two coffee powder lids to build ours. You'll use barbecue sticks for the axles, drinking straws as spacers to keep the wheels out from the body and wall plugs to help keep the wheels on.
Extras. When you're designing your own kids robot, think of the fun parts! Look for recycled parts to build robots with exciting features. Catherine's homeschooling choices are spikes from a plastic sock hanger and a hand held plastic razor to build a robot defence turret.
How To Make A Robot
Head
Mark two holes either side of an aerosol lid so a barbecue stick can go through the lid and attach it to the body.
Heat a bradawl or a small screw driver in a candle flame. (Parents note: you'll need to supervise your kids on all these robot building activities; I always watch unobtrusively, although we've never had a homeschool accident yet.)
Pierce two holes either side of the lid to fit a barbecue stick tightly.
Do the same on either side of the neck of your recycled detergent bottle body.
Use a barbecue stick to attach the head to the body and snip off the excess.
You have just passed the first step in making recycled crafts come alive!
Wheels
Mark the positions for your wheels on your recycled body part. Make sure you mark a position where your wheels will be high enough off the ground.
Heat a bradawl in a candle flame and pierce axle holes through the body so the barbecue stick axle can roll round easily, but not too loose.
Pierce a hole in the center of each of your homeschool wheels using a heated bradawl. The hole should hold the barbecue stick tightly.
Push your barbecue stick axle through the body to attach the wheel to check it's working. Use short lengths of drinking straw to space the wheels evenly from the body. Glue the wheels to the axles. Snip off the excess to leave 1cm extending beyond the wheel. Glue a wall plug to each end.
See how your recycled crafts make fantastic homeschool wheels for robots!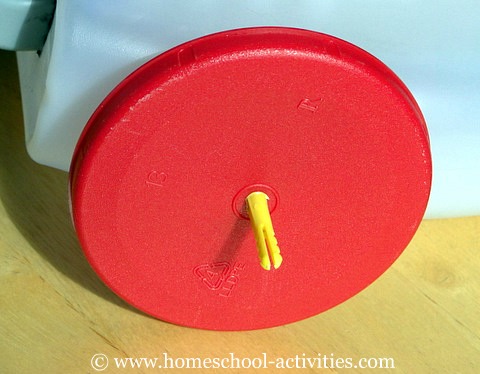 Robot Spikes, Defence Turret and Tail
Heat a modeling craft knife in a candle flame and cut a slit in your recycled detergent bottle to fit the spikes tightly.

Use the same method to cut a hole to fit the bottom of a hand held plastic razor as a defence turret.
To build your robot tail, use a junior hacksaw to saw off the end of a coat hanger.
Cut a hole to fit the coat hanger tail using a heated craft knife.
You have now learnt how to build a robot for kids using recycled crafts. Have a look at the final version of Catherine's homeschool Robo Spikes and you'll see recyled robots are only limited by your imagination: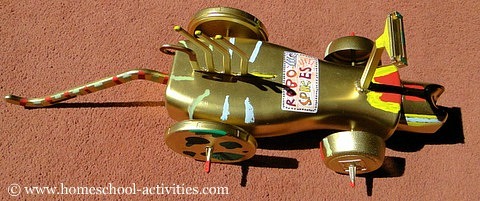 One kids robot building tip: metallic paint makes all the difference to recycled crafts. Spraying your robots with a metallic finish makes all your recycled junk come together into a convincing robot. (N.B. This requires adult help and a good face mask.) You can add finishing touches like stickers and even design your own robot logo.
You might like to show your kids why things like recycled crafts are a good way to cut down on waste so I've hunted through YouTube for a video which shows the horros of plastic without being too upsetting to watch:
Robots aren't the only kids models we like making in our homeschool! Try:
Recycled crafts are a winner all ways round; you turn trash into something really cool that's great for kids!
---
Return from Recycled Crafts to Kids Craft Ideas

Leave Recycled Crafts for Homeschool-Activities.com Home Page