Art Activities For Children:
Dragon Crafts: Make Your Own Dragonology Kids Models
Art activities for children come alive if you can practise them with homeschool dragon crafts!
Being able to use your arts skills to color your own Dragonology models gives plenty of room for imaginative flair as well as giving you lots of practice in making kids models.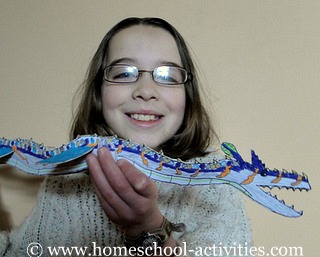 As you'll know if you look at our homeschool activities page, we love Dragonology. From activities like dressing up as a dragon to collecting feathers for a cosy dragon lair, we've done it all! And there's no doubt that dragon crafts have helped immensely with our homeschool art activities for children.
Dragon crafts are great for practising kids art activities. Fire-breathing beasts open up so many imaginative possibilities to try out arts skills as well as providing that essential homeschool ingredient - fun.
Kids Art Activities
The best way to start art activities for children is by learning how to draw. Catherine takes you right from the very first pencil stroke to the final exotic creation as she shows you how to draw a dragon.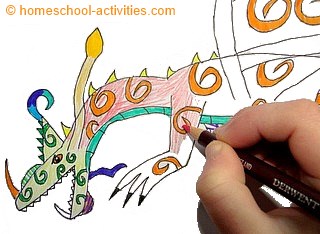 Now's it's time to combine homeschooling kids arts and crafts by making dragon models.
If you look at the photo, you can see Catherine's made her own paradise dragon. Your children can choose whatever size or color of models they want; the more fantastic the more they get to enjoy art activities for children.
The great thing with kids art activities is to allow your children plenty of room to experiment.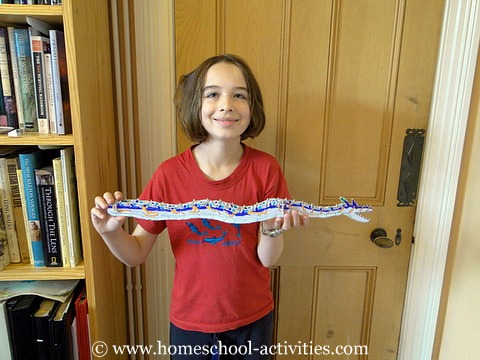 Homeschooling Kids Arts and Crafts
The lovely thing about making homeschooling kids models is that it gives you a chance to see how your arts skills look in three dimensions.
You can see we've already had a go following our patent homeschooling paper mache recipe to show you how to make Mustafa lion mask.
And, as you'll see in our page on homeschooling Dragon Crafts, you can use your homeschool Dragonology skills to make a magical dragon lantern, perfect for homeschooling art activities for children. That way you can enjoy dragons every night when you go to bed!
Dragonology Kids Models
If you want some fairly easy homeschooling kids models to start on, Catherine's going to show you how to make some fantastic dragons based on her love of the arts of Dragonology.
If you haven't got the Dragonology children's books, don't worry; the steps to creating your homeschool kids models are pretty straight forward.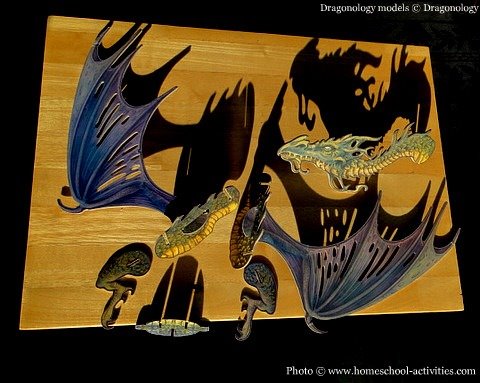 These are the kids models pieces from Dragonology. You'll need:
Two dragon wings
Two front legs
Two back legs
A tail and a head
Two identical body pieces
Two bridging pieces to hold the body parts together and attach the head and the tail
You can see the Dragonology body parts attached by tabs to the wings.
The essential homeschooling crafts skill is to make slots in all your parts (look at the slot shadows on the table). You'll make tabs to go through the slots and attach your pieces.
The lovely part of this homeschooling kids arts and crafts project is that it lets you explore art activities for children in whatever way they choose.
You can use this basic idea to make all sorts of kids models; William made a homeschool model flying Mediterranean gull by following the same method.
Homeschooling Dragon Crafts
All homeschool kids arts activities work best with good quality materials. Buy some white card 2mm thick for your kids to practise their arts crafts by drawing their own dragon. The card must be stiff to hold your homeschooling model together.
Start with your homeschool dragon head. The important part is the slot which you are going to use to attach to the body parts. Be careful not to make the slot too long or too wide.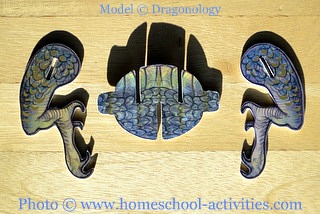 Two Dragonology legs with slots. The leg slots will fit onto the side tabs of this vital bridging piece. You'll need two of these bridging pieces.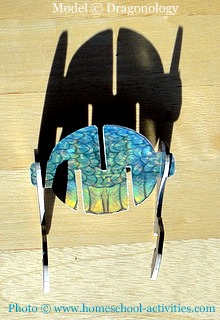 Bridging piece with Dragonology legs attached by tabs. The top slot will take the dragon head. The two bottom slots will hold the dragon body.
Dragonology wing. You need to make a tab on the end which will go through a slot you will make in the middle of each body piece. You can see the wing and body piece slotted together here.
Homeschool Art and Crafts For Kids
Now it's your turn! This is one of those kids activities where your children can have lots of fun practising all sorts of arts and crafts skills as they make models of different kinds of strange fire-breathing monsters. Homeschool art projects are all about encouraging invention.
This is it! All the pieces you need to make homeschooling kids models.
You can see the head, tail, two body pieces with wings attached by tabs and one of the vital bridging slot pieces. Good luck!
Art activities for children are best when they encourage imagination and dragons can be relied on to provide that!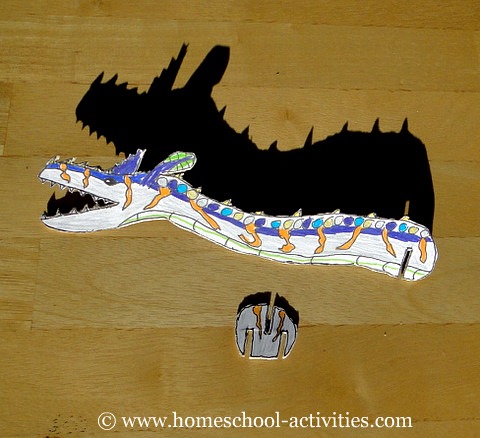 ---
Return from Art Activities For Children to Homeschool Activities

Leave Art Activities For Children for Homeschool-Activities.com Home Page