Lapbooks For Kids:
Homeschool Lapbook Activities
Lapbooks are a brilliant way for kids to get together all the stuff they can find out about an activity and show it off.
You can see great ideas for lap books here as we take you through our homeschool favorites and give you our best tips on how to make your own.
What Are Lapbooks?
Lapbooking is one of those brilliant hands-on learning activities where your kids can put all the information you've gathered about an exciting topic. It's an easy and fun way to show off all you've learnt using a whole range of different media.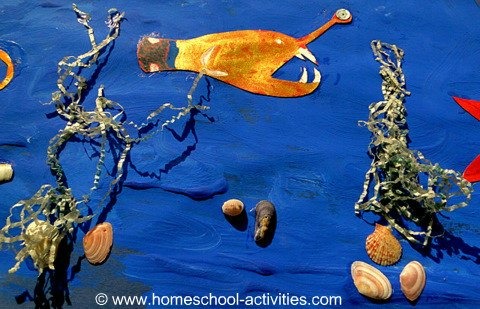 The basic idea is to create lap books with a whole series of mini books about an activity. Many families put the mini books in a lapbooking file folder, but in our homeschool we had lots of fun covering our living room walls with our dinosaur and rainforest lapbooks - William and Catherine loved showing them off.
The great thing about lap books is that you can adapt them to different ages, with older kids enjoying a more sophisticated version.
How To Make A Lapbook
Your lap book will end up as a large book with lots of mini books inside, each covering a different aspect of the subject.
You can make lots of different types of mini books to go in your lapbook, including shutter books, flap books and matchbooks.
Notebooking Pages has photographs, instructions and free templates for all your lapbooking activities. It also has lots of other templates for notebooks, covering great homeschool topics for lap books like:
US Presidents
Famous artists, poets and composers
World Explorers
If you click on my link to their site it won't cost you any more and you can still use any discounts for lapbooks they offer but I will get a small commission if you decide to buy anything.
Starting Lapbooking
You might find it best to print off some lapbooking templates for mini books on white paper and choose ones that are easy to cut out and assemble. But it's good to have a variety to keep your lapbook interesting and they don't all have to be white!
It's a good idea to get together things you might need for your lapbooks: pens, paper, glue, ruler, stapler. In our homeschool, part of the fun of learning how to make lap books was William and Catherine thinking what might be good to put in them so I wouldn't over-prepare; running round the house makes things more enjoyable!
The exciting thing about lap books is that they are NOT all writing; we have lots of homeschool ideas of what you can fill your lapbooks with and how to make them appealing to kids.
When you've completed your mini books you can stick them into your lap book file folder along with lots of other exciting additions which your kids have discovered along the way.
Homeschool Lapbooking Tips:
Make your lap books come alive with lots of pockets, pull out sections, flaps and tabs.
Collect lots of different items to go in your homeschool lapbooks, e.g.
Coins
Charts
Drawings
Stamps
Maps
Photos
Natural objects: leaves, twigs, shells
Newspaper articles and computer downloads
Lapbooking Ideas
The first step is to pick an exciting topic which your kids are interested in. If you're looking for ideas, you can use many of the homeschool activities here for inspiration:
Lapbooks For Younger Children
You can see lots more ideas for subjects which would be great for lapbooking in our homeschool page on lapbook ideas, including a dinosaur lapbook and life in the rainforest.
Lapbooks are a great way to get your kids to think about topics in a different way and enjoy showing off what they have achieved.
---
Return from Lapbooks to Creative Writing Ideas

Leave Lapbooks for Homeschool-Activities.com Home Page